Democrats 'Demonize' Law-Abiding Gun Owners, NRA: Ted Cruz
Texas Senator Ted Cruz said that Democrats and the press try to "demonize" the National Rifle Association (NRA) and "law-abiding gun owners" following every mass shooting.
Speaking to a reporter with Fort Worth news station KTVT on Thursday, Cruz said: "I'll tell you what the NRA does, it stands up for your rights, stands up for my rights, and stands up for the rights of every American."
Cruz is scheduled to speak at the NRA's annual convention in Houston on Friday. The gun-rights advocacy group said that it would still be gathering for the event in a statement on Wednesday, following the mass school shooting at an elementary school in Uvalde, Texas, Tuesday.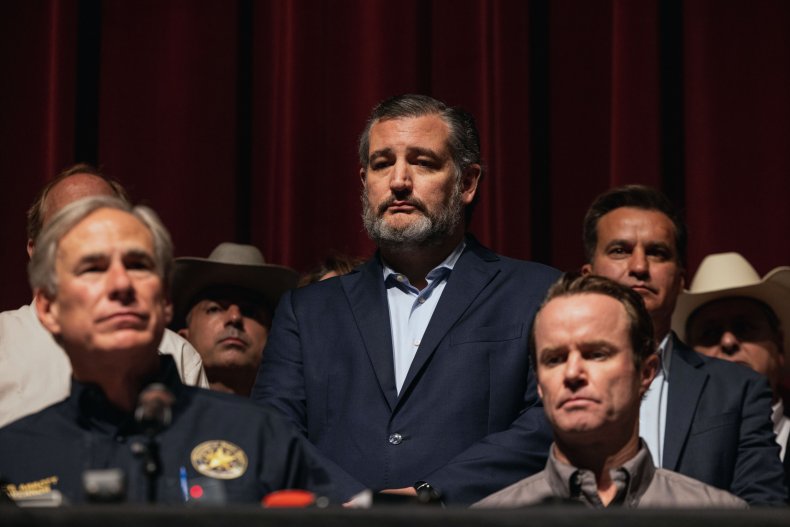 A gunman killed 19 children and two adults at Robb Elementary School Tuesday, carrying out the most deadly school shooting since Sandy Hook in 2012. Democrats have renewed their calls for gun reform following the deadly incident, but Cruz and other Republican figures have resisted the idea.
Rather than tightening gun restrictions to help prevent more shootings from taking place in the future, some Republicans have suggested bolstering security measures at the schools themselves. While speaking on Fox News Wednesday, Texas Attorney General Ken Paxton suggested that the teachers themselves be armed.
"The reality is, we don't have the resources to have law enforcement at every school," Paxton said. "It takes time for law enforcement, no matter how prepared, no matter how good they are to get there. So, having the right training for some of these people at the school is the best hope."
Cruz also brought up the idea of stationing more armed law enforcement officers at schools while speaking to reporters Wednesday.
"We know from past experience that the most effective tool for keeping kids safe is armed law enforcement on the campus," Cruz said.
"Inevitably, when there's a murder of this kind, you see politicians try to politicize it. You see Democrats and a lot of folks in the media whose immediate solution is to try to restrict the constitutional rights of law-abiding citizens," he added. "That doesn't work."
Alleged gunman Salvador Ramos, who Texas Governor Greg Abbott said was killed by a Border Patrol officer, purchased two assault rifles when he turned 18. He was able to do this legally under a new Texas law change that passed in September.
In addition to Cruz, who is among a group of Republican senators who have received NRA donations, former President Donald Trump has also committed to speaking at the NRA conference despite the Uvalde shooting.
"America needs real solutions and real leadership in this moment, not politicians and partisanship," Trump said in a statement. "That's why I will keep my longtime commitment to speak in Texas at the NRA Convention and deliver an important address to America. In the meantime, we all continue to pray for the victims, their families and for our entire nation–we are all in this together!"
In response to Newsweek's request for further comment and clarification on who Cruz was specifically referring to in his remarks, a spokesperson said that the senator wasn't speaking about a specific instance, but provided several examples on the issue.
One of the provided examples was a tweet from Arizona Representative Ruben Gallego on Tuesday that read: "F**k you @NRA."
Update 5/26/22, 4:05 p.m. ET: This article was updated with a response from Cruz.