Ted Cruz Says Biden 'Endangers' U.S. with 'Incoherent' Taiwan Comments
President Joe Biden appeared to trounce decades of U.S. foreign policy on Monday when he answered "yes" to a question on whether the country would get involved "militarily" if China were to invade Taiwan.
The comment appeared to put the country at odds with its policy of recognizing "one China," and quickly drew the ire of Beijing, which views Taiwan as part of its sovereign territory.
Republican Senator Ted Cruz of Texas, a member of the Senate Foreign Relations Committee, condemned the president's statements in an interview with Newsweek, deeming them rash and potentially dangerous.
"I think anytime the president is rambling and incoherent, it endangers America and endangers our allies," Cruz told Newsweek. "With Joe Biden, the number of gaffes he commits on the world stage has gotten to historic levels. It seems every day, the Biden White House has to go back and clean up the mess that the president has made."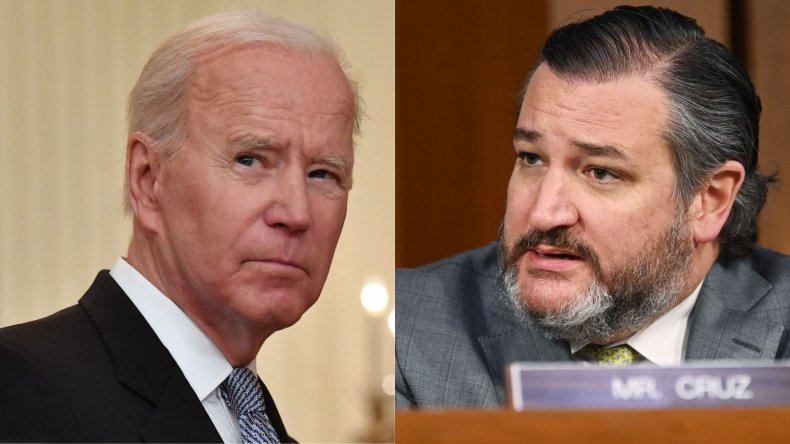 Biden's comment was quickly walked back by the White House on Monday, which said in a statement that "our policy has not changed." One day later, the president himself appeared to recant his declaration saying, "the policy has not changed at all."
Were the U.S. to get involved in a military campaign to defend Taiwan, it would go against the country's long-held practice of "strategic ambiguity," by which the U.S. maintains friendly relations with Taiwan but does not hold diplomatic relations nor provide it the military assurance it would an ally, all the while recognizing that there is only one Chinese government.
"When it comes to China and Taiwan, clarity is important, and the problem is you never know what Biden's gonna say much less what he's gonna do," Cruz told Newsweek. "I think he says whatever comes to mind, and unfortunately, his decision-making abilities appear severely diminished."
"There is not a reasoned, careful policymaking process," Cruz added. "It is instead rambling, top-of-mind commentary, and when that comes from the commander in chief of the mightiest military on Earth, that's dangerous."
The president's comments on Taiwan mirror a similar incident in March when Biden said in Warsaw that Russian President Vladimir Putin "cannot remain in power," only for his declaration to be walked back on by the White House shortly after.
It's also not the first time Biden has made an unscripted comment about Taiwan.
During an October town hall, the president answered that, "Yes, we have a commitment to do that," in response to a question on whether the U.S. would defend Taiwan if China were to invade. This comment was minimized by the White House in a similar fashion to the most recent walk-back, which said at the time that the president was "not announcing any change in our policy and there is no change in our policy."
"My concern is that every time the president speaks, it sounds confusing, it's unclear to me what our policy is," Bonnie Glaser, director of the Asia Program at the German Marshall Fund, told Newsweek in a separate story on the matter. "And that doesn't provide reassurance to our allies or our partners. And it doesn't necessarily strengthen deterrence. It doesn't deter China from using force against Taiwan."