Texas Republican Senator Ted Cruz said Saturday that Republicans could have called Democratic House Speaker Nancy Pelosi as a witness for former President Donald Trump's second impeachment trial, as the Senate briefly considered stretching the trial for several more days.
Speaking to a group of reporters, Cruz said it could have been "very likely" that Trump's defense lawyers would call on Pelosi, after the Senate approved an unexpected last-minute vote to bring witnesses into the trial.
But after behind-the-scenes negotiations took place, the Senate agreed to move forward without witnesses, and on Saturday afternoon voted to acquit Trump, with only seven GOP senators voting to convict him.
"Nancy Pelosi is clearly a relevant witness to this matter. Speaker Pelosi can testify as to when she knew about the threats on the Capitol and what she knew specifically," Cruz said earlier on Saturday.
"And in particular, she can testify that we heard already that the House Sergeant at Arms turned down National Guard protection for the Capitol on January 6, because of 'the optics.' And I think Speaker Pelosi can testify as to whether she made a decision based on optics, based on politics," he added.
Cruz's statements came as Trump's impeachment trial temporarily derailed into a larger political showdown on Saturday, after the Senate voted to briefly delay the vote and call on new witnesses.
Senators originally voted 55-45, with five Republicans joining every Democrat, in favor of allowing lawmakers the opportunity to call witnesses. Senator Lindsey Graham, a staunch Trump ally, was among the Republicans who voted in favor, after he changed his vote.
"If the body wants witnesses, I am going to insist we have multiple witnesses," Graham tweeted Saturday, after blaming left-leaning media for holding back vital information regarding the trial until the last minute.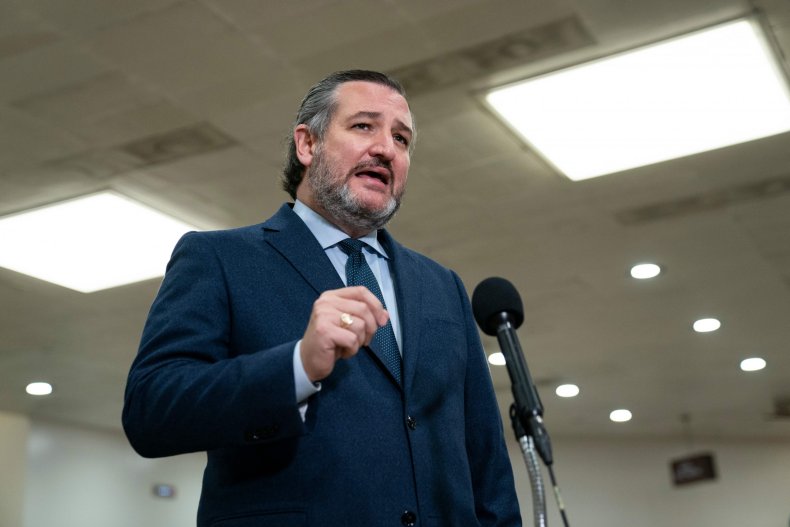 The Senate briefly considered postponing a conviction vote after GOP Representative Jaime Herrera Beutler and CNN on Friday detailed a call that took place between House Minority Leader Kevin McCarthy and Trump on the day that the violent insurrection occurred.
During the call, McCarthy reportedly urged the former president to stave off a violent mob of his supporters from attacking the Capitol building on January 6. But Trump, who was irate over the results of the 2020 presidential election, allegedly claimed that the rioters "were more upset" than McCarthy, a supporter of the president, supposedly was.
House impeachment managers and Democratic lawmakers have since considered the report to be incriminating evidence that Trump sided with his supporters during the violent siege.
On Friday, Beutler—who told reporters that McCarthy informed her of the contents of the call—urged her colleagues to disclose any information that could be used to aide in the ongoing impeachment trial.
"To the patriots who were standing next to the former president as these conversations were happening, or even to the former vice president: if you have something to add here, now would be the time," she said in a statement.
Newsweek contacted Cruz's office for additional comment, but did not hear back in time for publication.
Updated at 5:50 p.m. Saturday to include that the Senate reached a last-minute deal in which witnesses would not be called, and that it voted to acquit Trump.