Ted Cruz Shares Fake Satire Disney Job Ad Post: 'I Wish This Was Parody'
Texas Republican Senator Ted Cruz shared a satirical news post by The Babylon Bee about a fake Disney job advertisement for "strong," yet also "docile" women after the entertainment conglomerate fired Gina Carano from The Mandalorian.
Cruz shared the Babylon Bee's article titled: "Disney Posts Job Ad Looking For Strong, Fierce Women Who Are Also Obedient, Submissive, And Docile." The senator retweeted the story with the comment: "I wish this was parody."
He shared the tweet with his 4.3 million followers, which was liked more than 14,000 times and retweeted on more than 2,000 occasions.
Cruz's office did not respond to Newsweek's requests for comment about why he originally retweeted the satirical news piece, but later shared Newsweek's article on Twitter, suggesting his earlier tweet had been ironic.
Cruz's remarks about the fake Disney ad come after the senator tweeted his support for Carano after news of her firing was released.
"Texan Gina Carano broke barriers in the Star Wars universe: not a princess, not a victim, not some emotionally tortured Jedi. She played a woman who kicked (butt) & who girls looked up to. She was instrumental in making Star Wars fun again. Of course Disney canceled her," wrote Cruz on Friday.
The Babylon Bee openly labels itself as "your trusted source for Christian news satire" and has previously been described by Fox News, as well as other media outlets, as a conservative version of The Onion.
Its story refers to the controversial firing of The Mandalorian star Gina Carano last week after the MMA brawler-turned-actress shared several contentious posts across her social media platforms.
Hours before Lucasfilm, a subsidiary of The Walt Disney Company released Carano, the conservative actress shared an Instagram post that compared the hostile political climate in the U.S. to the persecution of Jews in Nazi Germany.
A spokesman for the company said: "Gina Carano is not currently employed by Lucasfilm and there are no plans for her to be in the future.
"Nevertheless, her social media posts denigrating people based on their cultural and religious identities are abhorrent and unacceptable,"
Cruz previously shared a post from the Babylon Bee in September 2020, with the headline: "Little-Known Judge Tedina Cruzette Throws Hat In Ring For Trump's SCOTUS Consideration."
The senator appeared to acknowledge the satirical nature of the post and commented: "Dark-horse candidate. I have no idea who this is."
But, Cruz is not the only GOP politician to share stories from the conservative fake news outlet, with former President Donald Trump retweeting its articles for his millions of followers to see.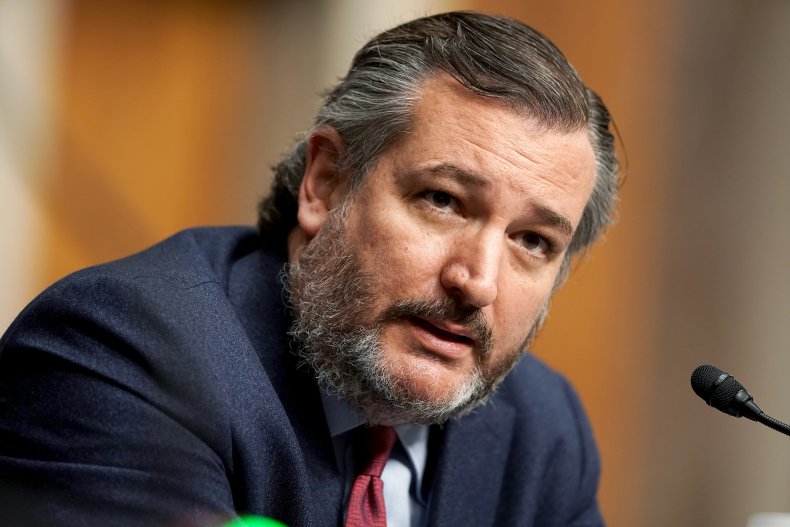 In October, last year, Trump, who often railed against fake news during his time in office, retweeted the article: "Twitter Shuts Down Entire Network To Slow Spread Of Negative Biden News." The former President, seemingly unaware of the parody stance of the outlet, said in his retweet: "Wow, this has never been done in history. This includes his really bad interview last night. Why is Twitter doing this. Bringing more attention to Sleepy Joe & Big T [big tech]."
Back in 2012, Louisiana Congressman John Flemming unknowingly shared a fake news article by The Onion titled "Planned Parenthood Opens $8 Billion Abortionplex." Sharing the article on Facebook, the Representative said: "Seriously, $8 billion?! 'Abortionplex.'"
But, a May 2020 study by the University of Colorado Boulder found that progressives were also susceptible to sharing fake news content on social media.
The study, found in the Human Communication Research journal, found that people on the extremes of the liberal-conservative political spectrum were more likely to share false, ideologically extreme and misleading articles, which it dubbed countermedia, on social media.
Researchers found that: "Sharing countermedia content on Facebook is positively associated with ideological extremity and negatively associated with trust in the mainstream news media. On Twitter, we found evidence that countermedia content sharing is negatively associated with social trust."
They also said: "In the Twitter sample, those scoring a 7 on the conservatism measure [the most extreme] accounted for 32.0 percent of all countermedia shares, again accounting for the highest per-category share percentage. That said, those self-identifying as very liberal [i.e., conservatism score = 1] also shared substantial amounts of countermedia in both samples: 17.5% on Facebook and 16.4 percent on Twitter."
This article was updated to add clarity and context to Cruz's remarks.