Ted Cruz Shares Tweet Calling Bipartisan Same-Sex Marriage Bill a Threat
Senator Ted Cruz, a Texas Republican, shared a tweet that called a proposed bill meant to protect same-sex marriages, a threat.
On Saturday, Bob Vander Plaats, the president and CEO of The Family Leader, a conservative organization touting "Christ-like" leadership and values, tweeted that passing the Respect for Marriage Act will threaten religious liberty.
"No matter how @GOPSenate spins the tail of their yes vote for the #DisrespectMarriage Act, its' passage will threaten #ReligiousLiberty for generations. And, their yes vote will be complete betrayal of party platform and their base," he wrote.
In his tweet, Plaats also shared a Friday article by The Hill, which reported that the bill will soon reach the Senate floor and that lawmakers are hoping to reach compromises to get enough Republican support for the potential legislation that would overcome a possible filibuster.
In 2015, Plaats endorsed Cruz for president, boosting his campaign in the caucus where the senator was competing against Donald Trump for a lead in Iowa. "We will be going all in for Senator Ted Cruz,'' Vander Plaats said at the time.
"Our goal is to unite conservatives around Senator Ted Cruz and I believe you're starting to see that happen already in the state of Iowa, but I also believe around the country," Plaats added. "...We have believed for a long time if we're united, we'll win. If we're divided, we're going to repeat 2008 and 2012."
In July, the House voted to pass the bipartisan bill, which would offer federal protections for same-sex marriages, with 47 Republicans voting in favor of the legislation along with all Democrats. However, 157 Republicans voted against the measure and seven Republicans didn't vote.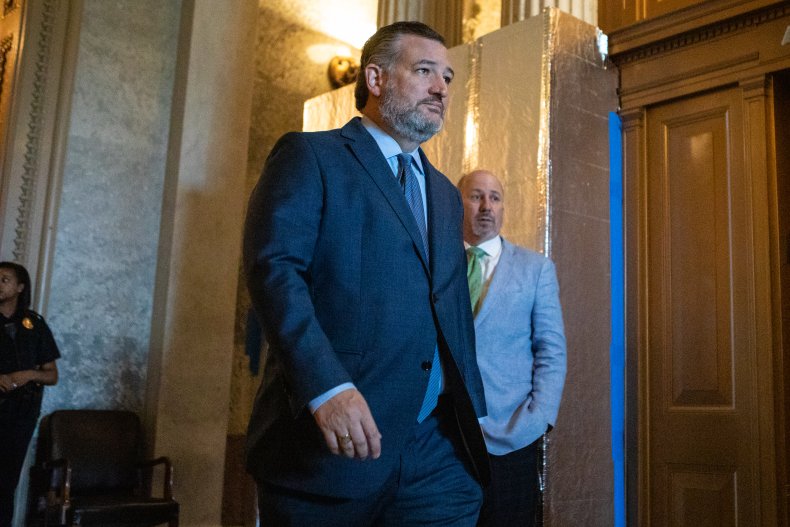 Senators Tammy Baldwin, a Wisconsin Democrat, and Susan Collins, a Maine Republican, are currently trying to secure support for the bill from 10 Republicans by reaching some potential amendments that would protect religious liberty in an effort to push forward the legislation for a vote this month, The Washington Post reported on Wednesday.
The Respect for Marriage Act was proposed after the Supreme Court overturned Roe v. Wade in June, ending years of women having the federal right to have an abortion. When the 1973 landmark decision was being repealed, conservative Justice Clarence Thomas said that the Court should reconsider all of the "substantive due process precedents, including Griswold, Lawrence, and Obergefell."
It was decided in 2015 in the Obergefell v. Hodges that same-sex marriages are legalized nationwide, while the Court ruled in the Lawrence v. Texas in 2003, stating that it is unconstitutional to penalize sodomy and private sexual acts between consenting adults. The Supreme Court also ruled in the Griswold v. Connecticut in 1965, stating that married couples have the right to buy and use contraceptives without the government restriction.
Cruz echoed Thomas' remarks, saying that the Supreme Court was "clearly wrong" to rule on legalizing same-sex marriages.
In a video uploaded to YouTube in July from his Verdict+ podcast, the senator talked about the "vulnerability" of the Obergefell ruling.
"Obergefell, like Roe v. Wade, ignored two centuries of our nation's history," Cruz said at the time. "Marriage was always an issue that was left to the states. We saw states before Obergefell—some states were moving to allow gay marriage, other states were moving to allow civil partnerships. There were different standards that the states were adopting."
"That decision was clearly wrong when it was decided," the senator said, adding that the Court was "overreaching."
Newsweek reached out to Cruz's media office for comment.