Teen Wearing Neo-Nazi Group Clothing Arrested With Cache of Illegal Weapons in Illinois
A 19-year-old man linked to a burgeoning neo-Nazi group was found with a cache of weapons and ammunition in the affluent Chicago suburb of Vernon Hills, Illinois, last month, police said.
The Bureau of Alcohol, Tobacco, Firearms and Explosives notified police in April that Jakub F. Zak, the man arrested on weapons charges, had been seen wearing clothing linked to the group Patriot Front on the Grayslake, Illinois-based campus of a community college called The College of Lake County, the Chicago Sun-Times reported.
Police later charged Zak on April 16 with misdemeanor counts of possession of a firearm and possession of ammunition without a permit after searching his home, according to a police report.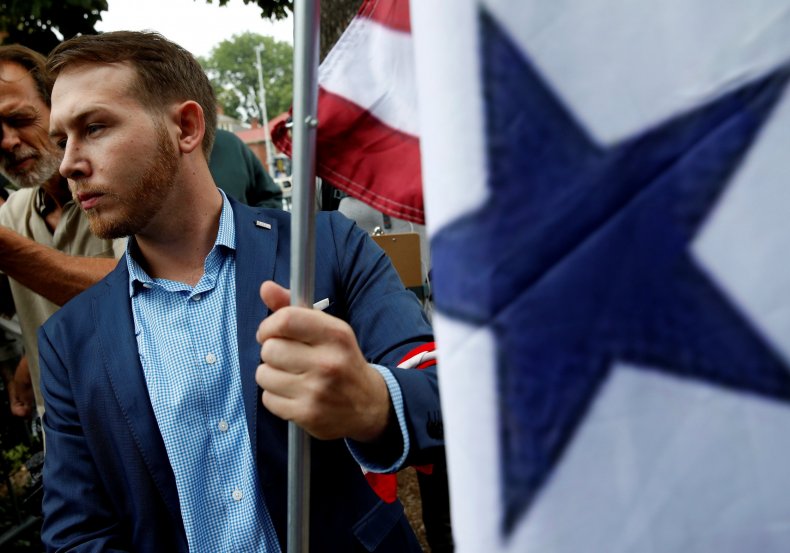 Related: Republican Senate candidate praises Hitler and prompts condemnation from California GOP
Patriot Front has demonstrable links to the anti-immigrant, anti-Semitic alt-right movement. The group splintered from Vanguard America, which appeared prominently at the deadly "Unite the Right" rally in Charlottesville, Virginia in August of 2017. There, James Fields, a 20-year-old man who appeared at the rally alongside Vanguard America, allegedly drove his car into a crowd of anti-racist protesters, which led to the death of 32-year-old Heather Heyer.
Following that incident, and the national furor that it unleashed, alt-right leadership went into a period of rebranding—in order to distance itself from symbols like swastikas, which appeared in photographs that were taken at "Unite the Right." The neo-Nazi website Daily Stormer and other alt-right hubs began promoting the idea of "American nationalism" in the fall of 2017. The propagandistic language was an attempt to inject images of traditional Americana into neo-Nazi politics in order to make the ideologymore palatable to mainstream conservatives, leaders said.
Patriot Front expanded partially due to that change in branding, although the Southern Poverty Law Center has suggested that the group's origins were first spotted back in 2015. Patriot Front now has a network of neo-Nazi cells that stretches across the entire country, SPLC noted.
Unicorn Riot, a decentralized, non-profit media collective, published troves of internal chats and audio recordings the group engaged in on Discord, a gaming app that has served as a popular communication tool for neo-Nazis in recent years. In those chats the group spoke glowingly of rape and other violent acts, echoing the kind of rhetoric commonly promoted on Daily Stormer and other hubs that are popular with the darker corners of the alt-right movement.
One member of the group talked about promoting "patriotic American imagery" in the chats, something that would create "plausible deniability" about their links to neo-Nazism, according to the documents released by Unicorn Riot.
Zak was released on $150 bond and his next court date was set for May 17, according to the Chicago Sun-Times.