Teenage Boy Dies After Surgery to Remove Giant Tumor From Face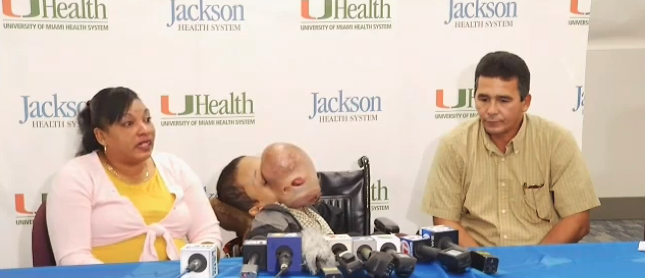 A 14-year-old boy has died following surgery to remove a 10-pound tumor caused by a rare medical condition, his doctors have said.
Emanuel Zayas's death ended the teenager's 12-year battle with a rare illness known as polyostotic fibrous dysplasia. The aggressive syndrome causes numerous bones to soften, often in development. In Zayas's case, it also caused a tumor to grow on his face.
Related: Woman says 'I do' in hospital wedding hours before breast cancer takes her life
"Our condolences and prayers for Emanuel's family and the loss of a very brave young man," said Dr. Robert E. Marx, a surgeon at Jackson Memorial Hospital in Miami, according to NBC. "Another angel has arrived in heaven," he added.
Zayas and his family's mission to fight the rare illness brought them from their home in Cuba to the United States. Medics were able to secure a temporary visa for the boy to have surgery to remove the tumor at Jackson Memorial Hospital.
Initially, following the surgery, first indications were encouraging. Doctors said they noticed Zayas's eyes reacting to stimulation and muscle tone in his face developing on January 18. However, in the longer term, the teenager's body struggled to cope following the surgery and his lungs and kidneys began to fail.
"I am saddened by the fact that we are losing him and that apparently the physiologic stress of the surgery was too much for his compromised anatomy to overcome," Marx said Saturday. "Our hopes of saving his life and in doing so would allow him a better quality of life have not been realized."
Zayas's family hope his case may allow doctors to better understand the rare condition. They have said they will donate Zayas's body to medical science to learn more about the disease and help and improve the chances of polyostotic fibrous dysplasia sufferers around the world.