Teenagers Shot Man Dead, Stole His Puppy on New Year's Eve: Police
Police in San Francisco announced Friday that they arrested three teenagers—a 15-year-old male and two 17-year-old males from Richmond, California—in connection with a fatal shooting on New Year's Eve.
After serving search warrants at "two locations" in Richmond, the suspects were "taken into custody without incident."
"During the search warrant service, investigators located 'Azula' and Smith's vehicle along with firearms and other evidence linking the suspects to the homicide," the San Francisco Police Department stated.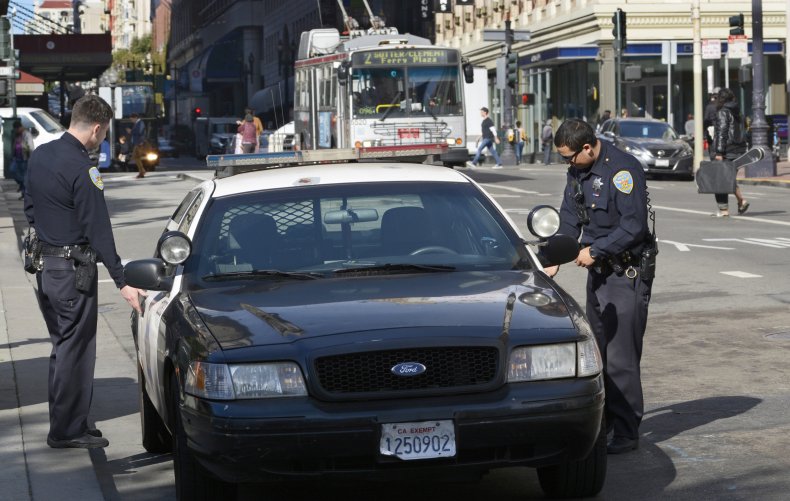 The teenagers were taken to the "Juvenile Justice Center" and booked on murder, robbery, and conspiracy charges. Although the three suspects have been arrested, police say they are still investigating the incident.
Officers have not released the identities of the suspects.
According to data released by the San Francisco Police Department, the city saw a 17 percent uptick in homicides between 2020 and 2021: police reported 56 last year compared to 48 the year before.
Overall, violent crimes in the city—which include not only homicides, but also aggravated assaults, robberies, rapes and other crimes— increased by only 1 percent between 2020 and 2021.
In December, San Francisco Mayor London Breed unveiled a slate of public safety initiatives aimed at creating a "safer San Francisco," including a plan for emergency police funding.
New Year's Eve saw violent incidents across the United States.
Multiple people at a New Year's party in West Gulfport, Mississippi, were killed after people opened fire into a crowd. Police said seven partygoers were were struck by bullets, and that three people were killed. "When there is a party with alcohol, drugs and assault rifles present, it's a recipe for disaster and last night again sadly this was proven factual," Gulfport Police Chief Chris Ryle said at the time.
In a separate incident on New Year's Eve in New York City, a man was accused of shooting and killing his 29-year-old son. The father, Joseph Leone, was arrested and faces charges of murder, assault, and criminal possession of a weapon, according to a report from Staten Island Live.