Ten Times Meghan Markle and Kate Middleton Paid Homage to Princess Diana's Best Looks
Princess Diana is one of the most enduring royal style icons there has ever been.
In 1997, following her divorce from Prince Charles the previous year, Diana set about entering into a new phase of her life. In order to do this she held an auction, encouraged by her son Prince William, of 79 of her most famous dresses. The sale raised over $2 million, with the dresses now housed in museums across the globe.
Diana's natural and instinctive style continues to inspire women 25 years since her tragic death. Two women who have paid a significant homage to Diana over these years are her daughters-in-law, Meghan Markle and Kate Middleton.
Since marrying Prince William in 2011, Kate has paid subtle tribute to Diana through her wardrobe, often selecting pieces which include her mother-in-law in bigger family events, such as the announcement of her third pregnancy.
Meghan, too, has shown Diana's influence through her dress since her marriage to Prince Harry in 2018. On the evening of her wedding Meghan wore a ring once belonging to Diana and has, on several public occasions, worn outfits which have been inspired by pieces Diana wore in the 1980s and 1990s.
Here are just ten times that Meghan and Kate have directly referenced Princess Diana through their clothing.
Color Blocking Done Right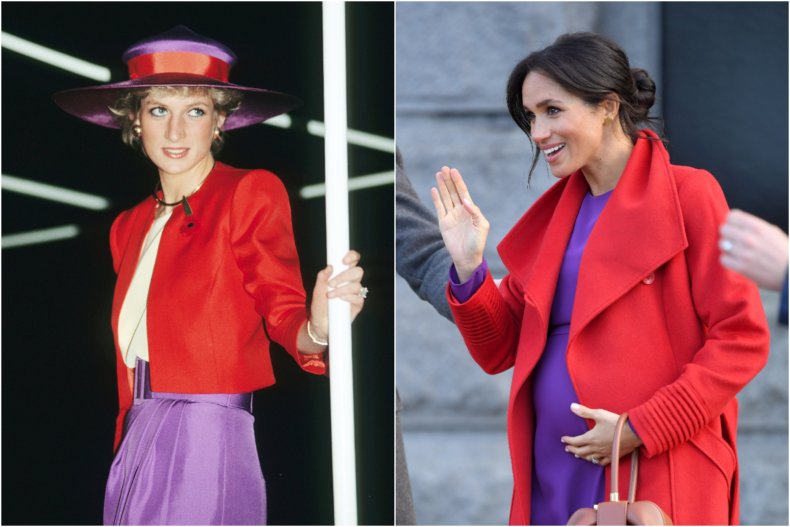 On a visit to Hong Kong in November 1989, Diana wore a striking Catherine Walker suit in red and purple, with an elegant hat framing her face. Catherine Walker's impeccable tailoring and eye for color made her a favorite designer of Diana's and the pair became very close friends.
In 2019 on a visit to Birkenhead, Meghan wore a similarly color blocked outfit consisting of a wrap coat by Sentaler and dress by Babaton by Aritzia.
Daring in Black Strapless Evening Gowns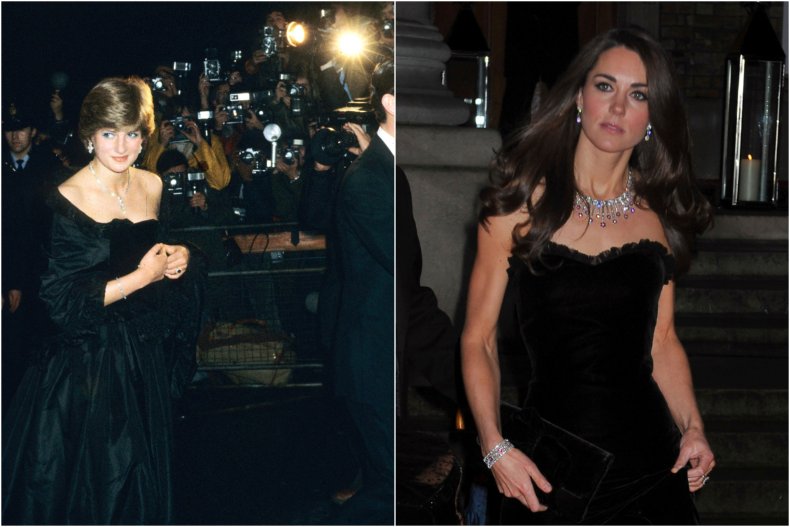 At the first official event attended by Diana since the announcement of her engagement in 1981, she appeared at the Goldsmith's Hall wearing a daringly cut black taffeta evening gown by the Emanuels.
The dress caused a stir in the press as the inexperienced Diana was seemingly unaware that black was a color reserved for mourning within the royal family and its low cut nature left her open to embarrassment. Diana thought the dress extremely "grown up" and commissioned the Emanuels to make her wedding dress.
Shortly after her marriage to Prince William, Kate attended The Sun Military Awards at the Imperial War Museum in London. The new Duchess of Cambridge paid tribute to her mother-in-law by wearing a similar gown in both silhouette and color to the 1981 dress.
Matching Maternity-Wear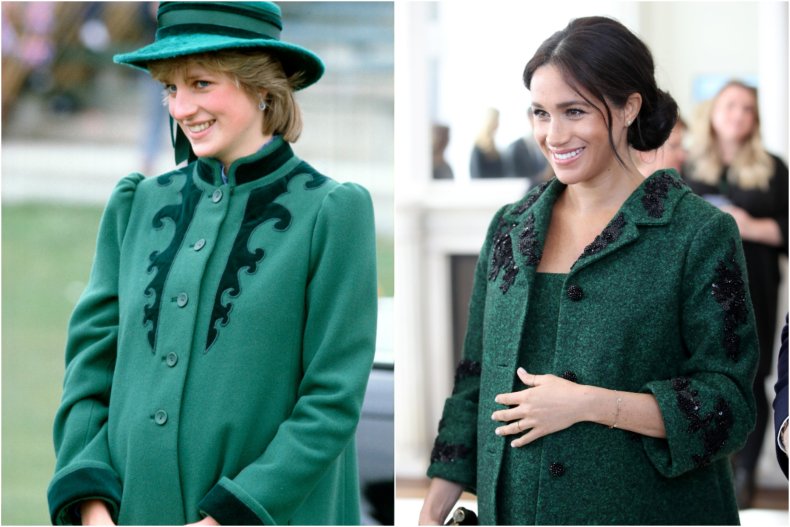 During a visit to Bristol in March 1982 while pregnant with Prince William, Diana wore a heavy green wool coat with contrast felt applique by the designer of her going-away outfit, Bellville Sassoon.
The look would be mirrored in Meghan's own choice of maternity wear when visiting Canada House in London on Commonwealth Day in 2019. Meghan's embellished coat and dress were made by British/Canadian designer Erdem who also dresses Kate.
Royal Blue Twins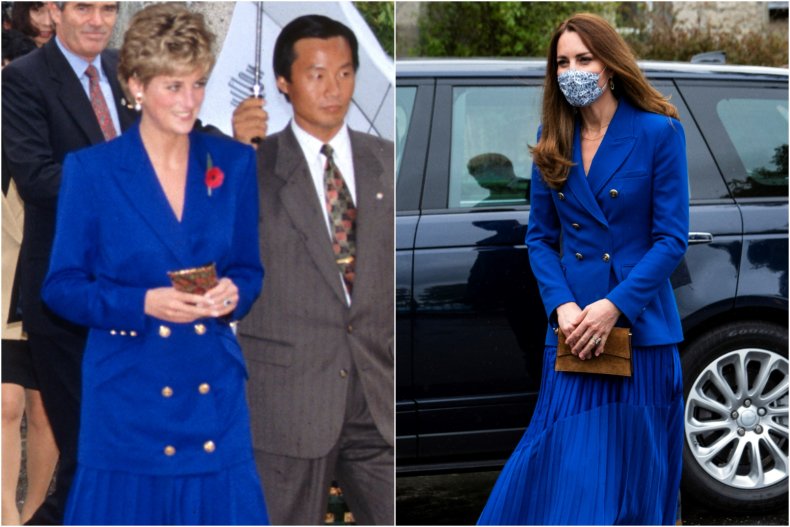 During a 1992 official visit to Korea with Charles, Diana wore a royal blue blazer and pleated skirt, presumed to have been made by Catherine Walker. This statement tailored ensemble inspired Kate in 2021 during a visit to Scotland with Prince William. Taking place during the COVID-19 pandemic, Kate accessorized her outfit with a paisley face mask.
Sophisticated Sequins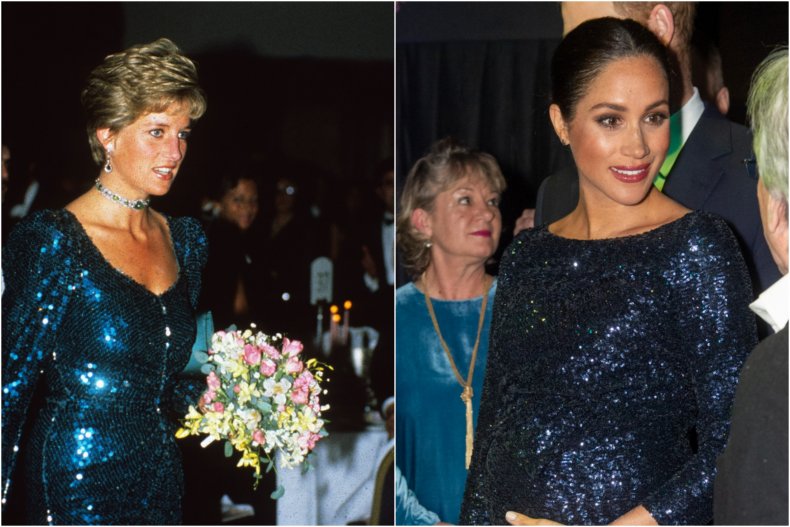 To the Diamond Ball in December 1990, Diana wore a sea green sequined gown with long sleeves and ruched bodice detail. Meghan would pay homage to this look when she attended the opening night of Cirque du Soleil's "TOTEM" at London's Royal Albert Hall on January 16, 2019. Meghan's gown was by designer Roland Mouret.
Simple Suits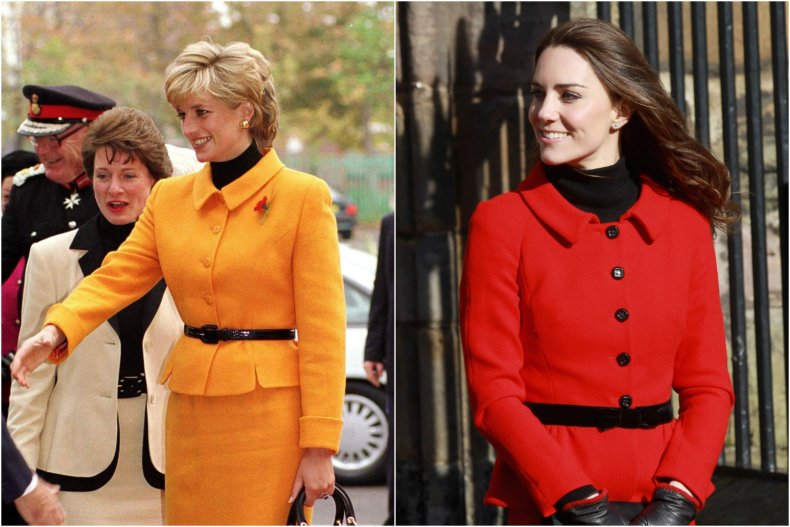 On a 1995 trip to Liverpool, Diana debuted a splash of color on an otherwise gray November day. Her burnt orange suit was by close friend Gianni Versace and to accessorize, the princess carried a Dior handbag. In a tribute to this memorable look, Kate wore a near identical outfit in a red colorway on a visit to St. Andrews in 2011.
A Tribute in Chiffon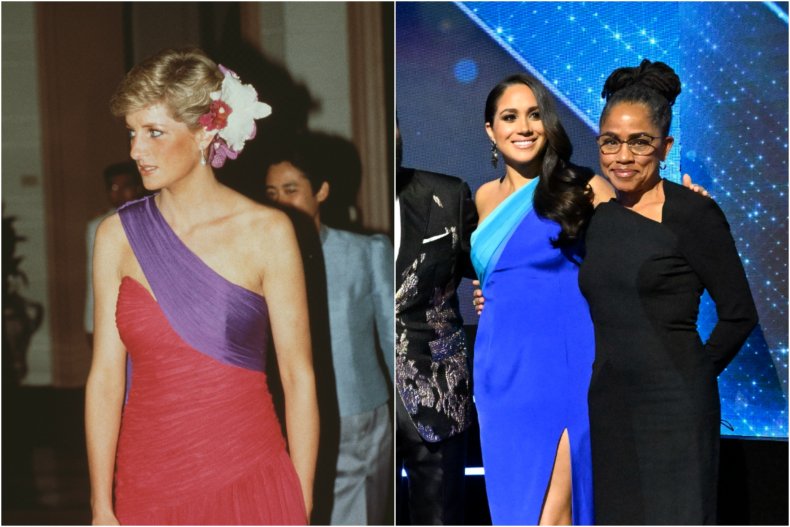 In Thailand with Prince Charles in 1988, Princess Diana wore a red and purple gown by Catherine Walker, featuring a long chiffon scarf draped across the bodice and left to trail over one shoulder. This silhouette was replicated by Meghan in 2022 when she accepted the NAACP President's Award. The dress, which Meghan had an influence in designing, was made by Michelle Obama's favored designer, Christopher John Rogers.
Florals for Important Occasions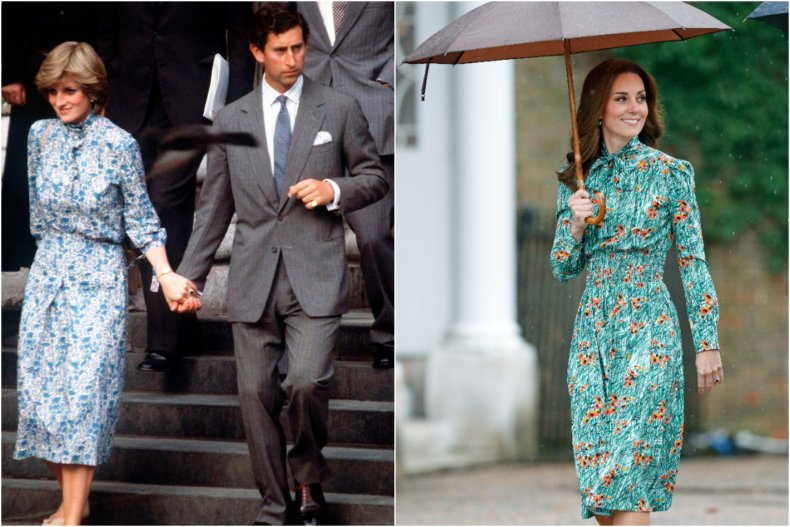 The day before her wedding to Charles, Diana attended a rehearsal at St. Paul's Cathedral wearing a high necked, blue and pink floral printed dress. The shy 19-year-old was about to become the Princess of Wales and step into a role on the world's stage.
In 2017 Kate appeared with William and Prince Harry to look over a memorial garden dedicated to the memory of Princess Diana. To mark the occasion Kate wore a dress strikingly similar to Diana's and this held particular meaning as Kate had just announced that she was pregnant with her third child, Prince Louis.
Princesses Wearing Pink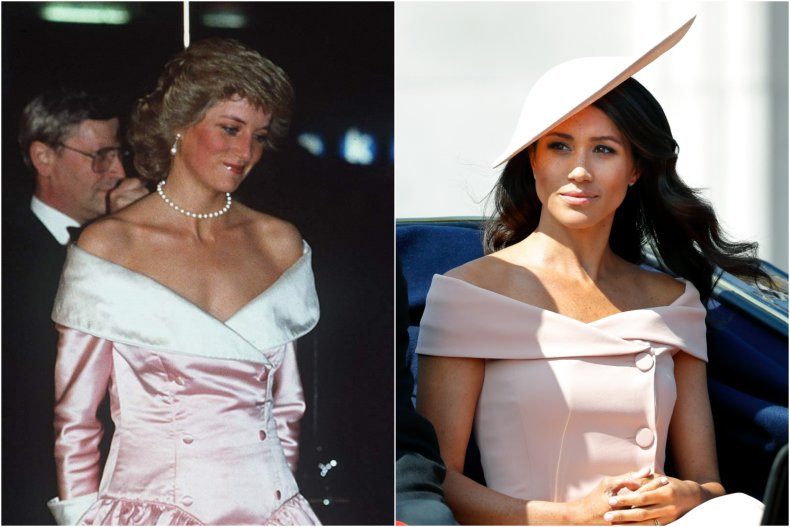 Princess Diana loved the ballet. When on a visit with Charles to Germany in 1987, she selected a romantic dress made by Catherine Walker to watch a special performance of the Royal Ballet at the Berlin Opera House. The off-the-shoulder silhouette of the design bares a striking resemblance to an outfit chosen by Meghan for her first appearance at the Trooping of the Color in London in 2018.
A Modern Classic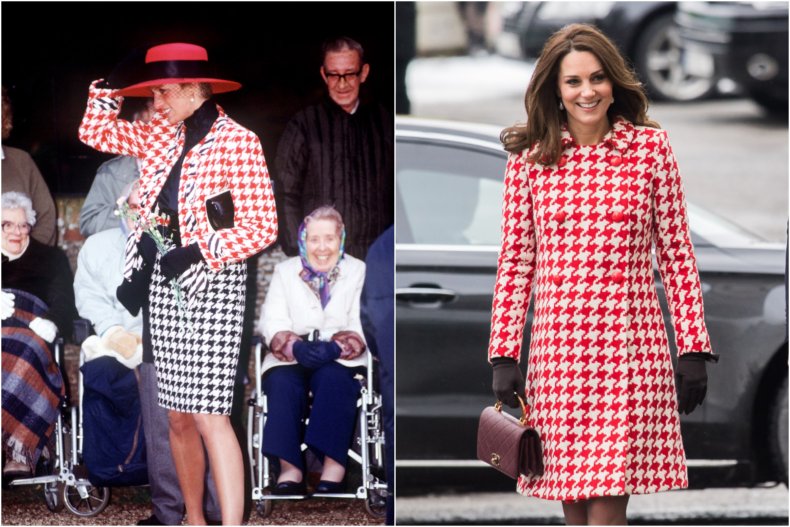 As Diana moved away from the 1980s and into the fresh new decade of the 1990s, she branched out in terms of dress to patronize designers outside of Britain.
At a Sandringham church service over the 1990 Christmas holiday, Diana wore a fun Moschino suit in red houndstooth with a contrasting black skirt.
During her 2018 tour of Norway, Kate too wore a large scale red houndstooth print, in a coat made by Diana's favorite designer Catherine Walker & Co. The duchess accessorized her look with a handbag and shoes by another of Diana's trusted brands, Chanel.