'Force A Shot On Us? We Force A Shot On You!' Tennessee Store Sign Warns
A sign appearing to threaten violence on anyone attempting to enforce a vaccine mandate has been spotted in Tennessee.
The anti-vaccination message was highlighted by local news source The Tennessee Holler, which shared a video to Twitter showcasing the digital display.
It starts by showing a picture of a hand holding a syringe alongside a message stating: "Force a shot on us?"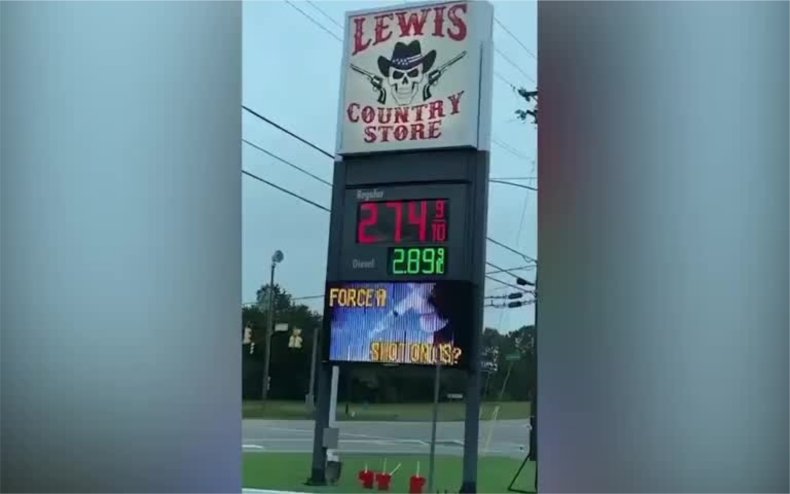 The image then switches to that of a gun being pointed directly at the viewer, accompanied by the caption: "We force a shot on you!"
It then changes again, this time to a message written in yellow text against a black background that reads: "The final COVID variant Communism."
According to the Tennessee Holler, the warning is on display outside the Lewis Country Store on Old Hickory Boulevard in Nashville.
The news provider includes a link to the store's Yelp page for further verification.
At the time of writing, the video showcasing the sign had been viewed more than 382,000 times on Twitter, garnering over 1,200 retweets and 2,300 likes.
The responses to the video on Twitter have been negative with one user, danielblack108, commenting "I hate living here" in response to the post.
Another, lcatboonies, said the people behind the sign "deserve a visit from the FBI" while graphaks joked that the message must be "great for tourism."
Cruzinmrs, meanwhile, asked: "Do they think they are the only people with guns? Because they're not."
However, the most vitriolic responses have come on Yelp, where critics flooded the store's page with one-star reviews condemning the sign.
"Maybe not a good idea to threaten customers or anyone in general if you're trying to run a business," Chuck P. commented. "Hope everyone stays far away from this "establishment". If COVID doesn't kill you then I'm sure the owner will."
Lauren W. said she would have actually given the store "no stars" but "that wasn't an option" adding: "Don't threaten people with gun violence."
Shaki S. wrote: "With ICU wards at the brink of breaking, our most vulnerable getting sick and dying and you are comparing vaccine mandates to communism??? what the eff is wrong with you?"
James K. also reviewed the store explaining he would not recommend it as the people running it "are threatening to murder people."
"The owners of this location seem to have lost their minds and are threatening to shoot people because the owners are scared of, of all things, a vaccine," he wrote.
Suzanne C., meanwhile, admitted the message left her "too scared to enter."
"Sign seems threatening," she commented. "Plenty of other places in the area."
This isn't the first time Lewis Country Store has courted controversy and criticism with its signage. Shell previously opted to remove its branding from the gas station over a sign endorsing former President Donald Trump.
The sign reportedly read: "Trump Just Said It. Bill Clinton Did It! The Only P*$$y Trump Ever Grabbed Was Paul Ryan! #TrumpThatB*tch."
Newsweek has approached Lewis Country Store for comment.
President Joe Biden's plans for a vaccine mandate for large companies has been met with resistance by some, with one state representative branding the plans anti-American.
However, President Biden's plans may only be the beginning with Dr. Anthony Fauci among those calling for the introduction of a vaccine mandate for domestic air travel.
The U.S. response to COVID-19 has been met with strong resistance in Tennessee, particularly when it comes to mask mandates in schools.
One young man was laughed at by fellow parents while describing how a lack of adequate protections against the coronavirus led to the death of a relative.
Prior to that, a dad went viral after speaking up in favor of masks in schools which he told his daughter were needed "because we want to take care of other people."
Update 9/22/21, 11:37 a.m. ET: This article was updated to include a picture of the sign.