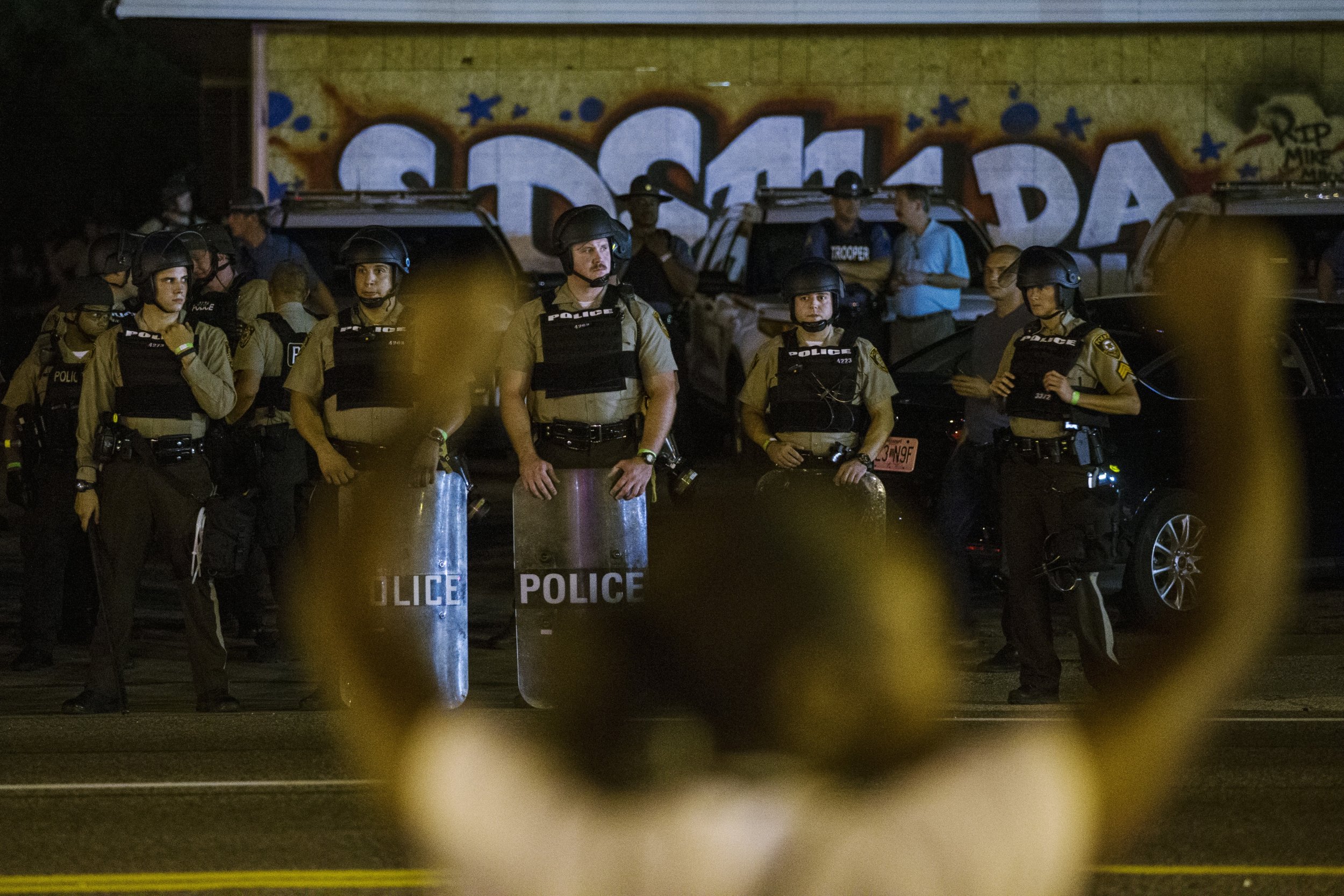 Protesters, police and reporters again gathered on the streets in Ferguson, Missouri, on Monday night, a day after the one-year anniversary of Michael Brown's death. Officers arrested at least 23 people between 9:30 p.m. Monday and 12:15 a.m. Tuesday, as authorities dodged rocks and bottles filled with ice thrown at them by protesters.
Demonstrators walked the streets and chanted while police monitored the scene on West Florissant Avenue, which remained relatively calm until late at night. Officers began arresting people just after 10 p.m. About 50 reporters, 75 cops and 150 protesters gathered at the scene, according to the St. Louis Post-Dispatch.
Brown was fatally shot by a white police officer on August 9, 2014, in Ferguson. The high-profile case of the 18-year-old unarmed African-American forced the St. Louis suburb into the national spotlight for racial inequality and police brutality.
In scenes similar to the weeks following Brown's death last year, protesters on Monday night chanted, "Hands up, don't shoot." At one point, they yelled, "I don't see no riot here. Why are you in riot gear?"
Officers standing in front of businesses were prompted to wear helmets when protesters started throwing rocks and bottles at them, the St. Louis County Police Department tweeted in the early evening hours.
"Unruly crowd is throwing frozen water bottles at officers. Those who choose to act violently will be arrested," police said. "Safety, our top priority, is now compromised. This is no longer a peaceful protest. Participants are now unlawfully assembled."
At the scene and on Twitter, police urged participants to follow the commands given by officers, or risk being arrested. About two hours later, police again tweeted that officers were being hit with rocks and bottles. "We continue to support free speech, but agitators who ignore orders to disperse risk arrest," they said. There weren't any shootings, shots fired, burglaries or property damage, the Post-Dispatch reported.
Earlier in the day, an ongoing state of emergency was issued for the county. Police arrested more than 50 members of the Black Lives Matter protest movement and body slammed a man who was blocking traffic on an interstate. In the afternoon, 57 others were arrested outside of the Thomas F. Eagleton United States Courthouse in St. Louis in the afternoon, including philosopher Cornel West and prominent activists DeRay McKesson and Johnetta Elzie. They had gathered to demand the dissolution of the Ferguson Police Department, which the U.S. Department of Justice found to routinely violate the constitutional rights of African-Americans.
Brown's anniversary was overshadowed by the exchange of gunshots between two groups of protesters late Sunday night. Also, police exchanged gunfire with 18-year-old Tyrone Harris, who remains in the hospital in critical condition. The police department has placed four officers on administrative leave in the wake of the shootout.