Tesla lost $126 billion in value as details of CEO Elon Musk's deal to buy Twitter emerged, complicating the tech mogul's plans to take over the social media platform.
The price of Tesla shares on Tuesday dropped by over 12 percent following news that Musk would be coming up with close to half the money for the roughly $44 billion deal to purchase Twitter. The sharp decrease in the price of Tesla shares also means a financial hit for Musk, the company's largest shareholder, as he seeks to seal the deal with Twitter.
As part of the deal announced Monday, Musk agreed to provide $21 billion in equity to buy the social media platform. Musk is currently the world's richest man, according to Bloomberg's Billionaire Index, with a worth of $252 billion. Much of his wealth is tied up in Tesla, owning about 17 percent of the company's shares.
Coming up with the money to purchase Twitter could mean Musk would have to sell shares in Tesla, sending the company's stock price tumbling.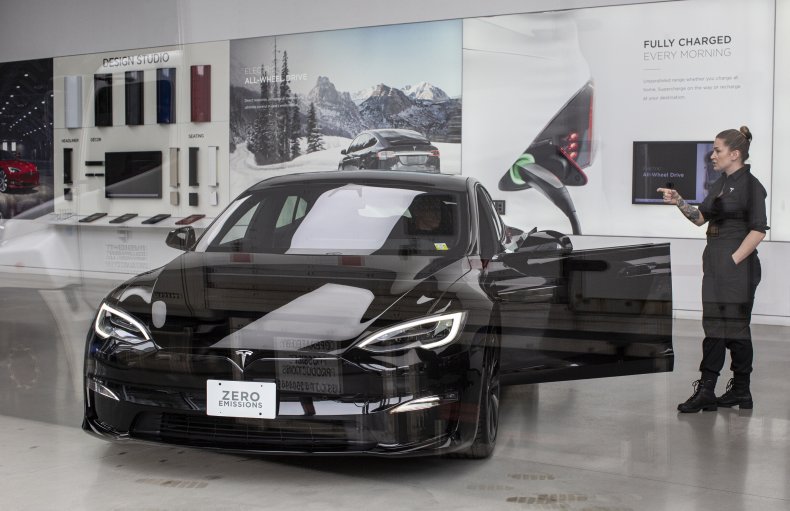 Tesla shares dropped in November after Musk tweeted a poll asking his followers if he should sell 10 percent of his shares in the company. Share prices continued to fall after Musk sold over 5 million shares worth $5.69 billion.
The company acknowledged the relationship between its value and its CEO's decision to sell off stock in a filing with the Securities Exchange Commission (SEC) earlier this year.
"If Elon Musk were forced to sell shares of our common stock that he has pledged to secure certain personal loan obligations, such sales could cause our stock price to decline," reads the filing.
The filing also states that banks have made loans to Musk partially secured through stock owned by the CEO. If the price of the stock declines, Musk could be forced to sell shares of Tesla to pay back the loans.
"Any such sales could cause the price of our common stock to decline further," the filing reads.
Musk could also be on the hook for more money. A new SEC filing on Tuesday stated that both Twitter and Musk could be required to pay a $1 billion termination fee if the deal falls through or a situation arises that "would cause the related closing conditions to not be satisfied," according to the filing.
A week earlier Tesla posted a record quarter with revenue of $16.86 million, an 87 percent year-over-year increase, despite supply issues.
Newsweek has reached out to Musk for comment.