Greg Abbott Refuses to Shut Texas Down as Over 10,000 Coronavirus Cases Reported in One Day
Novel coronavirus cases in Texas have surged past 216,000, reporting a record 10,028 new cases on Tuesday, according to the latest report from the Texas Department of State Health Services (DSHS).
Marking the state's first ever single-day spike of more than 10,000 new cases, the latest daily case count was the highest recorded in Texas since the outbreak began.
Texas Gov. Greg Abbott has refused to reinstate a stay-at-home order, despite local officials in large cities, including Houston and Austin, asking for "additional shutdown measures and asking in the alternative to give them the authority to completely shut down and lock down their jurisdiction for a period of time," the governor told Houston's KPRC-TV Tuesday.
Abbott noted his frustration in that "for most of these officials, no action whatsoever to enforce the executive orders that are in place.
"Bottom line is, we need better, stronger enforcement. If the current rules are followed and applied, we will not have to shut Texas back down," the governor added.
Texas is among only a handful of states in the country to see 10,000 new cases in a day, joined by Florida and California, both of which hit the mark last week. New York, where daily new cases have seen a major decline in recent months, reached the 10,000 mark back in early April, according to data compiled by Johns Hopkins University.
The daily case count in Texas has nearly doubled for two consecutive days since the July 4 weekend, with 3,449 reported July 5 and 5,318 reported July 6, according to the Texas DSHS.
Texas also saw a record daily death toll of 60 new fatalities Tuesday, the highest since the outbreak began and more than triple the 18 new deaths reported a day earlier on Monday, according to the Texas DSHS.
Daily new cases in Texas have been mostly on the rise since May 1, when the state began phase one of reopening. New infections began increasing on a sharper incline from around June 8, less than a week after phase two of reopening started on June 3.
The daily death toll in Texas has seen more dramatic spikes since reopening, compared with that seen before lockdown restrictions were lifted, according to data compiled by the Texas DSHS.
Hospitalizations across the state have been increasing steadily from around June 1, with 9,286 hospitalizations reported Tuesday, the highest level recorded since April 4.
Hospitals in at least five regions across the state have reported less than 10 intensive care unit (ICU) beds as being available, including in the Beaumont region where two ICU beds were reported to be available, according to the latest report Tuesday by the Texas DSHS.
Last month, Abbott announced a "temporary pause" on further reopenings, on further reopening following the "very swift and a very dangerous turn" the outbreak had taken in Texas over the past few weeks, he noted at a press briefing.
Reopened bars were closed again and restrictions were reintroduced on restaurants and outdoor gatherings following a new executive order issued by Abbott to curb the spread of infection.
Last week, the governor issued a statewide mask mandate stating: "Every person in Texas shall wear a face covering over the nose and mouth when inside a commercial entity or other building or space open to the public, or when in an outdoor public space, wherever it is not feasible to maintain six feet of social distancing from another person not in the same household."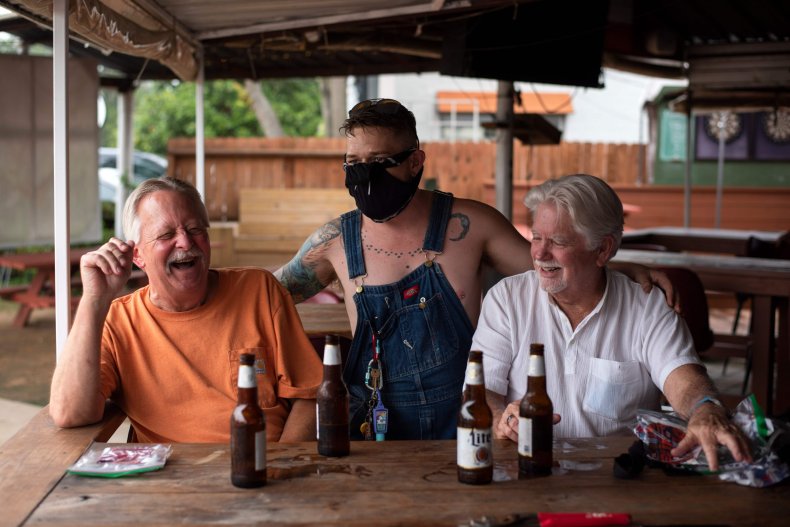 The novel coronavirus, first reported in Wuhan, China, has spread to more than 11.8 million people across the globe, including over 2.9 million in the U.S. Over 6.4 million globally have reportedly recovered from infection, while over 544,400 have died, as of Wednesday, according to the latest figures from Johns Hopkins University.
The graphic below, provided by Statista, illustrates the spread of COVID-19 in the U.S.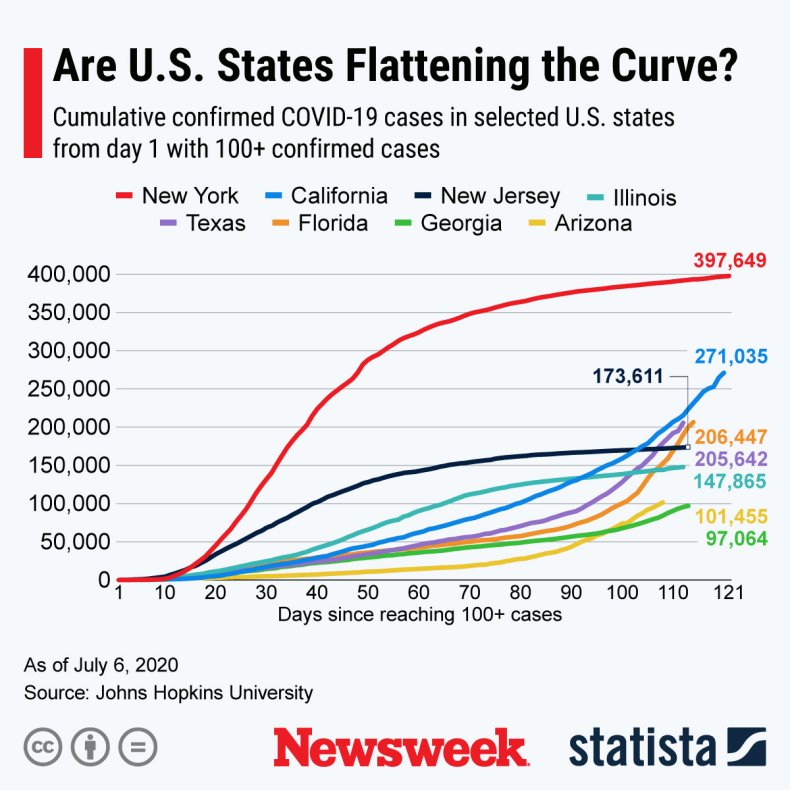 The graphic below, provided by Statista, illustrates countries with the most COVID-19 cases.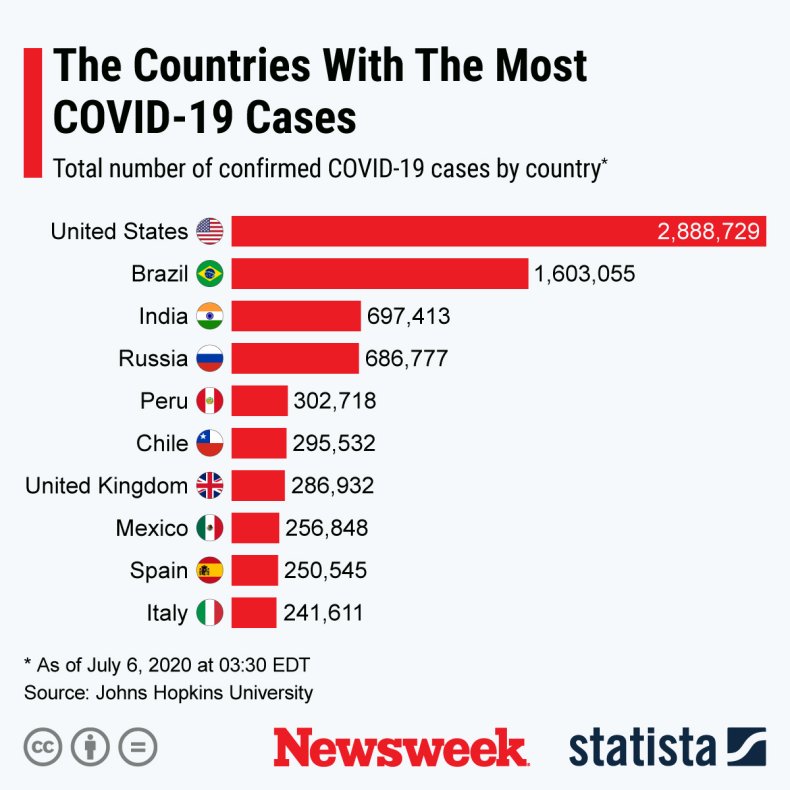 The graphic below, provided by Statista, illustrates the seven-day rolling average of new COVID-19 cases in the U.S. and European Union.