Texas reported its latest record-breaking daily increase in cases of the novel coronavirus on Tuesday, with 6,975 new infections identified. The number surpassed Italy's highest single-day jump in virus cases to date, which the nation's health officials confirmed while it was still considered the pandemic's global epicenter.
According to data published by the Ministry of Health, Italy saw its highest single-day increase in cases of the novel virus on March 21, with 6,557 new diagnoses. Texas and Italy reported similar weekly average increases in cases surrounding their respective peaks, with both identifying at least 3,500 new infections per day. Italy's record increase came roughly two weeks into the country's national lockdown, which Prime Minister Giuseppe Conte originally implemented March 9. The country continued to diagnose several thousand new cases daily until early May.
In Texas, virus cases and related hospitalizations began to multiply at unprecedented rates in early June, one month after businesses started to reopen under Governor Greg Abbott's phased economic recovery plan. Initially implemented May 1, the plan's guidelines allowed restaurants, bars, retail establishments, salons and other businesses to resume in-person services with added safety measures in place throughout the month. A few days into June, Phase III of Texas' recovery plan allowed businesses already operating to expand occupancy limits, while amusement parks reopened for visitors.
Texas set new records for daily increases in virus cases almost a dozen times throughout the state's month-long surge. After 24-hour case reports reached new heights on three consecutive days, Abbott announced that Texas would pause further reopening developments indefinitely on June 25. He directed bars to close earlier than previously allowed and lowered occupancy limits for Texas restaurants. His announcement followed the Texas Department of State Health Services' (DSHS) latest case report, which showed 5,551 infections were confirmed the previous day. The next day's report from the Texas DSHS broke a new record, with close to 6,000 cases reported.
Texas health officials have confirmed nearly 160,000 virus cases and 2,424 fatalities statewide since the start of the pandemic. The DSHS estimates roughly 72,744 of those cases are currently active, while more than 84,800 individuals previously infected have recovered. The Italian Ministry of Health has recorded more than 240,500 virus cases and at least 34,767 subsequent deaths. It estimates roughly 15,560 people are currently infected.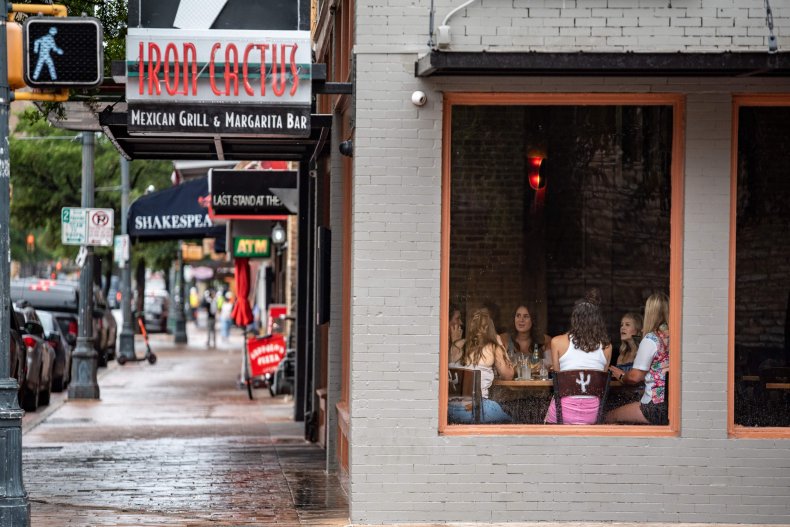 Texas, California and New York are the only U.S. states that have recorded higher daily increases in virus cases than Italy saw on March 21. New York, which was previously considered the epicenter of the national outbreak, confirmed daily increases of up to 11,500 new infections during the height of its transmission curve in mid- to late-April. California reported more than 7,000 new virus cases on June 23, its highest single-day increase since the pandemic began.
While residents of New York and California are required to wear face masks in most public spaces as means to combat the virus' further spread, residents of Texas are not. However, some local leaders have implemented face mask orders for residents of Texas counties that have been hit harder by the recent uptick in cases and hospitalizations.
Newsweek reached out to the Texas DSHS for comments regarding new virus cases, but did not receive a reply in time for publication.