Texas Dem Lawmaker Downplays Arrest Threat, Stays Outside State to Fight Voting Bill
Texas State Representative Jasmine Crockett has downplayed Republican Governor Greg Abbott's threat to have her and other state lawmakers arrested.
Crockett is among those Texas House Democrats who left the state on July 12 to prevent the introduction of voting restrictions in the state.
"I am not a fugitive," Crockett, a civil rights attorney in addition to her political office, said during a recent MSNBC interview on Saturday. "Besides doing civil rights work, I do criminal defense. I've not committed a crime by leaving the state as it relates to my official capacity as a state rep. The most that could happen is that I could be ushered back into the chamber."
At least 50 Texas Democrats departed the state for Washington, D.C., in protest of restrictive new voting laws proposed by Abbott and their other GOP counterparts. By leaving Texas, they prevented the two-thirds quorum required for Republicans to be able to introduce their legislation.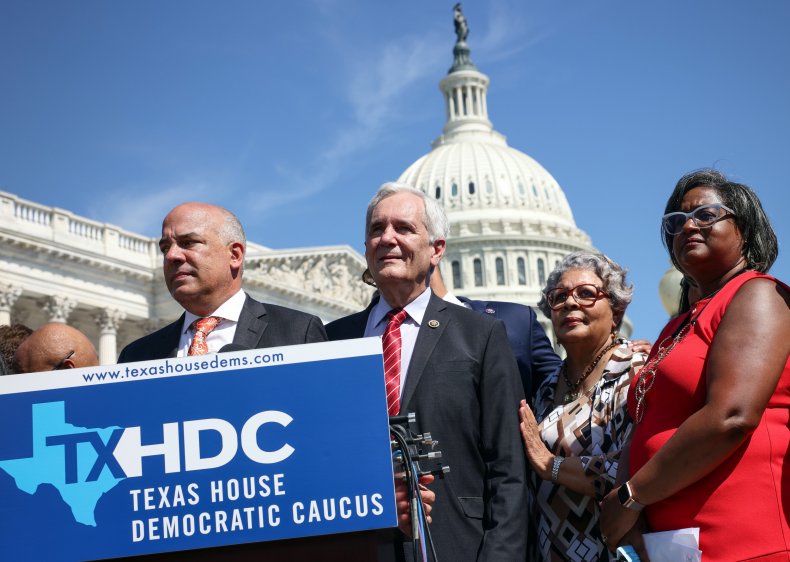 Since arriving in D.C., many of these lawmakers have been engaging in activist efforts in support of voting rights. This has included meetings at the White House, as well as meetings with Senator Joe Manchin of West Virginia. The moderate Democrat's refusal to support voting rights legislation or filibuster reforms has been a major stopping block for his party's For the People Act.
This bill would have, among other things, created federal voting rights protections, overriding restrictions being pushed by the GOP in state legislatures, including Texas. Senate Republicans managed to block the bill with a filibuster on June 22.
"You're right, we can't stay on the run forever," Crockett continued. "We are doing whatever we can within our power and we want people in Texas to know that we're fighting for them. But we passed the baton. And right now, we need those on the federal level to fight for us. They are almost there."
During a recent appearance on Fox News, Abbott said of the Texas Democratic lawmakers who fled: "Once they step back into the state of Texas, they will be arrested and brought to the Capitol, and we will be conducting business."
Many of the lawmakers, besides Crockett, have dismissed Abbott's promises to have them arrested as empty threats, insisting that they have committed no crime for which they could be arrested.
"I've not committed a crime, so I can't get arrested. The most that could happen is I could be detained," Crockett said in a previous media appearance. "And it's not the governor who gets to make that decision. It's the speaker of the House."
"This threat and this finger-pointing by the governor is not going to intimidate all of us," Texas State Representative Trey Martinez Fischer said. "We are strong and united. We want to bring voting rights reform to this country."
Over $430,000 has been raised so far in support of the Texas Democrats and their plans to oppose voting restrictions.
Crockett represents Texas's 100th District, which includes parts of Dallas, the state's third-largest city. She was first elected in 2020, assuming office on January 12.