Democrats Back Beto O'Rourke for Texas Governor as Greg Abbott to Sign Carry Gun Bill
Speculation is mounting over whether former Democratic presidential candidate and gun control advocate Beto O'Rourke will run for governor of Texas, as the state looks set to allow people to carry handguns without a license.
Democrats are keen for O'Rourke to give an answer over whether he would challenge GOP Governor Greg Abbott in 2022.
Texas Democratic Party chairman Gilberto Hinojosa told the Associated Press that "impatience is not the word for it," in referring to wanting confirmation of an O'Rourke gubernatorial run, "but anxious is."
"I told him that I thought that we needed a strong candidate for governor and he certainly fit that mold, and that, in my opinion, if anybody could beat Abbott, he could beat him," Hinojosa added.
Focusing the minds for Democrats was the move by the GOP-led Texas Senate on Monday to vote for a bill that would end the need for people to obtain a license to carry handguns if not prohibited by state or federal law.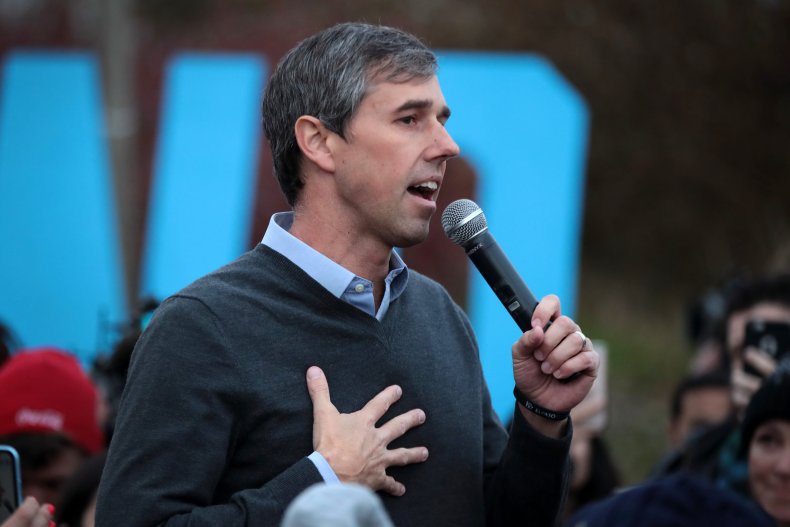 People in Texas must generally be licensed to carry handguns openly or concealed and applicants must submit fingerprints, undergo training, and pass a written exam and a shooting proficiency test
Senate sponsor Sen. Charles Schwertner told the house floor it was a "simple restoration of Texans' constitutional right under the Second Amendment," the Texas Tribune reported.
Abbott, who has to sign the bill into law, signaled that he would back the legislation, saying in April, "we should have 'constitutional carry' in Texas." This contrasts with O'Rourke's stance on gun control, who spoke out against the bill during a press conference in Austin earlier this month.
"Texas has four of the deadliest mass shootings in this country's history," O'Rourke said. "In my hometown of El Paso, 23 people were murdered in 2019 in Walmart by a guy who could legally purchase an AK-47 that he ordered online."
Webb County's Democratic Party chairwoman, Sylvia Bruni, said that O'Rourke's reaction following the 2019 shooting in which he said, "hell, yes, we're going to take your AR-15," could become a campaign trail issue.
Bruni said in the area, which swung towards Trump in 2020, "your guns are more important than your wife."
O'Rourke has played his cards close to his chest about the prospect of his third election cycle in a row, saying he will only decide when he finishes teaching his courses at the University of Texas and Texas State University.
"I'm going to think about where I can play the most positive role for Texas, whether that's running for office or supporting those who do run for office," O'Rourke said at the same press conference, "I'll think of any and all ways that I can be helpful."
O'Rourke has also spoken out against the Republican quest to impose voting restrictions spurred by ex-President Donald Trump's false claims of election fraud.
An aide to O'Rourke told the AP that he had not started fundraising or recruiting staff. If he did run, he would be fighting a GOP in the ascendency in his state where Democrats were unable to flip the Texas house in 2020.
But with a hole at the top of the ticket, Democrats want an answer soon about 2020."No one else has surfaced," Bruni said of other Democratic contenders, adding, "I haven't seen anyone out there."
Newsweek has contacted O'Rourke and the Texas Democrats for comment.