Woman Who Survived El Paso Walmart Shooting Deported Despite Helping Investigation
An undocumented immigrant named Rosa who survived the August 3, 2019 Walmart shooting in El Paso, Texas has been deported to Juarez, Mexico even though she had helped police and FBI officials investigate the shooting. The shooting, which was carried out by a 21-year-old white supremacist, deliberately targeted Latinos, killing 23 people and injuring 23 others.
The woman was pulled over by El Paso police on Wednesday, arrested over two misdemeanor traffic citations that were over five years old and was then turned over to Immigration and Customs Enforcement (ICE) officials who deported her 48 hours later, according to Sandra Ramirez, a spokesperson with Diocesan Migrant & Refugee Services, a local full-service immigration legal aid clinic serving low-income immigrants and refugees.
"Rosa is a survivor of one of the most horrific events to ever take place in El Paso. She came forward and presented herself to both El Paso police and FBI officials to give a statement of what she saw on that fateful day," Ramirez said, according to KVIA. "The information she has was sufficient for the District Attorney's office to issue a certification that she has been helpful in the investigation."
"Despite having told this to the ICE officials ... [they] chose to remove her from the US, leaving her unsupported in Juarez," Ramirez continued. "This decision amounts to a re-victimization of this young lady, who only came forward to help build the case against the shooter in the racist attack."
The woman was reportedly listed as one of the district attorney's planned witnesses to testify against the shooter at his eventual trial. She also had applied for a U visa, a form of immigration relief that provides temporary or permanent U.S. residence for undocumented survivors of crimes who help officials investigate or prosecute criminal activity.
Newsweek contacted Diocesan Migrant & Refugee Services for comment.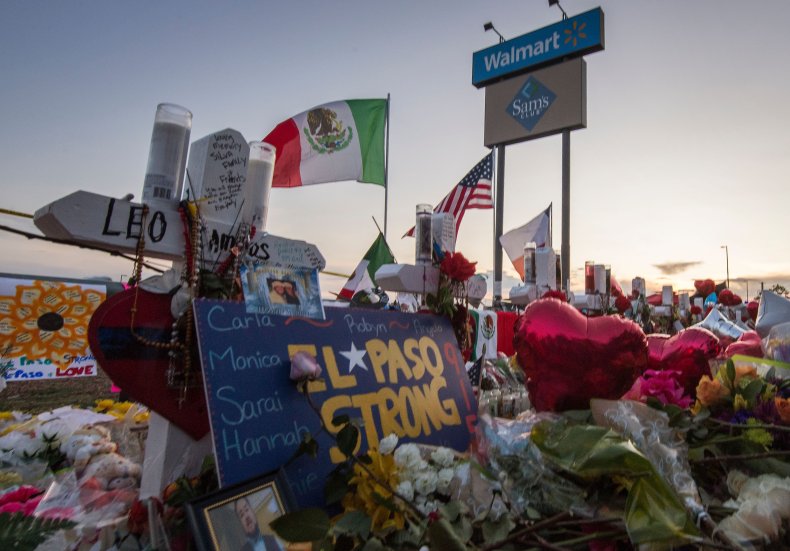 The shooter is believed to have published a manifesto in which he claimed inspiration from the white supremacist who committed the March 15, 2017 Christchurch, New Zealand shooting as well as a racist French conspiracy theorist named Renaud Camus who believes white people are being "replaced" by non-white people.
The shooter's alleged manifesto also used language similar to that of former President Donald Trump, speaking of Hispanic "invaders" taking over the United States. The shooter drove 600 miles and 10 hours from Dallas to commit the murders.
A year after the shooting, then-presidential candidate Joe Biden said that Trump had fostered a climate on race in America that led to the mass shooting.
The shooter was charged with hate crimes resulting in death, hate crimes involving an attempt to kill, use of a firearm to commit murder and in relation to a crime of violence, and use of a firearm during and in relation to a crime of violence. A court date has not been set.