Texas Mayor Says GOP Governor's 'Mixed' Coronavirus Messaging Is 'Killing Us'
Mayor Steve Adler of Austin, Texas, raised concerns that his state's Republican governor, Greg Abbott, is sending "mixed messages" regarding mask wearing during the coronavirus pandemic, warning that it is "killing us."
Adler, a Democrat, made the remarks during a Thursday interview with CNN. He said Texans are hearing different messages from Washington, D.C., and his state's leadership, adding that this confuses residents on how they should respond to the pandemic.
"They're hearing mixed messages coming from Washington, from the president, from my lieutenant governor," Adler said. "My governor is encouraging everybody to wear masks, says it's the most important thing to do, but won't let us enforce it as to individuals. And that just sends a mixed message."
As a result, the Austin mayor said, people "just are not convinced that this is really serious at this point, or that taking those steps are effective."
"That mixed messaging is killing us," Adler said.
Thursday afternoon. Abbott issued a mandatory order for face masks in every county with more than 20 cases of COVID-19.
Newsweek reached out to press representatives for Abbott for comment but did not hear back before publication.
As Adler pointed out, the governor has previously said that local municipalities cannot require individuals to wear masks. However, in recent days Abbott has strongly urged Texas residents to wear masks, as his state has seen severe spikes in new coronavirus cases.
"Every scientific medical study shows that, however frustrating it may be to wear a mask, if we all wear a mask—like this—every single day, we can together continue to help people earn paychecks," Abbott said in a Tuesday interview with NBC affiliate KXAS-TV in Dallas.
But wearing masks to curb the virus's spread has become a political issue, with some Republicans viewing mandates to wear them as an infringement on their personal rights and freedoms. The president has also appeared to be publicly dismissive of wearing masks, saying in April that he was choosing not to wear one after the U.S. Centers for Disease Control and Prevention urged the public to wear face coverings.
Still, the Trump administration has encouraged Americans to wear masks over the past week, as the country has repeatedly set new records for single-day increases in virus infections. Trump also voiced support for mask wearing on Wednesday, although he questioned whether it should be required, as many Democrats have urged.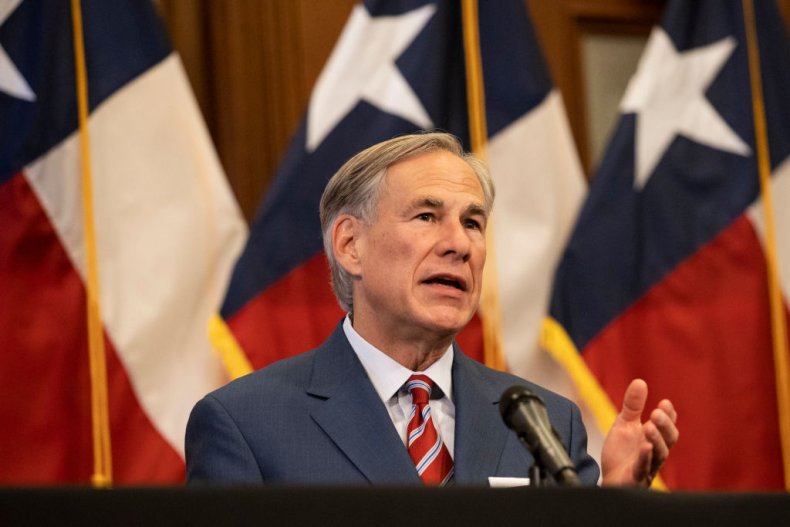 "I'm all for masks. I think masks are good," Trump told Fox Business in an interview. But he added, "I don't know if you need mandatory [masks]."
Meanwhile, Texas and the U.S. as a whole reported single-day record increases in new infections on Wednesday. Texas saw 8,123 new cases, breaking the previous record of 7,947 cases recorded on Tuesday. Nationwide, the U.S. set a new record with nearly 50,000 confirmed virus cases within a single day.
Update (7/2/2020, 5:20 p.m.): This article has been updated to include mention of Gov. Abbott's mandatory face mask order.