Nurses in Texas have been trekking for hours through the snow and ice to get to work, relieve their coworkers and care for patients.
The state was hit by a massive winter storm earlier this week, which has led to widespread outages, icy roads, traffic deaths, frozen pipes and circumstances most southerners have never seen in their lifetime.
The conditions have also disrupted power in the state with the exceptionally high demand for electricity exceeding the current available supply.
But nurses in the city of Austin have been braving the cold weather to walk to work as the snow and ice-covered roads make driving unfeasible.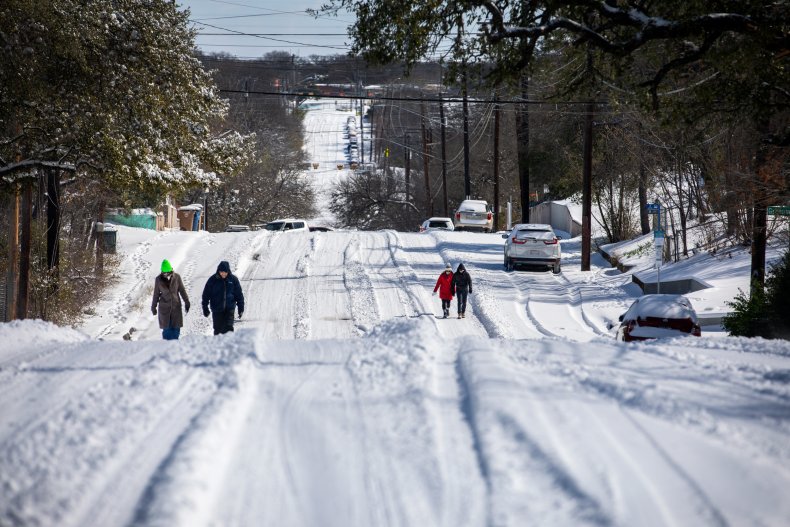 Brooke Wilson, a labor and delivery nurse with St. David's Women's Center of Texas, told KHOU 11: "I bundled up and I put on my boots and I changed my shoes and I already packed a bag thinking I was going to be staying here for a while. So, I packed a bag and I headed out and I started walking."
She said she also wanted to make sure she could relieve her coworkers. "I didn't want to let them down. I didn't want people to be spread thin. That's not safe for patients. It's not safe for us," she said.
"It's much more emotionally draining if you have to take on a higher patient load just out of necessity because of the emergency situation that we're in."
Wilson said babies arrive no matter the weather and her unit is one of many where people have to get to work to do their job. She said: "Babies aren't waiting for anybody, but there's emergencies happening all the time. So, we have great people all over the hospital that are helping keep things going."
Meanwhile, Amy Belknap, an oncology nurse manager with Ascension Seton Medical Center Austin, has also been walking to work.
She told the broadcaster: "I started a little bit before the sun rose, so there was nobody out. And it was actually the roads, like no one had driven on them yet. So, the snow is really pretty. It was really peaceful. But, yeah, definitely, not what you expect in Austin, Texas."
Belknap said that she was not the only person doing everything they could to get to work and relieve coworkers at Ascension Seton.
The nurse said: "Martin, who does our floors, he walked almost two hours to get to work." Another colleague who lives close to work chose to work on her days off to help, she added.
Belknap also described the lack of sleep the staff are getting but they are working together to make sure everyone gets breaks. She said: "I'm really proud of the team up here. We have just been looking out for each other and helping each other out throughout this very unusual time.
"Hospitals never shut down. They're 24/7. So, even whenever you have crazy weather and unique situations, people still need your care. And so, I really felt like I needed to get in for them and needed to get in for the nurses that were on the floor and needing some breaks."
St. David's told KVUE that their hospitals are providing sleeping arrangements, toiletries, meal vouchers and shower facilities so staff do not have to travel to and from work on unsafe roadways.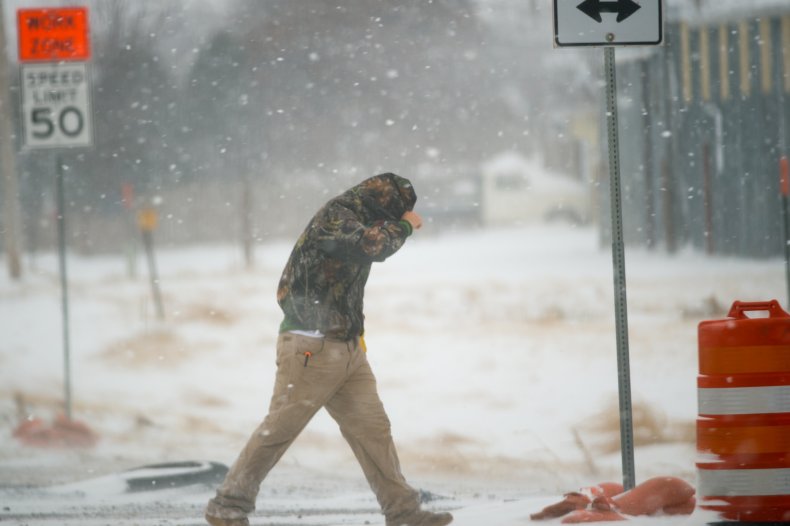 It said: "St. David's HealthCare's Disaster Pay Policy also allows staff to be paid their base rate the entire time they are in the hospital—even while sleeping. Employees are also given an hourly disaster stipend while working."
Ascension Seton told the broadcaster that their hospitals have an emergency response plan in place to provide uninterrupted patient care.
It said: "We are prepared to be responsive to rapidly evolving weather conditions and have reserved nearby hotel rooms for associates who may be unable to travel following their hospital shifts. Ascension Medical Group Seton has transitioned most scheduled clinic visits to virtual visits. Individuals should not delay if they are experiencing emergency medical symptoms."
Last Friday, Texas Republican Governor Greg Abbott issued a disaster declaration for all of the state's 254 counties, and on Sunday night, President Joe Biden declared an emergency in Texas, ordering the Department of Homeland Security and the Federal Emergency Management Agency to coordinate disaster relief efforts to areas impacted by the winter storms.
The Public Utility Commission (PUC) of Texas has now directed the state's main grid operators to raise energy prices, as millions of people are enduring below-freezing weather without power in their homes.
It comes as homes across the state have been hit by power outages during the extremely cold conditions. On Monday morning, more than 2,068,000 customers had lost power in Texas with another 18,600 in neighboring Louisiana.
Newsweek has contacted St. David and Ascension Seton for comment.