Texas Teenager With Shotgun Takes Down Two Home Invaders, One Escapes
A 17-year-old boy in Texas fatally shot two men Friday night who allegedly tried to break into his home, according to local authorities.
The Harris County Sheriff's Office received a report of the home invasion at about 10:40 p.m. Their investigation found that three armed men, wearing masks, allegedly attempted to break into a home in Channelview, a suburb east of Houston, the office wrote in a press release.
An adult woman, a 12-year-old boy and two 17-year-old boys were inside the home at the time of the attempted break-in. Upon realizing the men were trying to come inside, one of the 17-year-olds grabbed a shotgun. He fired it at the alleged burglars several times, striking two of them, according to the press release.
The third suspect fled the scene in an unidentified dark colored, four-door sedan without injury, the press release added.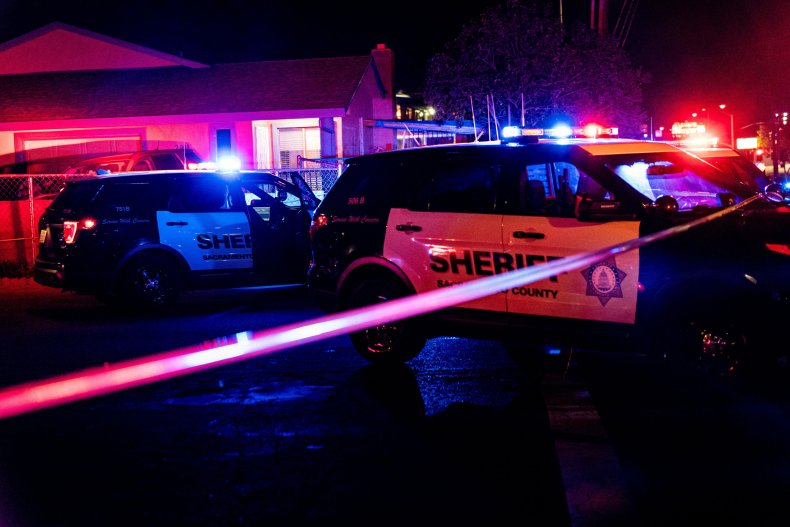 When law enforcement arrived, they found the two men unresponsive and suffering from gunshot wounds. They were both pronounced dead at the scene by emergency management personnel, according to the sheriff's office.
The case was presented to the Harris County district attorney's office, which recommended the case be presented to a Harris County Grand Jury, the sheriff's office added.
More details about the incident—including the identifies of those involved—remained unknown Saturday morning. The incident remains under investigation by local authorities, and anybody with information is asked to contact the Harris County Sheriff Office's homicide unit at (713) 274-9100.
Newsweek reached out to the sheriff's office for further comment.
Other Recent Home Invasions
Each night, many homes in the United States are targets of home invasions. A 2019 Department of Justice (DOJ) study found that more than 1.1 million burglaries occurred that year, with victims suffering a cumulative $3 billion in losses. According to SafeWise, most burglaries happen during the daytime, and is most common between June and August.
There have been several notable home invasions in recent months. Several prominent celebrities including Mariah Carey and Real Housewives of Atlanta star Marlo Hampton were targeted during a string of home break-ins in Atlanta in recent months, according to the Fulton County district attorney's office.
In June, a man from Sydney was conducting a TikTok livestream when somebody broke into his home. One of the suspects allegedly punched the victim, 33-year-old Wally Assad. Authorities said Assaad reportedly answered the door of his granny flat when he heard a knock. When he opened it, he was punched in the face and knocked to the floor, unconscious.
Florida's Santa Rosa County Sheriff Bob Johnson divided the internet in April after he said he "prefers" for anybody whose home is being broken into to shoot at the assailant. Some people raised concerns that his comments could be a way for police to divert responsibility or lead to the accidental shootings of the wrong people.