Texas Tornadoes Caught on Video as Storm Kills at Least 10
Video has emerged of tornadoes tearing across Texas on Friday, as the southern United States battled a wave of storms that left at least 10 people dead.
More than a dozen states were struck by extreme weather from late Thursday to Friday, with at least a million customers losing power.
The storm has been making its way north from Texas, all the way to Michigan and Pennsylvania, leaving a trail of destruction in its wake.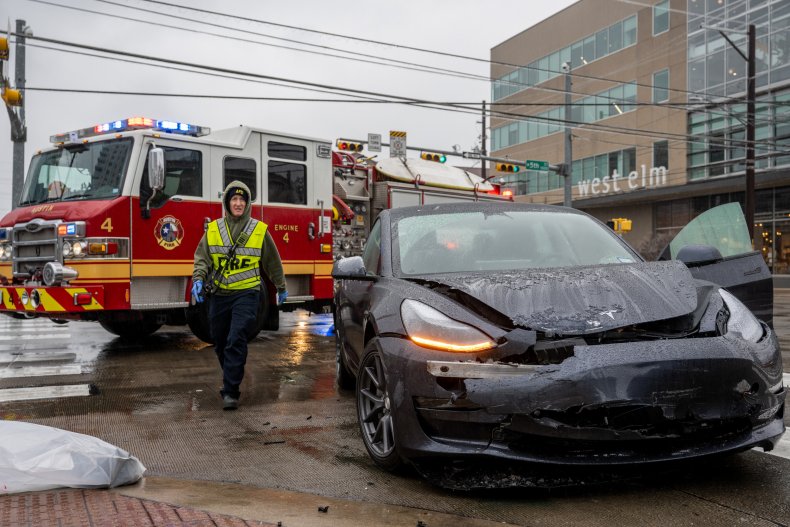 The Associated Press news agency reports three people were killed in Alabama by falling trees, along with another two in Tennessee. Three storm-related deaths were recorded in Kentucky, with a single death reported in both Arkansas and Mississippi.
A number of tornadoes were reported in Texas, dramatic video of which was posted on social media.
In Greenville, a city northeast of Dallas, a number of brick buildings collapsed, with debris spreading across the street.
Further tornadoes were recorded in Louisiana, Alabama and Kentucky, according to data from the federal National Weather Service (NWS).
Kentucky Governor Andy Beshear said a tornado took place in his state in each of McCracken County and Christian County, with wind speeds of 80 miles per hour recorded in the Bluegrass State.
On Friday Governor Beshear declared a state of emergency, and ordered the Kentucky National Guard to be ready to assist rescue efforts.
In Jefferson County, Alabama, residents were urged to avoid travel until the storm had passed, after "multiple reports of downed trees."
As of 9:30 a.m. ET on Saturday morning, hundreds of thousands of customers remained without power across southern and eastern parts of the U.S. At this point the worst-hit states were Kentucky, Michigan and Tennessee, which recorded 404,787, 343,037 and 128,434 customers without power respectively, according to the PowerOutage.US monitoring site.
Richard Bann, a meteorologist at the NWS, described the extreme conditions in The New York Times as a "multi-hazard event".
Conditions had improved by Saturday morning, by which point no NWS active tornado watches remained in effect, though flood warnings were extended into Sunday for parts of Missouri and Arkansas.
In an early morning briefing, the NWS said: "Isolated to scattered thunderstorms will be possible today across parts of the western U.S. and in north-central Florida, but no severe threat is expected."
At the end of February, parts of California were hit by heavy snowfall, with Los Angeles receiving its first blizzard warning for decades.
Freezing conditions also struck across the northern plains and Great Lakes regions during this time, with 850,000 homes losing power and thousands of flights being cancelled.