Texas Woman Dies of COVID After Giving Birth: 'Mom, I Wish I Got Vaccinated'
"Mom, I wish I got vaccinated."
Those were the words Paige Ruiz texted to her mother before she died of COVID-19.
Ruiz, 32, of Fort Worth, Texas, tested positive for the virus on July 24, less than a week before her baby was due.
Her mother Robin Zinsou said she had been asking her daughter about speaking to her doctor about the vaccine. "And she said, 'No, Mom. I'm going to wait until after I have the baby,'" Zinsou told WFAA.
Ruiz developed a cough that led to a trip to the ER and she ended up delivering her baby, a daughter named Celeste, via emergency C-section.
She recovered enough to meet Celeste, whom Zinsou described as a "happy little baby," via a video call. However, she then developed complications from COVID-19.
"She texted me and said, 'Mom, I wish I got vaccinated,'" Zinsou said.
Her daughter spent her final days texting friends and family asking if they knew anyone who was not vaccinated, Zinsou said.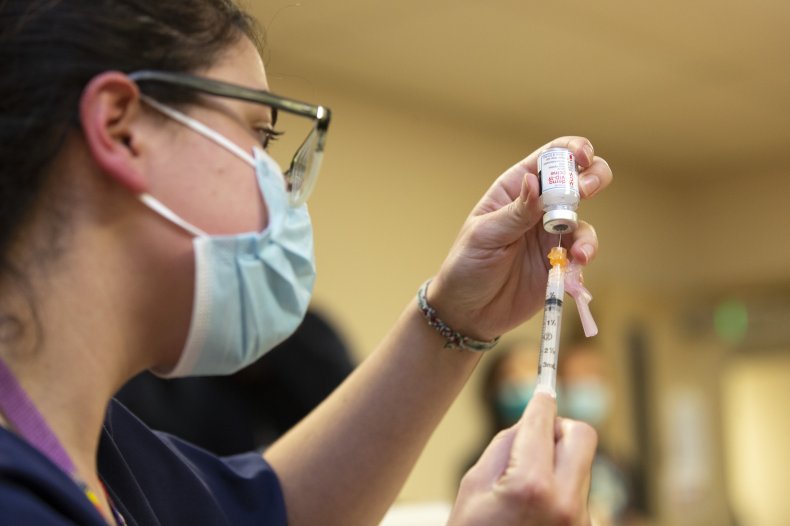 She said: "She was texting her friends and her sisters and said, 'You know anyone who isn't vaccinated? Beg them to get vaccinated.' That's Paige's last message."
Ruiz, who was also mother to a 2-and-a-half-year-old daughter named Joanna, died August 15 without ever holding her newborn.
Her sister, Natasha Zinsou, set up a GoFundMe page to raise money to pay for a funeral and other costs.
"One of Paige's last wishes was that everyone, from all walks of life, get vaccinated against covid to help prevent more tragedy," she wrote on the page.
"Covid has done enough damage to all of us. Please consider getting vaccinated to help protect yourself and your loved ones and to honor the memory of my sister." The family has been contacted for comment.
Her death came just days after the U.S. Centers for Disease Control and Prevention (CDC) urged all pregnant and breastfeeding women to get the COVID-19 vaccine, citing new safety data that showed no increased risks of miscarriage for those who received at least one dose of the Pfizer or Moderna vaccine before 20 weeks of pregnancy.
The guidance came as hospitals reported a rise in unvaccinated expectant mothers becoming seriously ill with COVID-19, amid a surge in infections driven by the highly contagious Delta variant.
According to the CDC, 23.8 percent of pregnant women had received at least one dose of a COVID vaccine as of August 14.
In recent weeks, the families of several unvaccinated women who died after giving birth have spoken out.
Greyzie Miller, a 31-year-old from Jacksonville, Florida, died on August 14, a few weeks after giving birth to her second child via emergency C-section.
Another Florida woman, Kristen McMullen, 30, gave birth to her daughter via emergency C-section on July 27 after being hospitalized with coronavirus-related pneumonia. She was rushed to the intensive care unit shortly after giving birth, and died days later.
Last week, the family of an unvaccinated mother and daughter who died of COVID-19 a day apart were urging people to get their vaccine.
Lacresanna Williams, 21, died after delivering her baby via emergency C-section after testing positive during a routine pregnancy check-up. Her mother, Victoria Williams, had also contracted the virus and died a day later.