Woman Wins $557m Against Railroad Company After Being Hit by Train
A Texas woman has won $557 million in damages from rail operator Union Pacific for being left severely disfigured after being hit by one of their trains, which was found not to have stopped due to not meeting federal safety requirements.
Mary Johnson required a leg amputation, lost multiple fingers and sustained severe brain damage after a train struck her in downtown Houston on March 5, 2016, court documents show. She was awarded the damages last week following a jury trial on March 3, nearly seven years to the day later.
The conclusion of legal proceedings comes as railroads are facing increased scrutiny over safety protocols in the wake of a train derailment that led to a toxic spill in East Palestine, Ohio. Transportation Secretary Pete Buttigieg has called for improved standards following the crash.
Lawyers for Johnson, a teacher at a middle school in Houston at the time of the incident, said that she was struck because the engineer and conductor on board had failed to stop the train before it hit her.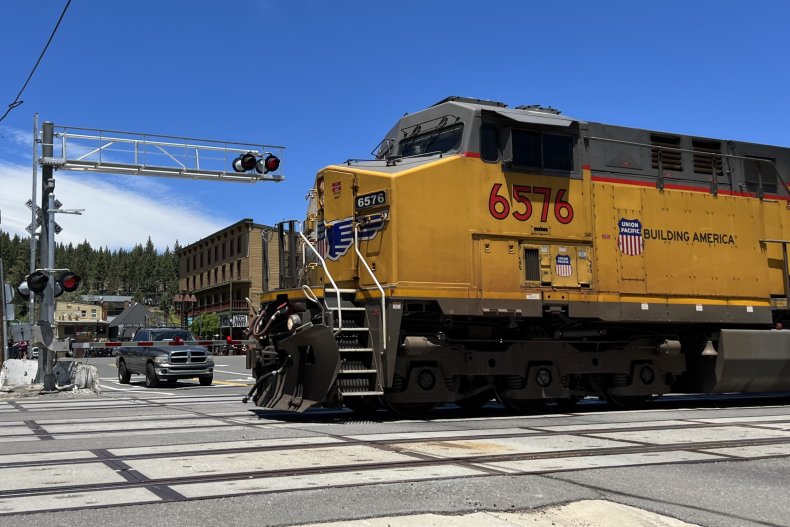 They argued successfully this could have been avoided "if the lights on the locomotive were bright enough to illuminate [Johnson] on the tracks 800 feet ahead as is required by federal law." This is stipulated in a dedicated section of Title 49 of the Code of Federal Regulation.
The lawsuit also claimed that the train operators had failed to abide by Union Pacific's own General Code of Operating Rules, which states: "In case of doubt or uncertainty, take the safe course." They argued the operators had not acted on uncertainties about whether Johnson was on the tracks or was going to move from the tracks.
It said the rail workers failed to engage an emergency stop even after recognizing that Johnson was not moving.
Jurors found Union Pacific to be 80 percent responsible for the incident, and Johnson 20 percent culpable. Court documents suggested Johnson was intoxicated prior to being hit by the train.
They awarded Johnson $500 million in exemplary damages, along with compensation totaling over $57 million for her injuries, medical costs and mental anguish.
"Railroad companies like Union Pacific have enjoyed the privilege of using tracks that run through the heart of our cities, communities, and neighborhoods for years, and with that privilege comes a responsibility to operate safely," Kyle Findley, Johnson's attorney, said in a statement.
He added that the verdict showed that "Union Pacific and other rail operators are ultimately liable for the costs associated with preventable disasters."
When asked to comment, a Union Pacific spokesperson told Newsweek the company intends to appeal the verdict, including the damages award, saying that it was "deeply discouraged by the jury's verdict."
"The crossing's lights, gates, and bells were activated, and the crew blew the horn to herald the train's approach," they said. "The train crew activated the emergency brakes when they discerned an individual seated on the tracks in the middle of the night."
The spokesperson added: "On average, it can take a train up to a mile to stop and by the time the train crew spots someone on the tracks, it is often too late."
The conclusion of legal proceedings came just over a week after a Union Pacific train carrying coal derailed in Gothenburg, Nebraska. Prior to that, one of the company's trains went off the tracks in Splendora, to the northeast of Houston, after colliding with an 18-wheel truck in February.
On February 26, Union Pacific's CEO Lance Fritz announced he would step down after shareholders urged for new leadership. In a letter seen by Reuters, Soroban Capital, a hedge fund, called for a new chief "who can get the trains to operate safely and on time."
The derailment of a Norfolk Southern train on the border between Ohio and Pennsylvania on February 3—which spilled toxic chemicals into the soil and surrounding environment and caused residents to complain of symptoms associated with exposure to toxic chemicals—has renewed attention to safety standards on U.S. railroads after
Federal investigators said that a preliminary investigation of the crash suggested the cause of the derailment was a wheel bearing that failed after overheating. Norfolk Southern has since pledged to improve safety procedures, including detection systems for hot bearings.
The company is being investigated by three federal agencies over its safety standards after a train conductor was killed on Tuesday while operating a train at an industrial site in Cleveland, Ohio. The National Transportation Safety Board, which is leading the "special investigation," listed six incidents relating to Norfolk Southern since December 2021 that it would be reviewing.
Alan Shaw, the company's CEO and president, said in a statement that the company was "going to rebuild our safety culture from the ground up," adding: "This is not who we are, it is not acceptable."
New statistics from the Federal Railroads Administration show that accidents across all railroads had increased year-on-year since 2020, as had the number of fatalities. Derailments had dropped to a ten-year low of 1,095 in 2021, before rising slightly to 1,168 in 2022.
In the last ten years, nearly 18,700 incidents had occurred on Union Pacific tracks, accounting for almost 15 percent of the total recorded for all railroads, the figures show.
Update 03/08/23, 11:15 a.m. ET: This article was updated to include comment from a Union Pacific spokesperson.