Three Theories That Could Explain the Unidentified Objects
Theories are swirling online after yet another "unidentified object" was shot out of the skies on President Joe Biden's orders.
A U.S. fighter jet shot down the object over Lake Huron, bordered by the province of Ontario and Michigan, on Sunday—the fourth such downing over a nine-day period.
The shootdowns are partly due to a "heightened alert" after a spy balloon from China emerged over U.S. airspace in late January, said Gen. Glen VanHerck, commander of North American Aerospace Defense Command (NORAD) and U.S. Northern Command.
That balloon traversed sensitive military sites before it was shot down off the Carolina coast on February 4. Beijing has said that it was a civilian weather balloon.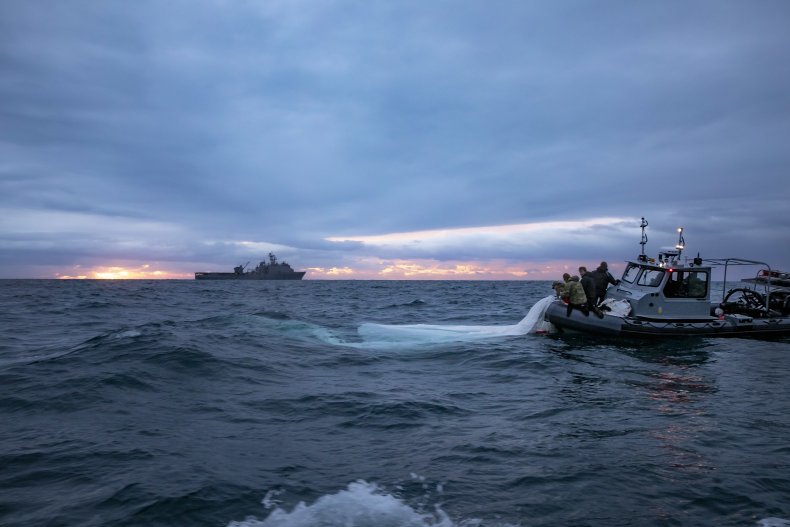 Since then, U.S. fighter jets also shot down objects over the Yukon in northwest Canada on Saturday and off the northern coast of Alaska on Friday.
VanHerck said he could not categorize what these objects were, adding: "I haven't ruled out anything at this point."
Here, Newsweek looks at some of the theories about the objects.
Chinese Surveillance
The Pentagon has said the balloon shot down on February 4 was part of a larger surveillance effort that has been operational for several years.
Sen. Chuck Schumer told ABC's This Week that officials believe the objects shot down on Friday and Saturday were balloons. Although he did not say if they were Chinese, Schumer said Beijing was using a "crew of balloons" that had "probably been all over the world."
The New York Times reported in 2022 that several incidents of unidentified aerial phenomena over the past decade have been formally attributed to Chinese surveillance. China wants to learn more about how America trains its military pilots, U.S. officials told the newspaper.
Airborne Clutter
Another explanation is that the objects are simply airborne trash.
A report released by the Office of the Director of National Intelligence in 2022 said that of the 510 reports of unidentified aerial phenomena, or UAPs, it analyzed, 26 were characterized as unmanned aircraft systems; 163 were balloons or "balloon-like entities;" while six were found to be "clutter" such as birds or airborne debris like plastic bags.
Alien Invasion
Theories that the unidentified objects could be extraterrestrial in nature have been circulating on social media.
However, Rep. Jim Himes of Connecticut, the top Democrat on the House Intelligence Committee, addressed the claims during an appearance on NBC News' Meet the Press on Sunday.
"All of a sudden, massive speculation about alien invasions and additional Chinese action or Russian action," he said. "In the absence of information, people's anxiety leads them into potentially destructive areas. So I do hope very soon the administration has a lot more information."
The government's report about UAPs in 2022 did not attribute any of the sightings to aliens, but did not explicitly rule it out either.