These Are the Items Inside the New Time Capsule Where Robert E. Lee Statue Once Stood
Workers in Richmond, Virginia, have installed a new time capsule within the pedestal at the site where a statue of Robert E. Lee once stood.
After the statue of Lee, the Confederate general, was taken down on Wednesday, workers searched for a time capsule from the 19th century believed to be buried in or around the cornerstone pedestal. But their search wasn't successful.
The installation of a new time capsule in the structure was completed early Saturday morning. The capsule contains items related to current events including the COVID-19 pandemic and recent racial justice protests, according to the Associated Press.
The items include a Black Lives Matter sticker, an expired vial of the Pfizer COVID-19 vaccine, and a photo of a Black ballerina raising her fist raised near the former Lee statue during protests last summer.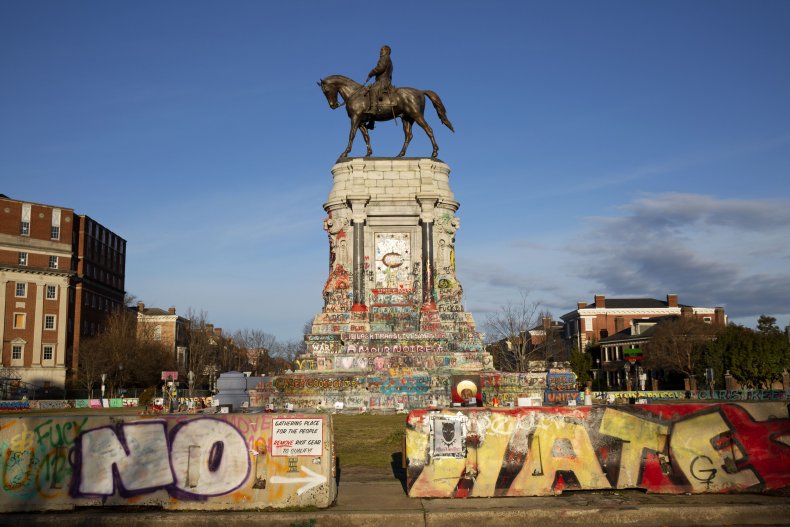 The Richmond Times-Dispatch reported that the capsule also contains prayer beads that belonged to a person who died from COVID-19, a steel railroad spike found in Richmond's African Ancestral Burial Ground, and signed collection of Pultizer Prize-winning columns from the Times-Dispatch "on dismantling the legacy of the Confederacy in its former capital."
On Thursday, after the statue was taken down, workers used radar devices, metal detectors, and other pieces of construction equipment to try and find the 19th century time capsule. They also removed pieces of cornerstone and other large stones around the pedestal's perimeter during their 12-hour search, which turned up nothing.
The former Lee statue was taken down after the Virginia Supreme Court ruled on September 2 that it could be removed.
Virginia Gov. Ralph Northam praised the removal of the Lee monument on Wednesday.
"After 133 years, the statue of Robert E. Lee has finally come down—the last Confederate statue on Monument Avenue, and the largest in the South," Northam said.
"The public monuments reflect the story we choose to tell about who we are as a people. It is time to display history as history, and use the public memorials to honor the full and inclusive truth of who we are today and in the future."
Northam's office noted that the statue was erected in 1890, during "a generation after the Civil War, during a time in which southern states were working to reinforce white supremacist systems and structures across their governments, services, and societies."
Former President Donald Trump criticized the decision to remove the statue. In a statement Wednesday, he wrote "our culture is being destroyed and our history and heritage, both good and bad, are being extinguished by the Radical Left."
Newsweek has reached out to Northam's office for comment on the new time capsule.