'They Don't Have Bupkis:' Trump Lawyer Rudy Giuliani Downplays Michael Flynn's Cooperation With Mueller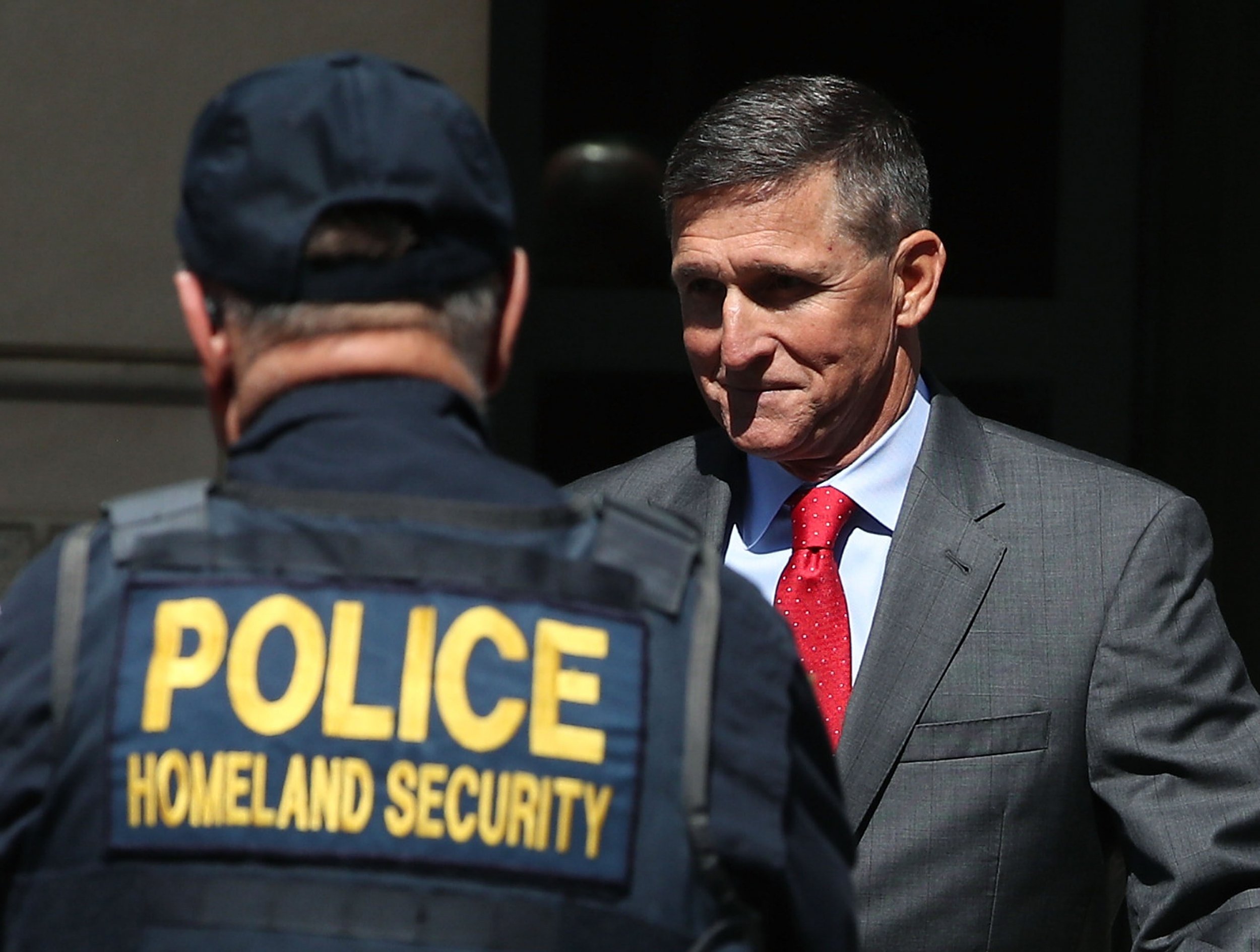 President Donald Trump's lawyer, Rudy Giuliani, played down Michael Flynn's cooperation with special counsel Robert Mueller's Russia investigation, insisting that investigators do not have anything incriminating on the president.
According to NBC News White House correspondent Hallie Jackson, Giuliani said: "They don't have bupkis" after he reviewed the sentencing memo sent by Mueller in Flynn's case.
Giuliani told Jackson that if Mueller's investigation had anything damaging on Trump it would have revealed as such in the sentencing memo, not redacted it. Asked when was the last time the president spoke with Flynn, Giuliani said: "I don't know, I don't care."
Flynn, a former general, was briefly Trump's national security adviser until it emerged that he lied to the FBI about his contact with the then Russian ambassador in Washington, D.C., Sergey Kislyak, during the Trump team's transition.
He lasted just 24 days in the job before resigning. Flynn pleaded guilty to lying to federal investigators and became the first high-ranking Trump adviser to agree to cooperate with Mueller's probe.
After giving "substantial assistance" to Mueller's investigation, which spans Russian interference in the 2016 election and potential collusion between the Trump campaign and the Kremlin, the special counsel recommended to the judge that Flynn serve no jail time.
"The defendant deserves credit for accepting responsibility in a timely fashion and substantially assisting the government," the sentencing memorandum reads.
Mueller's memo, which is heavily redacted in parts, revealed that Flynn gave 19 interviews in relation not only to the special counsel's probe but also two other investigations, the details of which are, at present, secret.
As well as lying about his communication with the Russians, Flynn also lied to investigators about his lobbying work on behalf of the Turkish government.
Mueller's Flynn memo is the latest alarm bell to ring for President Trump. His former personal attorney and fixer Michael Cohen last week pleaded guilty to lying to Congress about Trump's business dealings in Russia.
Cohen, who has a plea deal with Mueller and is accused of multiple counts of fraud relating to his businesses, has also implicated Trump in campaign finance violations over hush payments to a porn star and a Playboy model to keep them quiet about allegations of extramarital affairs.
A central question in Mueller's investigation, and one that Cohen may be able to answer, is if Trump knew in advance of a meeting at Trump Tower between senior members of his campaign, including his eldest son Donald Trump Jr., and two individuals with links to the Kremlin touting dirt on his Democratic rival Hillary Clinton.
The president denies knowing about the infamous meeting.