Josh Duhamel Shares How Renée Zellweger Went 'Pretty Method' as Pam Hupp
Renée Zellweger went so method with her performance as Pam Hupp in The Thing About Pam her co-stars would sometimes find they were talking to her character rather than the actor, Josh Duhamel told Newsweek.
The show, which ended on Tuesday, April 12, followed the 2011 murder of Betsy Faria and its aftermath, particularly how her husband Russ (Glenn Fleshler) was wrongfully convicted and the role her friend Pam had on the case.
Testimony from Hupp played a key role in the 2013 conviction of Russ Faria for the murder of his wife, Betsy, who was stabbed to death in her home in Troy, Missouri, in 2011. After a successful appeal and second trial in 2015, Russ was exonerated after his defense attorney was permitted to introduce evidence that was withheld from the original trial jury, some of which implicated Hupp.
Duhamel portrayed attorney Joel Schwartz in the NBC true crime drama, Russ' lawyer, who encountered Hupp during his trials in 2013 and 2015, respectively, and later watched when she was sentenced to life in prison in 2016 for the killing of Louis Gumpenberger.
How Renée Zellweger Went 'Pretty Method' for Pam Hupp performance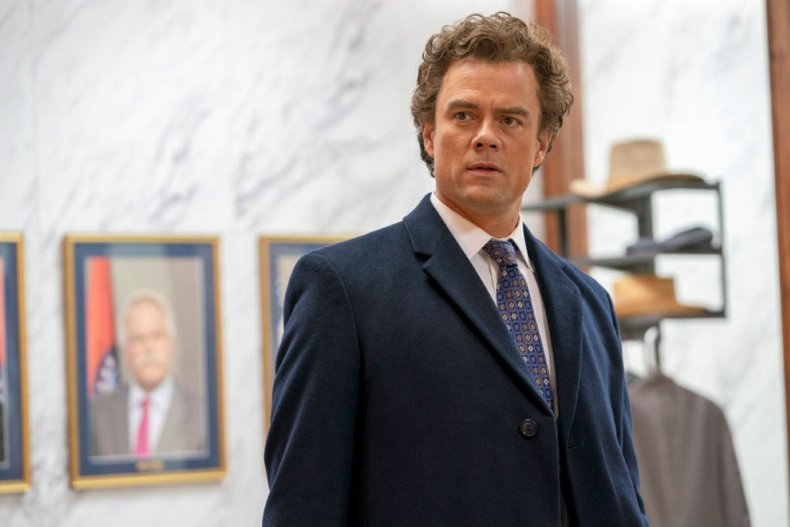 "I found myself sometimes not realizing if she'd become Pam or if you could approach her because she was pretty method throughout the process," Duhamel said of what Zellweger was like on set.
"And so I'd go up and talk to her and then she'd look at me a certain way and she'd smile, or cackle, or whatever she said and I'd be like, 'Oh, she's not Renée right now that's Pam!'
"I didn't want to disrupt her flow so in those moments I was just sort of like, 'okay, yeah, we'll talk later. Bye.'"
Reflecting on Zellweger's performance, Duhamel also shared: "She's a dream to work with. First of all, she's so prepared, she's a total sweetheart, she's like a little Texas girl, you know, very sweet, very southern.
"But she's awesome and a complete beast when it comes to the work and it was really fun to watch her sort of transform into this character."
Duhamel heaped praise on the Oscar-winner by adding: "She's a total sweetheart, a total pro, and one of the greatest to ever do it."
Working With the Real Joel Schwartz
Duhamel's real-life counterpart was very involved in the making of the show, providing insight and advice on the Betsy Faria case and its aftermath to both the creative team and Duhamel himself.
Schwartz was a "valuable resource" to the actor, he said, because he would be more than happy to answer his questions and share what the experience of defending Russ had been like for him.
"He was great, he's a really valuable resource, and also a great guy, we became pretty good friends," Duhamel said of the criminal defense lawyer. "When I first got the part I wanted to not only pick his brain on the legal aspects of this story, but also what he went through emotionally.
"Because this is a guy who defends a lot of guilty people, and he knows going in that they're guilty, but in this case even though he thought Russ might have been guilty he soon realised he wasn't.
"This case took on a totally different motivation for him, so for them to [represent Russ] in such a crazy way was super emotional for him.
"Nobody expected it. He just couldn't even believe that it happened, this perfect storm of ineptitude, and he fought like hell to try to come back and get justice for Russ in the second [trial]."
Duhamel would often talk to Schwartz about what it was like for him to represent Russ in court, though he was most interested in the attorney's personal experience rather than the case itself.
"I really did pick his brain a lot on some of the stuff I didn't understand about the legal side of things, and he's such an attorney that it's hard to pull anything out of him other than that," he said.
"It was like, 'Joel I don't care about what article that was in whatever law book it's in, I want to know how it felt when you won that second trial.'
"I wanted to get inside of his head and see how he felt, you know, how to play this guy, and then he started really opening up to me about the emotional side of it, which was a lot of fun because he's not used to talking about that kind of stuff."
When asked if he felt it was helpful to have Schwartz on board with the show, Duhamel continued: "I think so, I think that he was just kind of the only sane one in the story, that's what it felt like in the beginning.
"When you talk about the judge, and the jury, and the district attorney, and the police, and the people in town, nobody even wanted to look at Pam. It must have felt like some kind of Twilight Zone or something.
"So, yeah, I do think he was a valuable resource because he felt like the only sane person in the bunch."
Schwartz recently wrote a book on the Betsy Faria case which was re-opened by Lincoln County Prosecuting Attorney Mike Wood in July 2021.
Wood has charged Hupp with Betsy's murder, and she has denied all allegations made against her. The case is ongoing.
The Thing About Pam is available to watch in full on NBC's streaming platform Peacock now.