Third Stimulus Check Being Saved More and Spent Less Than Others
Americans appear to be spending less and saving more of the latest $1,400 stimulus check sent out through the passage of President Joe Biden's $1.9 trillion American Rescue Plan in March.
New polling published Wednesday by the Federal Reserve Bank of New York shows that over 40 percent, on average, of the latest stimulus payments is being saved by Americans.
The survey results showed that Americans are generally saving about 42.6 percent of the third federal stimulus payments, up from 37.2 percent and 36.4 percent of the second and first stimulus checks respectively, Bloomberg reported. Notably, the latest stimulus payment is also larger than the first two, which were $1,200 back in the spring of 2020 and $600 under the package passed by Congress in December.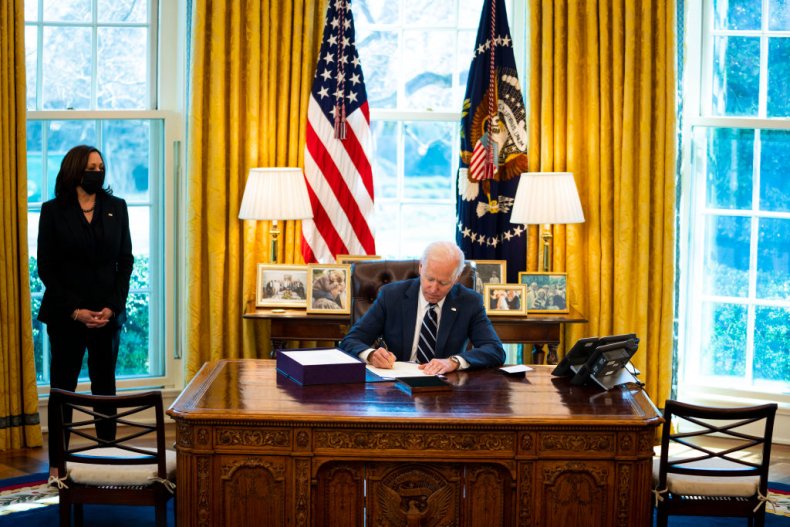 Meanwhile, Americans have spent less than 25 percent of the payment on average. When it comes to the first stimulus check, Americans had spent 29.2 percent and then 25.5 percent for the second payment. Separately, just over a third of the latest stimulus payments are being spent to pay down debt, compared to 37.4 percent for the winter payment and 34.5 percent for the payment doled out last spring at the start of the COVID-19 pandemic.
The vast majority of Americans received or are soon to expect direct payments of up to $1,400 as part of Biden's major COVID-19 relief package. The bill passed through Congress last month on a straight party-line vote, with zero Republicans voting in favor of the legislation—despite polls showing it had significant bipartisan support among voters.
Although GOP lawmakers continue to criticize the American Rescue Plan, warning it could lead to inflation and raising concerns about its impact on the deficit, economists and financial analysts have largely approved of the package. Jamie Dimon, the long-time chair and CEO of JPMorgan Chase, in his annual shareholder letter released this week spoke favorably of the deficit spending and expressed an optimistic outlook for the American economy over the next couple years. Dimon specifically highlighted the "new stimulus savings" as a positive economic factor.
"I have little doubt that with excess savings, new stimulus savings, huge deficit spending, more QE, a new potential infrastructure bill, a successful vaccine and euphoria around the end of the pandemic, the U.S. economy will likely boom," the top financial executive wrote.
"This boom could easily run into 2023 because all the spending could extend well into 2023," Dimon added.