'This Is Us' Season 6 Ending Explained: What Happened to The Big Three?
It is that time, This is Us fans. Season 6 has come to an end and brought a close to the Pearson family's story (for now).
The NBC drama has had six critically-acclaimed seasons and has now gone out on its own terms with an emotional finale set across several timelines.
Here is everything you need to know about what happened in the episode. As might be expected, this article contains spoilers for the show's finale, so read ahead with caution.
This Is Us Season 6 Ending Explained: What Happened to The Big Three?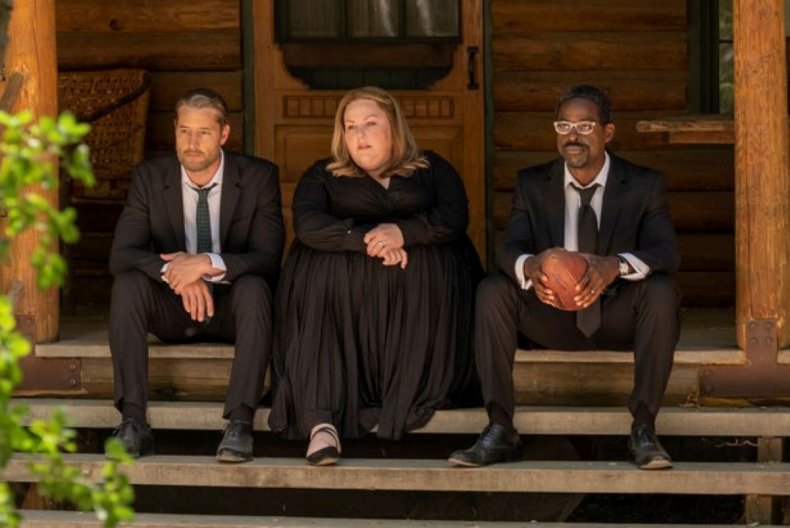 The This is Us finale is set in three timelines: in a flashback sequence, in the present day, and a brief flash-forward scene.
In the storyline set in the 1990s, Rebecca (Mandy Moore) and Jack (Milo Ventimiglia) are enjoying a day with the Big Three when they were children, deciding to spend their time doing nothing but live in the moment because they can.
The episode opens with Jack asking about a scar that he only just noticed Rebecca has on her eyebrow, which she explains she got whilst being pushed on the swings by her dad (remember this for later).
After deciding to enjoy a fun-filled day with their children, the parents entertain Kate, Kevin and Randall with games like four square and pin the tail on the donkey, as well as watching homemade family movies. Jack even shows Randall and Kevin how to shave.
The show's last flash-forward scene first shows Rebecca and Jack pushing the Big Three on swings, then Randall (Sterling K. Brown) and wife Beth (Susan Kelechi Watson) pushing Tess and Annie on swings, and then Kate (Chrissy Metz) and ex-husband Toby (Chris Sullivan) pushing their son Jack on the swings.
It then ends with a grown-up Jack (Blake Stadnik) and his wife Lucy (Auden Thornton) pushing their daughter Hope on the swings too.
Meanwhile, in the present day the Big Three are in mourning after their mother's passing. As they prepare for her funeral, Randall worries about the speech he has stayed up all night trying to write.
With the help of wife Beth, Randall manages to remain calm as he considers their "quiet future."
At the funeral Randall, Kate and Kevin (Justin Hartley) each give a speech, though the audience is unable to hear exactly what they say, and the trio take some time to themselves after.
Randall learns from his daughter Déja (Lyric Ross) that she's going to be having a baby boy as she reassures him about his speech once the funeral is over.
The Big Three then enjoy one last talk together in which they share their plans for the future, with Kevin deciding to focus on his nonprofit organization, Kate deciding to open several music schools for visually impaired children, and Randall preparing to announce his presidential bid.
It ends back on the train where Rebecca was seen in the show's penultimate episode, reunited with Jack as he once again admires the scar she has and reassures her that she'll still be there for her kids.
The couple watch their children after the funeral and Jack tells her that she'll "be there" for them always, and the episode ends with the pair saying they love each other for the last time.