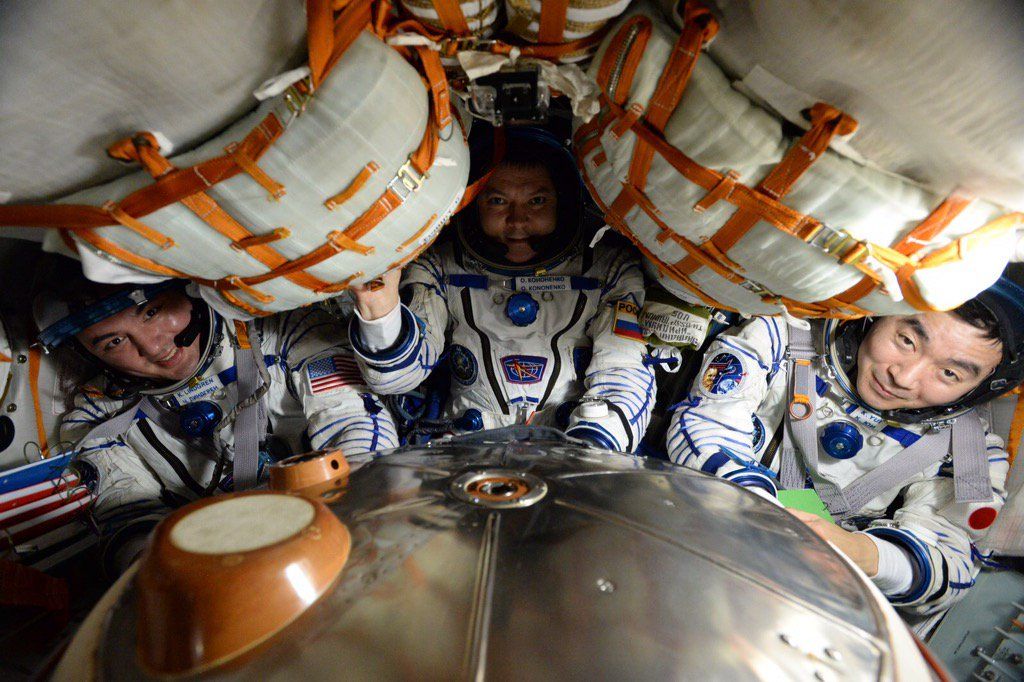 Three astronauts landed safely back on Earth on Friday after a 141-day mission to the International Space Station (ISS). NASA astronaut Kjell Lindgren, along with Oleg Kononenko of Roscosmos (Russian Federal Space Agency) and Kimiya Yui of the Japan Aerospace Exploration Agency (JAXA), touched down in the steppes of Kazakhstan at approximately 8:12 a.m. ET, or 7:12 p.m. local time.
The crew was helped out of the Soyuz capsule by Russian rescue teams that arrived by helicopter soon after they landed in the snow, the Associated Press reports. Instead of undergoing a post-flight medical checkup in a tent nearby, cold weather and winds meant the crew members got just a quick inspection on site before flying to Dzhezkazgan, a remote town roughly 75 miles to the southwest.
Kononenko has now spent a cumulative 533 days in space during three flights. But the mission was a first flight for Lindgren and Yui, a fact the current space station commander Scott Kelly alluded to in a farewell tweet Friday:
Kelly also posted images snapped as the Soyuz spacecraft left the ISS and completed its "fiery plunge through the atmosphere."
Kjell and Kelly performed two spacewalks while the baby-bird-turned-eagle astronaut was still aboard the space station, on October 28 and November 6. Kelly remains at the ISS with Roscosmos's Mikhail Kornienko and Sergey Volkov.
Kelly and Kornienko are part of the first joint U.S.-Russian one-year mission to the ISS, twice the typical amount of time an astronaut spends there, "to provide researchers the opportunity to advance their knowledge of the medical, psychological and biomedical challenges faced by astronauts during long-duration spaceflight," according to NASA. Kelly, Kornienko and Volkov are scheduled to return to Earth in March.
But they won't remain a trio for long. Three other astronauts—NASA's Tim Kopra, Roscosmos's Yuri Malenchenko and the European Space Agency's Tim Peake, who recently announced that he plans to run the London Marathon remotely from the ISS—are scheduled for a Tuesday launch, which will be covered on NASA television.
NASA focused on the comings and goings of the astronauts in its weekly Space to Ground update, posted to YouTube Friday.