Three Dead After Nail Salon Shooting
Police in Summersville, West Virginia, say that a man opened fire in a nail salon on Thursday evening, killing two people before he was shot dead by officers.
A spokesperson for the Summersville Police Department said that just before 6:40 p.m. on July 28, officers responded to an active shooter at Jo's Nails. Two officers arrived at the scene engaged the suspect, Patrick Wayne Cater, 52, and shot him, the spokesperson said in a video posted on Facebook. Cater was later taken to the hospital, where he was pronounced dead.
Cater allegedly shot and killed two victims at the business, according to the department. The victims were later identified as Khuyen Van Le, 45, and Phi Anh Le, 40, according to news station WCHS, which cited a police press release. Police said that Cater had been armed with a semiautomatic pistol.
Newsweek has reached out to the Summersville Police Department for additional information.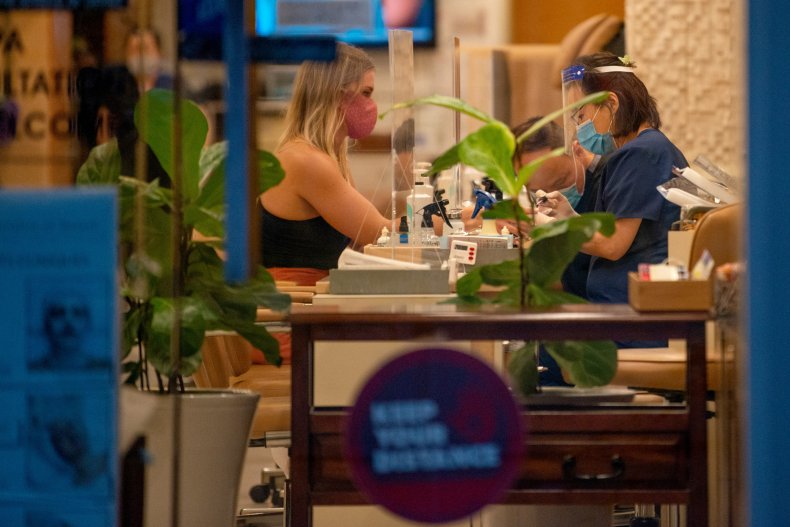 The shooting in West Virginia marks the latest in a series of violent incidents at nail salons and other establishments in the U.S.
In a separate incident in Texas last month, a sheriff's department said it was searching for a woman who allegedly shot a nail salon owner during a dispute over prices.
According to the Harris County Sheriff's Department, two women had been unhappy with the price of their services and began arguing with the owner. When he attempted to push her from the store, one of the women allegedly shot him.
Also in June, police said a woman who was angry over service at a nail salon started biting people on the premises, including an employee. According to news station NBC New York, a woman went to Angel Nails Spa in Newark, New Jersey, for a pedicure, where she began arguing with an employee and allegedly bit their ear. When a man tried to intervene, the woman allegedly bit him too. In addition, after running outside of the business she was accused of grabbing another woman by the hair and hitting her face.
In another recent shooting, an employee at a hot dog stand in Chicago was fatally shot in the face at a service window. The Chicago Police Department told Newsweek at the time that the shooter approached the window, "produced a firearm and fired shots towards the victim."
"There's information that there may have been an argument between the two of those individuals—the victim and the offender—prior to that occurring," Chicago Police Chief of Detectives Brendan Deenihan told CBS Chicago.