Three Republicans Vote in Favor of House Abortion Travel Bill
Three Republican representatives voted in favor of legislation Friday that would prevent the criminalization of traveling across state lines to receive abortions.
The three lawmakers broke with the rest of their party in backing the bill, while all Democrats voted in its favor and advanced the measure. A breakdown of the vote was not available on Congress' website by Friday afternoon, but Greg Price, senior digital strategist for the consulting agency X Strategies, identified them as Representatives Adam Kinzinger of Illinois, Fred Upton of Michigan and Brian Fitzpatrick of Pennsylvania.
Newsweek reached out to the offices of each representative for confirmation and comment.
The legislation, officially titled the "Ensuring Access to Abortion Act of 2022," was one of two bills related to abortion rights that the House voted on and passed Friday. The abortion travel bill and the Women's Health Protection Act of 2022 are both part of the first attempt from Congress to codify abortion protections into federal law since the Supreme Court issued its controversial opinion overturning the constitutional right to the procedure in June.
But both are likely to fail in the Senate, since Senate Republicans blocked a bill Thursday that would protect those who travel across state lines for abortions and an earlier version of the Women's Health Protection Act failed in the Senate in May.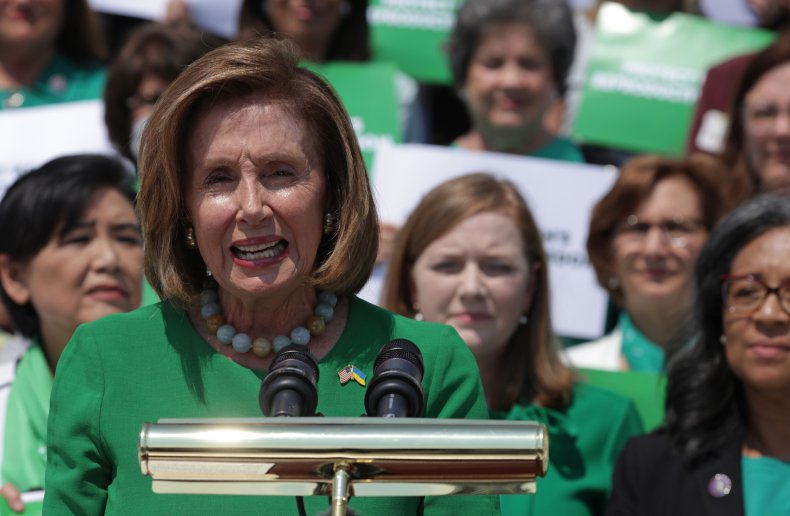 All 50 Republican senators, as well as moderate Democratic Senator Joe Manchin of West Virginia, voted to block the Women's Health Protection Act at the time.
Speaking at her weekly news conference on Thursday, Democratic House Speaker Nancy Pelosi announced that the House would vote on, and likely pass, the two pieces of abortion rights legislation on Friday.
"We're already seeing the horrific consequences of the Republican's extreme agenda to criminalize women's health freedom," Pelosi said in a tweet Friday. "@HouseDemocrats are fighting back this week with two strong bills to defend women's reproductive rights."
President Joe Biden has acknowledged that the Senate currently does not have the ability to codify Roe v. Wade. The Senate allows unlimited debate on bills, resolutions, amendments and other items, a tradition that senators can use to indefinitely delay a vote on such measures.
A filibuster, the Senate explains on its website, is "a loosely defined term for action designed to prolong debate and delay or prevent a vote."
While a bill that reaches a Senate vote only requires a simple majority of 51 in order to pass the 100-member chamber, 60 votes are needed in order to evoke the "cloture" rule and bypass a filibuster. Because the Senate is currently evenly divided between Democrats and Republicans, obtained the 60 votes needed to end debate on contentious issues like abortion rights is highly unlikely.
The Senate has the ability to completely do away with the filibuster with a simple majority vote, but two Democratic senators—Joe Manchin and Kyrsten Sinema—are opposed to ending the rule.
Biden acknowledged earlier this month that "we need two more votes" in order for the Senate to end the filibuster and codify abortion rights.
Updated 7/15/22, 3:30 p.m. ET: This story has been updated with an additional information on which three GOP representatives reportedly voted for the abortion travel legislation.