Tiffany Haddish revealed she's unemployed, despite her child sex abuse lawsuit reportedly being dropped.
The Girls Trip actress, 42, and comedian Aries Spears, 47, were sued in August by a 22-year-old woman with the pseudonym Jane Doe and her brother, 15—pseudonym John Doe—for allegedly forcing them to perform inappropriate acts on camera while underage.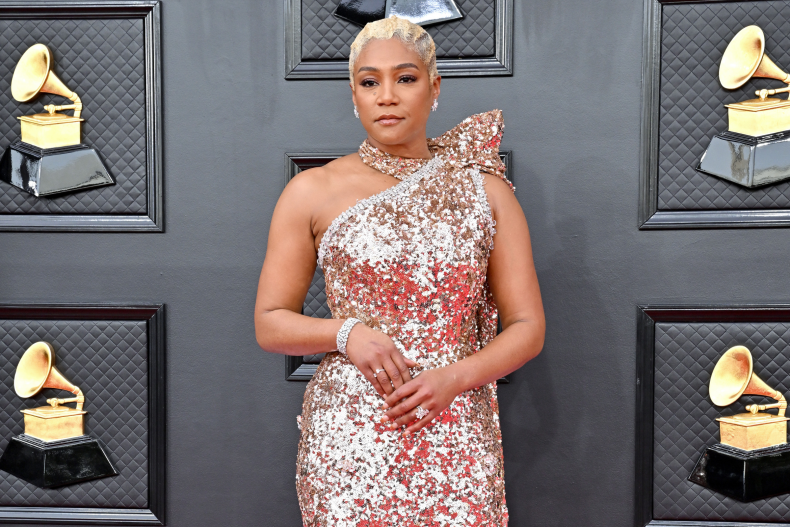 The alleged two separate incidents took place in 2013 and 2014, when the plaintiffs were aged 14 and 7, respectively.
In the first, Jane claimed that Haddish and Spears told her to mimic what she saw in a sexually suggestive video of two adults eating a sandwich.
In the other, Jane said her brother John was stripped to his underwear for a short titled "The Mind of a Pedophile." The skit was posted on comedy video website Funny or Die but was later removed.
Haddish and Spears' attorneys immediately dismissed the allegations in separate statements to The Los Angeles Times.
"Plaintiff's mother, Trizah Morris, has been trying to assert these bogus claims against Ms. Haddish for several years," Andrew Brettler, who is also Prince Andrew's lawyer, said.
"Every attorney who has initially taken on her case—and there were several—ultimately dropped the matter once it became clear that the claims were meritless and Ms. Haddish would not be shaken down.
Brettler said: "Now, Ms. Morris has her adult daughter representing herself in this lawsuit. The two of them will together face the consequences of pursuing this frivolous action."
The attorney representing Spears, Debra Opri, said to the newspaper: "He isn't going to fall for any shakedown."
Haddish herself also responded to the claims via Instagram. "I know people have a bunch of questions. I get it. I'm right there with you," she wrote on September 5.
"Unfortunately, because there is an ongoing legal case, there's very little I can say right now," Haddish wrote. "But, clearly, while this sketch was intended to be comedic, it wasn't funny at all—and I deeply regret having agreed to act in it. I really look forward to being able to share a lot more about this situation as soon as I can."
In a note of dismissal originally obtained by Buzzfeed News, Jane asked a federal judge in the United States District Court for the Central District of California to dismiss the lawsuit with prejudice, meaning it cannot be filed again.
"I lost everything," Haddish told TMZ in a video. "All my gigs, gone. Everything, gone. I don't have no job. I don't have no job, bro."
Haddish did not say what she may have "lost," but it was announced in May that she would be returning to the Apple TV+ series The Afterparty. Her latest upcoming movie, Disney's Haunted Mansion, is in post-production and due out in March 2023.
In a separate clip, Haddish said she was "relieved" the lawsuit has been dropped, noting she was "concerned about the kids." The Night School star added that she no longer talks to Spears.
Newsweek reached out to Haddish's lawyer for additional comment.
If you or a loved one need support, the National Sexual Assault Hotline is available 24/7 by calling 800-656-4673 or visiting http://online.rainn.org. For more resources, visit @RAINN: https://rainn.org/resources