A migrant encampment that has been a feature of the Tijuana-San Diego border since last February was cleared out Sunday morning during a raid conducted by over 100 police officers and Mexico's National Guard, Border Report wrote.
At one point the camp, which sat on El Chapparal plaza, southwest of the San Ysidro crossing point, once housed 2,000 migrants from Mexico and both Central and South America. However, at the time of the clear out only about 380 men, women, and children remained, according to Border Report.
In April 2021, Newsweek traveled to the encampment and gathered the stories of those who lived there. Through translation services offered by Mohammed, an African asylum seeker residing in Tijuana at the time, migrants shared their experiences with struggle back home and spoke about the dreams they hoped to realize by gaining entry to the U.S. Some of these individuals were given pseudonyms and most were not photographed for their protection.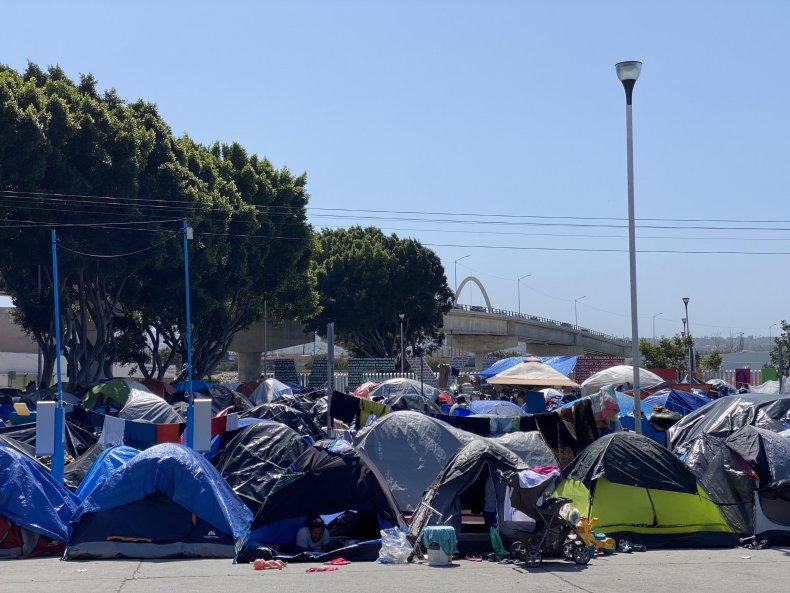 A Honduran migrant named Evelyn Sanchez, who once worked as a schoolteacher opened a school in the encampment for the community's roughly 500 youths, at its height. For Sanchez, opening the school offered her some semblance of normalcy as well a reminder of the life she once had back home before falling on hard times.
Sanchez once worked as a teacher in Honduras. However, after losing her job she became unable to afford the extortion payments regularly enforced by local gangs. She knew people whose families were harmed as a result of missed payments. Fearing the worst, she fled her country to protect her three children and to escape the influence of the gangs.
"[In my country] there was a lack of opportunities and a lack of safety," Sanchez told Newsweek. "I didn't want my children to get involved with the gangs and to live in those horrible conditions."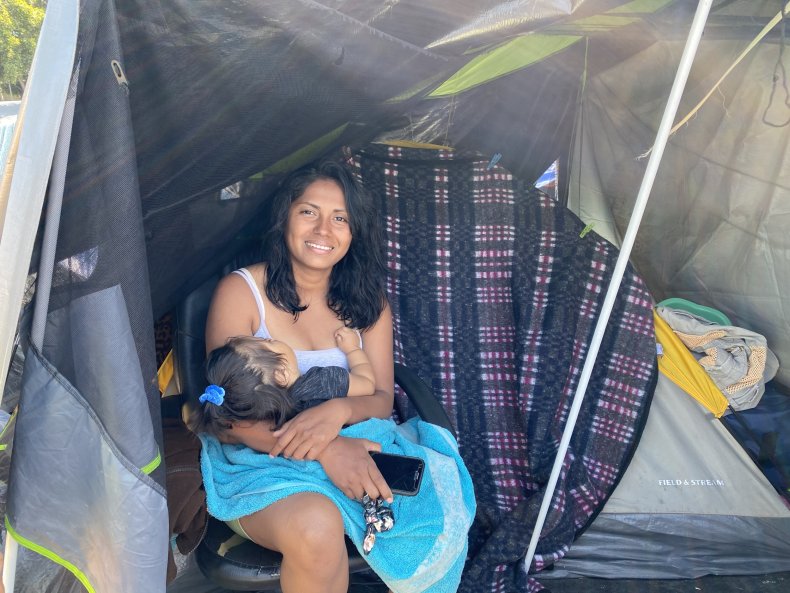 Anna Vilma, who fled El Salvador, left for the same reason as Sanchez—to protect her children. Vilma's underage son identifies as gay and faced extreme bullying after local gangs discovered his sexual orientation.
According to a report by Human Rights Watch, LGBTQ+ individuals in the country face "torture, inhuman or degrading treatment, excessive use of force, illegal and arbitrary arrests and other forms of abuse, much of it committed by public security agents." Vilma decided she could no longer stay in the country after the gang attempted to take her son's life.
"In America, my son will be safer because no one is going to bully him or put his life in danger because of his sexual orientation," she told Newsweek. "This is not about looking for another country to live but finding safety for my children."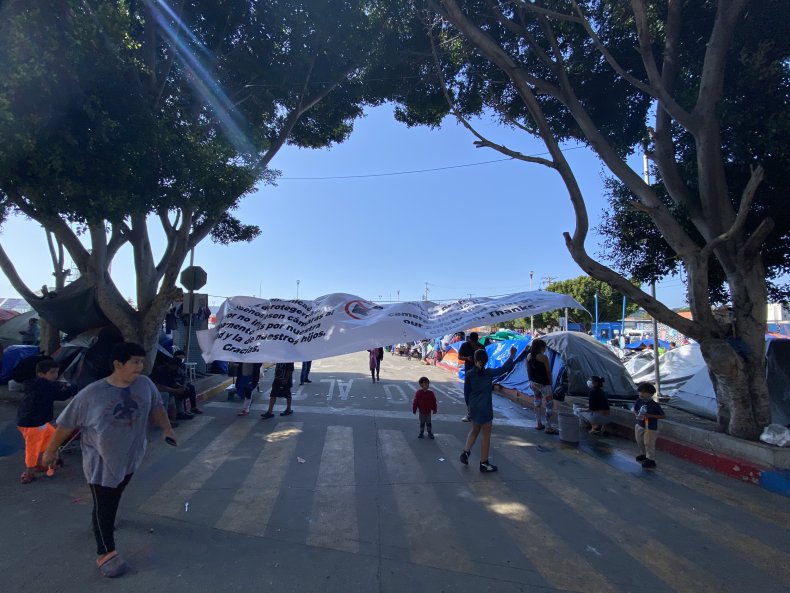 For Alejandro, leaving his home country of Nicaragua was similarly a matter of survival. Under Nicaraguan President Daniel Ortega, those who oppose his Sandinista National Liberation Front socialist party face violence and death. After Alejandro rejected an invitation to join the party, he became a target and was shot in the neck, being left for dead.
Despite being badly wounded, Alejandro survived the incident and was able to return home, rallying his wife and children to flee the country immediately. By seeking asylum in the U.S., he hopes for the chance to start over, for the chance to live a peaceful, regular life.
"I cannot do anything in my home country because of the regime," he told Newsweek. "There are no jobs. The economy is falling apart. I just want to come to the U.S. to develop myself and help my relatives that remain back home."
The stories of Sanchez, Vilma, and Alejandro are a few of the testimonies gathered from those living at the encampment in El Chapparal.