Parents Who Let Daughters Dress Neighbor's Cat Like Princess Split Opinion
A family has divided opinion after it emerged that their daughters decided to play dress-up with the neighbor's cat.
Few topics are more divisive among cat owners than the debate around dressing pets up in elaborate and often inventive costumes. While such outfits may be a source of amusement to many, some pet lovers view the practice as cruel and unnecessary.
Speaking to PetCoach, Dr. Nancy Dunkle, the founder of Exclusively Cats Veterinary Hospital in Medford, New Jersey said: "I've never seen a cat wearing a costume or clothing that looked happy per his facial and body language."
More significantly, Dr. Dunkle said that such outfits can often restrict self-grooming and, in extreme cases, lead to more serious problems.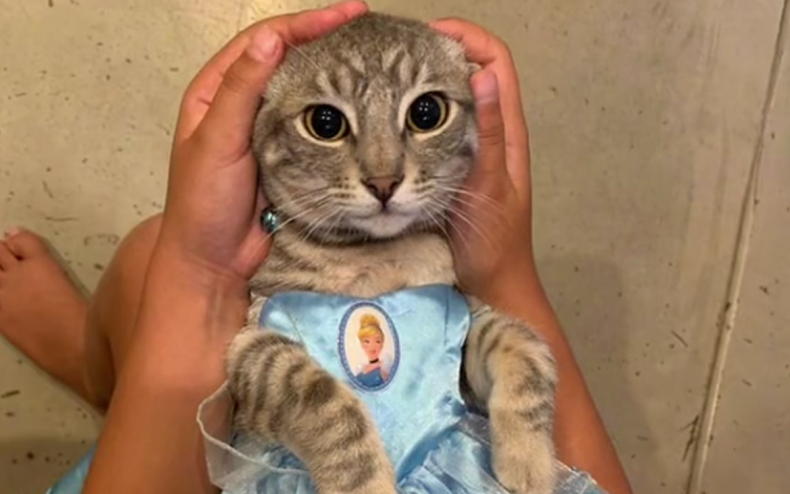 "Costumes are also very dangerous for cats to wear as the elastic or binding that holds the costume on can cut off circulation and result in damage to, or possible loss, of a limb or tail," she explained.
Ultimately the decision to dress up a pet is a personal choice. All of which makes the situation detailed by London-based artist and illustrator Phaedra Peer a little trickier to unpack.
Peer told Newsweek her mom went away for the weekend and entrusted her neighbors, who have two young daughters, to look after her two cats, whom she rescued from being put in a kill shelter as kittens during lockdown.
"They messaged her whilst she was still away saying how much the girls were loving having the cats around and included that picture of her boy 'Blue' in the Cinderella dress," she said.
In a clip posted to TikTok, Peer showed Blue moving around her mom's house before cutting to a photo of the pet feline decked out in a small blue Disney-themed dress.
The video has racked up 1.3 million views but has proved divisive among pet owners on social media. Plenty appeared to view the cat's costume as little more than harmless fun.
Crazycaz described the clip as "pure happiness and joy" adding that the woman's neighbors "seem like good human beings."
Another TikToker posting as _sophia_sophia_79 agreed, writing: "If it was me the cat would have a whole new wardrobe and shoes" while beccaraj declared: "he's a princess."
Strawberry berry berry thought it was "so cute" with youcancallmemrm similarly convinced the cat "loved it."
Not everyone agreed though. In fact, some were pretty sure the cat felt the exact opposite. Ajax<3 thought he looked "terrified," with clashqueen35 concurring that the feline "really looked like he objected."
"Why are people saying they are good for doing this!?!" Cornholio asked. "Parents really let their kids do this. Wow." Taco Beller, meanwhile, wrote: "If someone did that to my cat I would be LIVID." Tape <3 also wondered aloud: "Am I the only one that feels bad for the cat?"
Addressing the criticism of Blue's outfit, Peer said: "People's main objection seems to be regarding how wide his eyes are in the pictures but I have many photos of him where he looks like this, his eyes are always wide!"
Despite this, she did acknowledge her and her mom were "quite shocked" when they first saw the photos and that their neighbors have "not been asked to catsit since."