Toddler Requests Mufasa's Death on Birthday Cake: 'Diabolically Adorable'
A little girl has been branded "diabolically adorable" after requesting a birthday cake depicting the scene from The Lion King where Mufasa dies.
Leona wanted the Disney-themed cake for her third birthday, which is a fairly standard request among toddlers, but opted for the heart-breaking moment to be created in icing instead.
The birthday girl's uncle, Casey Feigh, revealed it was for a clever reason—as she wanted to dissuade anyone else from eating it.
Feigh shared a snap of the intricate design to Twitter on Saturday, May 29, where it's since been liked more than 100,000 times.
He said: "My niece turned 3 today!! She asked for a Lion King cake but specifically the moment where Mufasa dies, because 'everyone will be too sad to eat the cake and it will be all for me.'"
Photos of the cake show a fondant Simba standing on the top of the desert-esque scene, complete with rocks, looking down below at Mufasa, also made from icing.
Another angle shows Mufasa's sad face, perfectly copying the tragic scene from the animated 1994 classic, while claw marks on the side of the cake can clearly be seen.
In contrast to the tragic scene, next to Mufasa's body is a jaunty message piped in red icing, which says: "Leona is 3!"
The beautiful cake was made by The Thirsty Whale Bakery, in Minneapolis, who confirm they specialize "in custom cakes."
Other photos shared by Feigh show Leona enjoying her unique cake, and blowing out candles while wearing a Lion King-themed party hat.
People have appreciated the attention to detail in the design, as well as praising Leona, saying she's destined for greatness.
Commenting on the post, Carolyn Dunn thought: "OMG. I bet they were howling with laughter when they made this."
@AllRounderAce said: "How diabolically adorable."
While PeptoState reckoned: "Kid blowing out candles voice: "Long live the king.""
Robert Littal BSO commented: "This child is going places in life. That's some great critical thinking at the age of 3."
"I am using this reasoning for all cakes from now on. The girl is an absolute genius!" Kristian Hughes raved.
Chelsea Jackson agreed, writing: "Leona is going places. She's using some questionable modes of transportation, but going places nonetheless."
While Wannabrony said: "I need a stern talk with whoever made this claw mark, this is what I call too much attention to detail."
Also noticing the claw marks, Bryce "Rupert" Kelly simply wrote: "Not the claw mark on the side of the cliff."
Dr. Simon Albright joked: "I look forward to seeing how she takes over the world."
And Kristy M added: "This is a child going places and pettiness is going to get her there."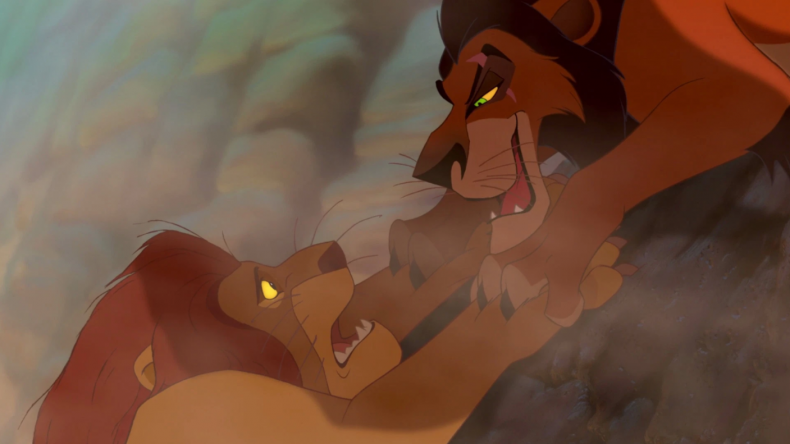 Some Disney fans only recently realized a famous face voices one of the main characters in the animated version of the film.
The parrot Zazu was voiced by none other than Rowan Atkinson, aka Mr. Bean.
The 66-year-old achieved global fame with his often silent portrayal of the bumbling Brit, with the TV series growing in popularity in the 1990s.
It could be due to Atkinson's visual, rather than audible, humor that fans never realized the two characters were played by the same man.
Movie buff Ryan___M shared a clip on TikTok in late May after finally making the connection.
He wrote: "How have I only just realized this!!! I was today years old when I realized Mr Bean played Zazu."
The clip has already been watched more than two million times, as fellow film buffs admitted they too never realized Zazu's origins.
Raiganlegge00 asked: "How did I not know this??"
Newsweek reached out to Feigh for a comment.