Toddler Bites Snake to Death after It Sunk Its Fangs into Her Lip
A 2-year-old girl responded to a snake biting her on the lip by biting it back in return, killing the reptile.
The toddler, who is from the village of Kantar, near Bingol, Turkey, was bitten on August 10. According to media reports, her neighbors heard her screaming as the snake attacked her in her backyard.
When they reached her, they found her with a bite mark on her lip, and a 20-inch snake between her teeth. The snake later died from the toddler's revenge bite, while the 2-year-old was taken to Bingol Maternity and Children's Hospital to treat her injuries. After 24 hours under observation, she was recovering well.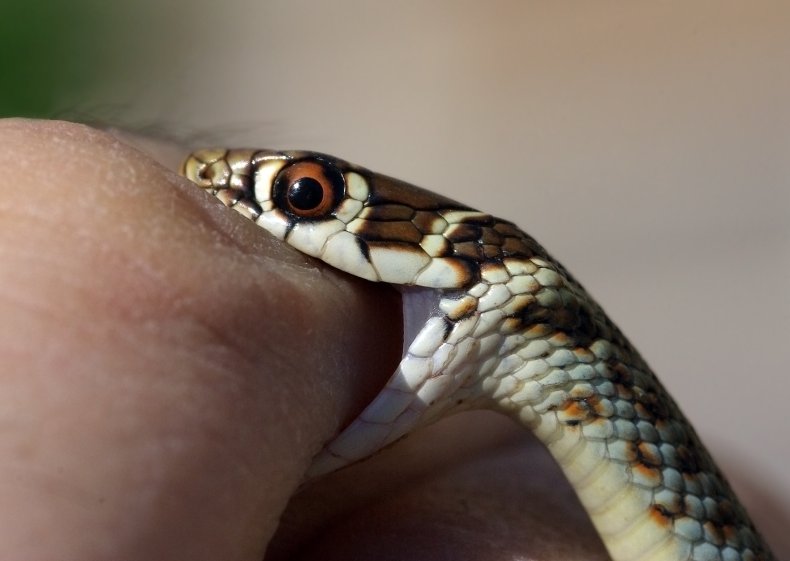 Due to their smaller body mass, children are much more vulnerable to the venomous effects of snake bites compared to adults, according to the WHO. Snake venom, depending on the species of snake, either contains neurotoxins that interfere with nerve impulses, or hemotoxins proteins that interfere with blood clotting. The effects of a bite can therefore include paralysis, hemorrhage, organ failure and tissue damage.
The species of snake involved in the incident is unknown. Of the 45 species of snake found in Turkey, 12 are venomous. However, as the little girl isn't seriously unwell, it's likely that she was luckily bitten by a non-venomous species.
"Our neighbors have told me that the snake was in the hand of my child, she was playing with it and then it bit her," said Mehmet Ercan, the girl's father, who was at work when the snake bite occurred, to media sources.
"Then she has bitten the snake back as a reaction."
The WHO estimates that around 5.4 million people are bitten by snakes around the world each year, 2.7 million of which are by venomous. Between 81,000 and 138,000 people are thought to die each year as a result of snake bites, with three times that number suffering from permanent paralysis or even amputation as a result of the venom.
In Turkey specifically, where the little girl was bitten, there were a total of 550 snake bite cases reported in the nine years between 1995 and 2004, according to the National Poison Information Center (NPIC). Some 24.3 percent of these incidents occurred in June, the most common month, and were mostly seen in the Marmara, Central Anatolia and Black Sea regions.
Snake bites can be treated with antivenoms, which are often made using the venom of the snake itself. Antivenom production faces a number of problems, however, as few countries have the capacity to produce enough good quality snake venom for antivenom manufacture.