Senator Tom Cotton, an Arkansas Republican, suggested that GOP colleagues who have tested positive with COVID-19 would potentially break quarantine if their votes were needed to confirm President Donald Trump's Supreme Court nominee Amy Coney Barrett.
Three Republican Senators—Mike Lee of Utah, Ron Johnson of Tennessee, and Thom Tillis of North Carolina—have tested positive for the novel coronavirus after a ceremony at the White House last Saturday announcing Barrett's nomination. President Donald Trump has also tested positive and is staying at Walter Reed National Military Medical Hospital as he undergoes treatment.
During an interview with Fox Business on Sunday, Cotton dismissed concerns that the infected senators—who have entered quarantine—could impact the confirmation process for Barrett, which he asserted would happen in October before the November 3 election.
"First off, I think every senator who has currently tested positive or is in isolation will be back to work under normal conditions," Cotton told host Maria Bartiromo.
However, Cotton said that even if they were not done with their quarantine, the three Republicans could be brought to the Senate to cast a vote. "But if that's not the case, Maria, there is a long and venerable tradition of ill or medically infirm senators being wheeled in to cast critical votes on the Senate floor," he said.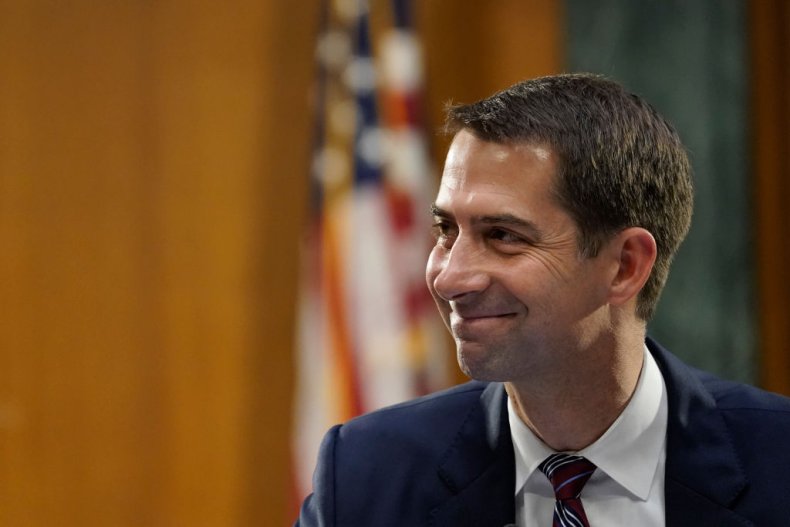 Newsweek reached out to press representatives for Lee, Johnson and Tillis for comment, but they did not respond by the time of publication.
Although medically infirm senators have historically come to the Senate floor to cast crucial votes, attending while sick with a contagious virus would be quite extraordinary. It would also be counter to the guidance of the federal government. Considering the average age among senators is north of 62 years old—with several senators in their 70s, 80s or 90s—the lawmakers are a significantly higher risk population for serious complications or death from COVID-19.
However, barring further complications or hospitalizations, the infected senators would likely be done with their quarantine within the next two weeks. Although Senate Judiciary Committee proceedings on Barrett's nomination are scheduled to move forward on October 12, per Senate Majority Leader Mitch McConnell's Saturday statement, floor proceedings are postponed until October 19. As a result, it appears unlikely that it would be necessary for one of the infected senators to break quarantine to cast a vote.
Barrett's nomination has been staunchly opposed by Democrats, who have accused Republicans of hypocrisy for moving forward with the confirmation process. In 2016, ahead of the presidential election, McConnell and Republicans blocked former President Barack Obama's nomination of Merrick Garland to the Supreme Court.
They argued, at the time, that such a nomination should be made by the next president—even though the election was still about eight months away. Now, in 2020, they have moved forward rapidly to fill the vacancy left by the death of Justice Ruth Bader Ginsburg, despite the presidential election being less than two months away at the time of her passing.