Tom Hanks Criticizes 'Lightyear' for Replacing Tim Allen With Chris Evans
Tom Hanks has spoken out against Lightyear for replacing Tim Allen with Chris Evans, despite the Pixar film being a spin-off of their iconic Toy Story franchise.
The actor and Allen voiced Woody and Buzz Lightyear in the first Toy Story, which was released in 1995, and have since portrayed the characters three more times in subsequent sequels.
But, despite being based on Toy Story, the Lightyear team chose not to bring back Allen, and instead cast Captain America star Evans to portray the hero.
Tom Hanks Criticizes 'Lightyear' For Replacing Tim Allen With Chris Evans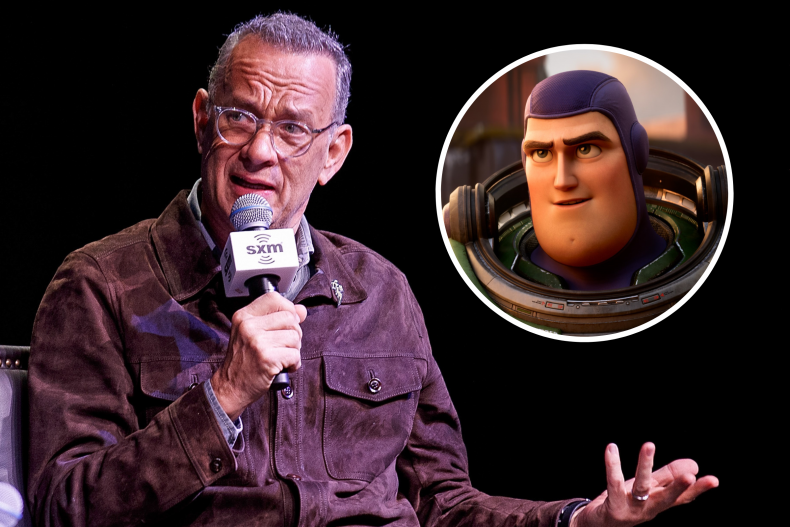 In an interview with CinemaBlend, Hanks said that he "didn't understand" why Pixar had chosen not to bring Allen back for Lightyear while commenting on how his film Elvis was up against the animated flick at the box office.
The Forrest Gump star told the publication: "How about that? I actually wanted to go head-to-head with Tim Allen and then they didn't let Tim Allen do it. I don't understand that."
When it was brought up that Evans was voicing the character now, Hanks added: "Yeah, yeah, I know. Here's the thing: I want to go back in the theater with a bunch of strangers and leave with something in common.
"That's what I want to do and, going to see a movie with [Allen]—I'm looking forward to that."
Allen, for his part, has also spoken out against the Lightyear, sharing his disappointment over it not having a closer link to his original character.
In an interview with ExtraTV where he was promoting his new History Channel series More Power, Allen explained: "I've stayed out of this, because it has nothing to do with… As I've said, a long time ago, we talked about this, many years ago. It came up in one of the sessions. I said, 'What a fun movie that would be.'
"We spoke about it. But the brass that did the first four movies is not this. It's a whole new team that really had nothing to do with the first movies."
Allen continued: "I thought it was a live-action. When they said they were doing it live-action, that's what I thought to mean real humans, and not an animated thing.
"And really, as Hanks and I, there's really no Buzz without Woody, so I'm not sure what the idea… I'm a plot guy. If this was done in 1997, it would seem to be a big adventure story, and as I see, it's not a big adventure story. It's a wonderful story. It just doesn't seem to have any connection to the toy."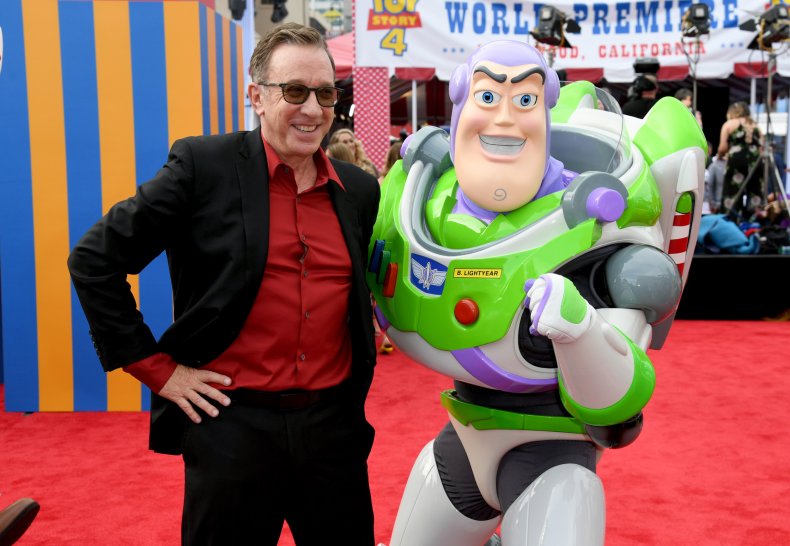 Lightyear director Angus MacLane spoke to Newsweek about deciding to replace Allen with Evans, saying it was part of an attempt to differentiate the spin-off from its iconic predecessor.
MacLane said: "As we were going to change the character from the toy to the action hero we wanted a different voice to separate Buzz, because you really want this to be a separate movie from Toy Story.
"Pretty early on there are some allusions to that, but it really should exist on its own and there was some confusion about that, it was very clear we needed a different voice. Also, the character is a not a side character, he's a main character and as a result has to do different things for the narrative drive in the film.
"We needed an actor that could be heroic, and emotional, and dramatic but be funny, also being funny in a way that wasn't too goofy and didn't undercut the drama. So, with that in mind, for such an iconic character, we needed an iconic star and Chris was the natural choice."
Lightyear is in theaters now.