Tom Hanks has two biological children with his wife Rita Wilson, including Chet Hanks, who has made headlines in recent years for his controversial social media presence.
The Forrest Gump actor also has two other children with his first wife Samantha Lewes, the late actress who died of bone cancer in 2002.
Here, we take a closer look at the children in the Hanks family clan.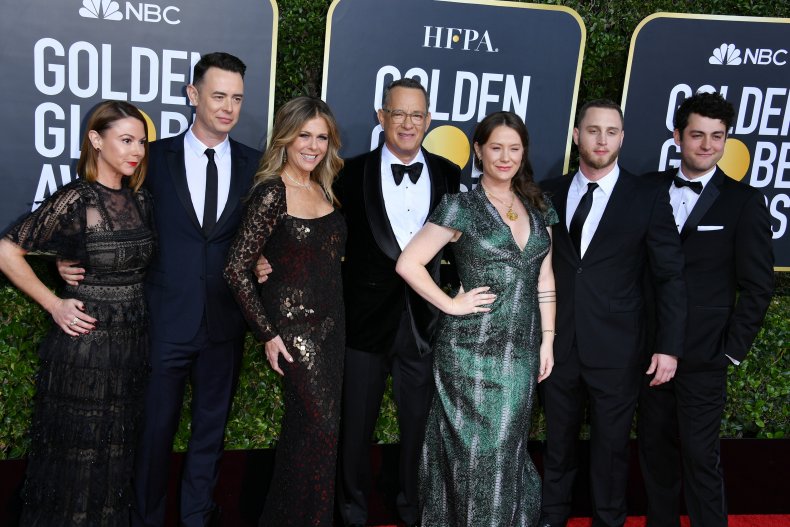 Who are Tom Hanks and Rita Wilson's Children?
Chet Hanks
The 31-year-old (whose full name is Chester Marlon Hanks) is an actor who has had recurring roles on television shows including Empire and Shameless. He's also released his own rap music.
Over the years, Chet has made headlines for his controversial social media presence.
Most recently, he sparked outrage after ranting against the COVID-19 vaccine in an Instagram video. Hanks' parents were among the first high-profile figures to contract COVID-19 last March.
In the post shared on August 9, 2021, the actor initially appeared to be in support of the vaccine, saying: "I think it's important for me to say I got the vaccine—I think everybody should.
"I think it's really important that we all do this just as citizens, as Americans. We have to look out for each other and get this s*** under control, guys. So I suggest to all my followers, you guys set an appointment and get the vaccine first thing...".
But midway through his message, Hanks then yelled "psych" into the camera, before exclaiming: "B****! If it ain't broke don't fix it! I never had COVID. You ain't sticking me with that mother******* needle. It's the mother******* flu. Get over it, OK?"
He's also been embroiled in a legal battle with his ex-girlfriend Kiana Parker.
In April 2021, Parker was reported to be suing him for $1million over alleged physical abuse. The suit came a month after he filed his own lawsuit against Parker for theft and return of money, as well as assault and battery.
Truman Hanks
Truman Hanks is the youngest child of Tom Hanks and Rita Wilson. The 25-year-old also works in the film industry.
The Stanford University graduate was part of the camera department for Marvel's Black Widow, and is working on the upcoming West Side Story film.
He is also known for his work on Guy Ritchie's Wrath of Man, starring Jason Statham, and the 2018 film The Cloverfield Paradox.
Who are Tom Hanks' Other Kids?
Colin Hanks
The eldest son of Hanks and Lewes is an actor who has featured in various films and television series. The 43-year-old is best known for his role as Jack Bailey in The Good Guys and as Alex Whitman in the Roswell High.
In 2014, he was nominated for the Emmy Award for Outstanding Supporting Actor In A Miniseries Or A Movie and for a Critics' Choice Award for his role as Gus Grimly in the Fargo television series.
Colin also featured in the sixth season of Dexter and has appeared in other other high-profile series, such as Mad Men and Steven Spielberg's mini-series Band of Brothers.
Among his film credits is Orange County, The House Bunny, Whatever It Takes and King Kong.
Elizabeth Hanks
The 39-year-old is the second child of Hanks and Lewes. She is an actress and producer known for films including Forrest Gump (for which her father won the Academy Award for Best Actor in 1995), as well as That Thing You Do! and Anchoraged.