Tom Rice's Chances of Beating Trump-Backed Russell Fry in South Carolina
Representative Tom Rice, a South Carolina Republican, is facing off in a difficult GOP primary against state Representative Russell Fry, who former President Donald Trump endorsed, after Rice voted for his impeachment in January 2021.
Although Rice voted with Trump's agenda more than 90 percent of the time, he viewed the former president's actions as his supporters attacked the U.S. Capitol on January 6, 2021, as an assault on the Constitution. "If anybody tears up our Constitution, shreds our Constitution, as what happened on January 6, I'm going to try to hold them accountable. I don't care if they're a red team or a blue team," the GOP congressman told Newsweek in a recent interview.
Whether his decision to join nine other House Republicans and all the chamber's Democrats in that consequential decision ultimately results in a primary loss will be determined on Tuesday, when GOP voters in South Carolina cast their ballots. The polling that has been made public shows mixed results, although Fry has led in most of them.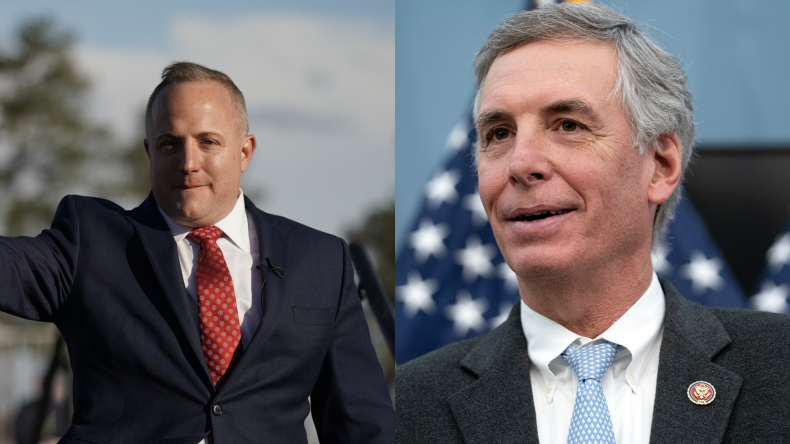 South Carolina, like nine other states, requires primary candidates to win a majority of votes in order to advance to the general election. The current polling data shows neither Rice nor Fry will garner more than 50 percent, making a runoff appear likely.
An internal Rice campaign poll reported by the Washington Examiner on June 3 had the incumbent Republican double-digits ahead of his Trump-backed challenger. Rice was supported by 38 percent of likely GOP primary voters in South Carolina's 7th District, compared to only 21 percent who backed Fry. The survey of 400 respondents was conducted from May 25 to 26, and had a margin of error of plus or minus 5.2 percentage points.
However, polling carried out by the Trafalgar Group from May 26 to 29 showed essentially opposite results. In that survey, Rice trailed Fry by double digits. The Trump-backed candidate had the support of about 42 percent of likely GOP voters and the incumbent Republican had the support of only about 25 percent. The poll surveyed 572 respondents, and had a margin of error of plus or minus 4 points.
An internal Fry campaign poll last month showed similar results to those found by the Trafalgar Group. That survey, first reported by the Washington Examiner and conducted from May 7 to 10, showed the Trump-endorsed contender at 39 percent and Rice at only 23 percent. It included 500 likely GOP voters, with a margin of error of plus or minus 4 percent.
Trump was popular in Rice's district, performing better there than he did in South Carolina overall. The former president carried the state with about 55 percent of the vote in 2020 as well as in 2016. When it came to the 7th District, Trump won there by about 58 percent in the last two presidential elections.
Notably, Rice outperformed Trump in his district by a few points in 2016 and 2020. The GOP congressman carried the region with 61 percent of the vote in 2016 and nearly 62 percent in 2020.