One of America's most famous cannabis enthusiasts, Tommy Chong, claims President Joe Biden "needs to get high so bad."
The 83-year-old actor, whose Cheech & Chong comedy albums were decidedly marijuana-themed, made the suggestion in a podcast on Wednesday, April 20.
Discussing the issue of drugs on the Status Coup podcast with host Jordan Chariton, he was asked, "If you could, you know, light up a little cannabis with one modern-day politician, who would it be?"
Chong said: "Politician? Joe Biden. Oh man. He needs to get high so bad. Poor Joe."
Biden's son, Hunter Biden, has struggled with a well-documented addiction to alcohol and drugs. And Biden himself has consistently refused to legalize marijuana and has shown every indication he intends to double down on the war on drugs.
Chong did reference Hunter Biden's problems with drugs—the 52-year-old lawyer has admitted he was hooked on crack cocaine—although Chong claimed it was not relevant to the weed debate because his problems were with harder drugs.
"But, you know, Joe needs to get high," he said.
"Joe's there, but he's not quite. He's still got his foot on the politician thing." He added that if "Joe were hip, he would've come in and rescheduled weed, because that scheduling is one that's kind of stopping everything from the flow."
Marijuana is currently categorized as a Schedule I drug by the federal government, which relates to "drugs with no currently accepted medical use and a high potential for abuse."
The classification means marijuana sits on the same list alongside heroin and LSD. Other opioids, such as oxycodone (OxyContin), are classified as Schedule II drugs, which may have medical purposes but carry a high risk of dependency.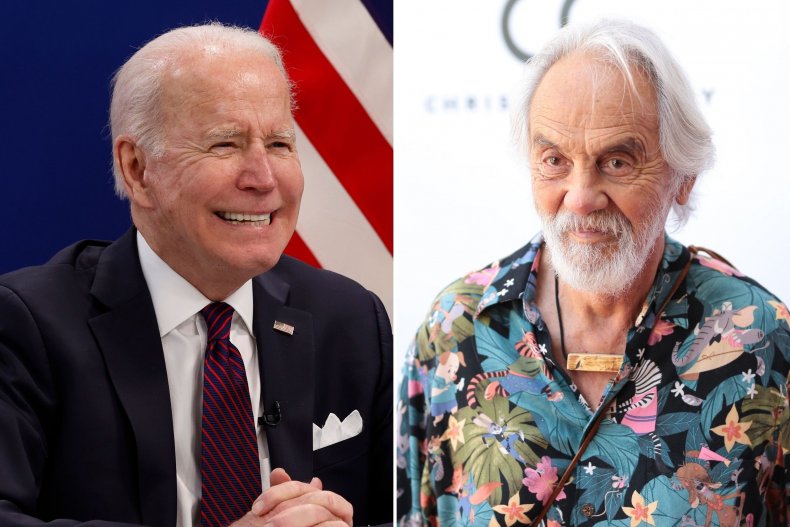 Chong and Chariton also discussed claims JFK had used drugs during his time in office, and noted he had been behind moves to end the Cold War and withdraw troops from Vietnam.
Chariton said: "I don't know if there was a connection, but he was looking towards peace when he was dabbling with psychedelics."
Chong said: "Totally, totally with peace. That's what it gives you."
But Chong's hopes of sharing a joint with the present-day president seem unlikely to be fulfilled.
Biden's proposed federal budget for 2023 indicated that he wants the ban on recreational marijuana sales in Washington, D.C. to continue.
And, previously, Biden has said he would refuse to legalize marijuana nationwide until more research on the substance has been carried out.
During a town hall event in Las Vegas in November 2019 when he was campaigning for the presidency, he said: "The truth of the matter is, there's not nearly been enough evidence that has been acquired as to whether or not it is a gateway drug. It's a debate, and I want a lot more before I legalize it nationally. I want to make sure we know a lot more about the science behind it."
Nevertheless, he also confirmed he was not completely against cannabis use, saying he backs its use for medical purposes and added: "States should be able to make a judgment to legalize marijuana."
And he indicated he would approve of decriminalizing possession of the drug and moving cannabis on to the Schedule II list so that its affects could be studied further.