Tony Romo Is Headed to the Broadcast Booth, Where He Could Be One of the Best Ever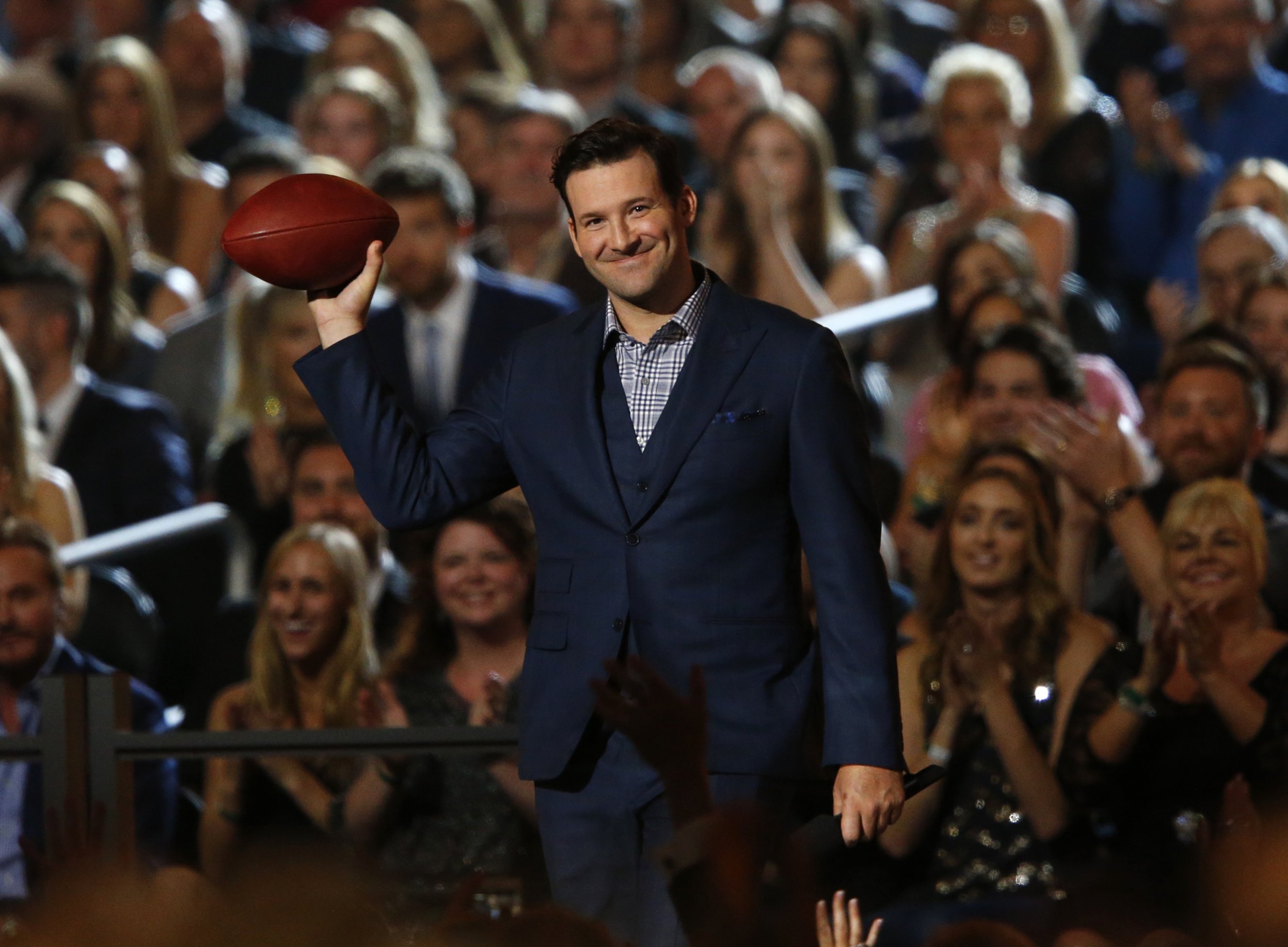 Soon-to-be-former Dallas Cowboys quarterback Tony Romo could still play football for another year or two—not for the Cowboys, who have handed the team over to last year's breakout rookie Dak Prescott, but somewhere. Teams like the Houston Texans and Denver Broncos are arguably a quarterback like Romo away from a legitimate shot at the Super Bowl. The 36-year-old has had health issues, though, and he's owed $24.7 million in 2017. No team, not even one on the cusp of a championship, is willing to risk that much money on an aging quarterback who could break his spine before the season even starts, as happened before Prescott took his place in 2016.
Related: Patriots tight end says he won't visit Donald Trump at White House
So the Cowboys were left with no choice but to announce plans to release their future Hall of Fame quarterback. The move means they wouldn't get anything for him, but it would allow another team to sign Romo for a more reasonable price. This apparently isn't going to happen, either, though. ESPN reported Tuesday m0rning that Romo has decided to retire from the playing field and head to the broadcast booth. This is bad news for fans who wanted Romo to have one last chance at capturing the Super Bowl that has eluded him his entire career. It's good news, however, for America, as Romo has far more value to the football-consuming public as a color commentator than as a quarterback. Despite the Pro Bowls and passing records, Romo's true destiny lies behind a microphone.
The news will also be good for Romo's wallet. Though plenty of players have transitioned into high-profile media jobs after retiring from the NFL, few have been as coveted as Romo, who has long seemed a natural fit as either a color commentator or studio personality.
Newsweek subscription offers >
Why is Romo so sought after by networks? He's charismatic, he's charming and, as the starting quarterback for the NFL's most popular franchise for 10 highly publicized years, he knows how the media works. Whenever he has made TV appearances, he's seemed comfortable and relatable. He also knows when to speak out and say the right thing. After it became clear last season that Prescott would retain the quarterback job even after Romo was healthy, he gave a heartfelt speech in which he formally conceded the position to his successor.
During a 2016 episode of The Bill Simmons Podcast, Simmons recounted how impressed he was with Romo after the two spent an evening together. "I love Romo," said Simmons. "After spending five hours with him, I think he's going to be the best media guy since [Cris] Collinsworth. If he can harness everything we saw on Saturday night and bring that to television, he will be the best guy since Collinsworth."
Collinsworth is currently the color commentator for NBC's Sunday Night Football, alongside Al Michaels. He's viewed by many as one of the most insightful color men of all time, providing easy-to-digest analysis that goes deeper than some of the lazy, superficial takes that are joked about on the internet. Phil Simms, the lead color man for CBS, is seen by some as one of the worst offenders, and many expressed a desire for Romo to replace him in 2017. Tuesday afternoon, that desire was fulfilled.
Newsweek subscription offers >
It's unheard of for a player to begin his broadcasting career at the pinnacle of industry, calling games alongside Jim Nantz, but it's also unheard of for a prodigious, fail-safe broadcasting talent like Romo to be available for hire in the first place. There have also been reports that Romo could at some point call CBS golf broadcasts, as the quarterback is also a well-known scratch golfer. Either way, Romo is going to be in America's living rooms for possibly decades.
Romo will be in the Hall of Fame for his on-field achievements. He's the Cowboys' all-time leader in passing yards, passing touchdowns and passer rating, and trails only Aaron Rodgers and Tom Brady in that final category, which is maybe the most accurate indicator of efficiency at the position. But when we look back at Romo's contributions to the game of football, we could remember him more for what he had to say about the game rather how he played it. This is not a bad thing. Tony Romo, this is your destiny.
Read more from Newsweek.com:
- How the Patriots won the greatest Super Bowl game ever
- Patriots fans throw a flag on Brady, Belichick's support for Donald Trump
- How Tom Brady and Bill Belichick made the Patriots a dynasty
Tony Romo Is Headed to the Broadcast Booth, Where He Could Be One of the Best Ever | Sports