Lifting Mask Mandates Too Soon Puts U.S. at Risk of Future COVID Variants
It may be too soon for the U.S. to let go of face masks according to experts who have warned of insecurity against future COVID variants.
Across the U.S., face mask mandates have been dropped in various states over the past few weeks amid consistently declining COVID cases.
As of Tuesday this week, only five states—Hawaii, Illinois, New Mexico, Oregon and Washington—require most people to wear masks indoors regardless of vaccination, according to retiree group AARP. Cities and regions within those states may differ.
Face masks have turned out to be one of the pandemic's contentious issues. Some states have embraced them while others have gone so far as to take legislative action preventing local governments from mandating their use.
Even as a number of states drop mandates, a recent CBS News-YouGov poll showed that the majority of U.S. citizens surveyed, 56 percent, still support their use. So, what's the right answer?
A number of experts have told Newsweek that while a future without face masks may well lie ahead, they're not sure the country is quite there yet.
Stephen Morse, professor of epidemiology at the Columbia University Medical Center, told Newsweek he is among those who have grown weary with "seemingly endless" pandemic precautions which have been marked by inconsistencies and political differences.
"Historically, even during this pandemic, every time we thought we could discard our masks, another variant came along to disturb our complacency—Delta, now Omicron and perhaps its relative BA.2—and we were almost right back where we started," he said.
Yet he believes that now is not the time to discard masks. "Much as we'd all like to throw away our masks, in most situations, I think we should continue using masks as before for at least a while longer," he said. "Masks will continue to work against all of the variants, present or future, as well as they have in the past, reducing our fear of the 'next' variant.
"Masks also reduce virus circulation, reducing the ever-present likelihood of new variants as the virus continues to circulate worldwide. I also worry about complacency as we decide we no longer need masks, making it harder to take action when the next variant comes along. The time will come, but I think not yet, and I'd beware of prematurely declaring victory."
The point was echoed by Dr. Stephen Luby, professor of medicine and infectious diseases specialist at Stanford University, who said he recognized that public health officials must balance the demands of multiple communities and that many of them are tired of restrictions.
"If it were my decision, however, I would keep mask mandates in place for a few more weeks," he told Newsweek. "We know that masks interrupt transmission of SARS-CoV-2. We know that people who get infected with SARS-CoV-2 can die, can develop disabling long COVID and can transmit the infection on to people who are highly susceptible. We also know that mask mandates do not prevent the economy from running. They are a minor inconvenience.
"The cases of Omicron are dropping fast but are still at high levels compared across the broader course of the pandemic. With over 2,000 deaths each day in this country from COVID-19, I would ask fellow citizens to stay the course for a few weeks longer, whether or not there is a mandate in place."
The decision to roll back mask mandates need not be arbitrary. There are concrete figures that can be referred to so that state officials know when the right time is to do so, said Dr. Timothy Brewer, professor of medicine and epidemiology at the University of California, Los Angeles.
He pointed to Centers for Disease Control and Prevention (CDC) recommendations that have generally been to wait until community test positivity rates are moderate, defined as "community test positivity rates [less than] eight percent and [less than] 50 new cases/100,000 population per week."
Many communities are at one or the other, he said, in which case "some communities are probably relaxing their mask mandates too early."
"Finding the right balance is challenging, and may not be the same for everyone," he told Newsweek. "There are good data to show that wearing masks reduces transmission of respiratory viruses including SARS-CoV-2, so yes, any reduction in mask wearing could theoretically lead to an increased risk of transmission [and] ongoing viral replication and transmission would increase the risk of a new variant emerging."
Earlier this week, Connecticut extended its school mask mandate until the end of the month at a time when some other states were easing off.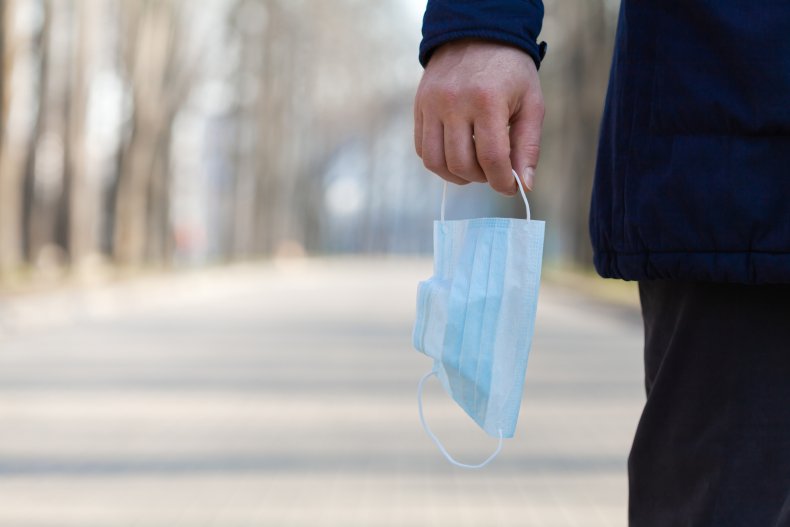 Update 2/16/22, 11:25 a.m. ET: This article was updated with a new headline.