'Top Gun: Maverick' Faces Calls to Be Stripped of Oscar Nominations
The organizers of the Academy Awards have been urged to reconsider the prize eligibility of Tom Cruise's box office smash Top Gun: Maverick following reports it was partially funded by Russian oligarch Dmitry Rybolovlev.
The movie, which was released last year and features Cruise reprising his role as Navy pilot Pete "Maverick" Mitchell, has been nominated for Oscars in several categories: best picture, original song, editing, adapted screenplay, sound and visual effects. The ceremony will be held this Sunday in Los Angeles.
In an open letter to the Academy of Motion Picture Arts and Sciences, which was shared with the press, the Toronto-based expatriate group Ukrainian World Congress (UWC) charged that billionaire Rybolovlev's money went into the movie via his silent investment in Los Angeles-based New Republic Pictures.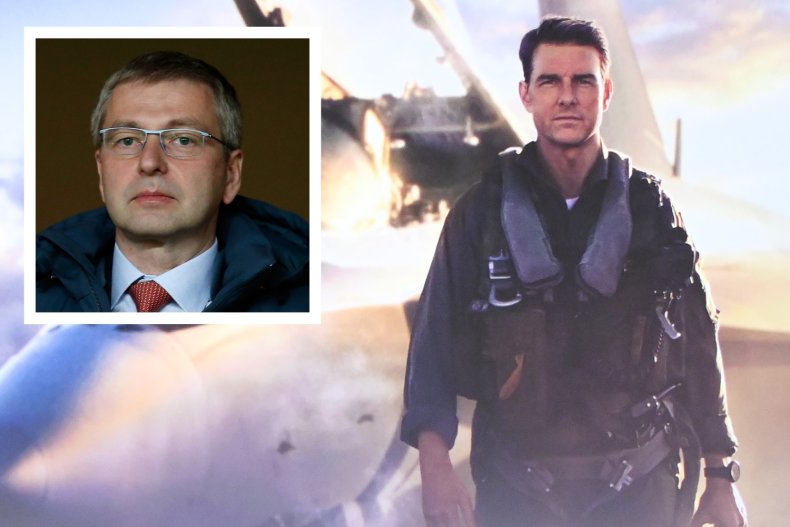 It was reported in January that Rybolovlev provided indirect funding for the film. The claim is notably controversial because Rybolovlev is on a list of Russians who have been sanctioned by Ukrainian President Volodymyr Zelensky in light of the ongoing war.
The UWC stated in the letter that its intention is to eradicate any potential for Russia to have a hand in the content of Hollywood movies.
"The Ukrainian World Congress expresses its serious concerns over Russia's influence on the Hollywood film industry," UWC president Paul Grod wrote in the letter, addressed to the academy's president, Janet Yang.
Grod shared unsubstantiated speculation that Rybolovlev's involvement in the funding of the Top Gun sequel may have resulted in the Kremlin interfering with the script to remove any possible negative references to Russia from the storyline.
"Rybolovlev's funding of Top Gun: Maverick was not publicly disclosed and there is good reason to believe that his involvement may have led to censorship on behalf of the Kremlin," Grod wrote.
"Contrary to the original film, Top Gun: Maverick makes no direct or indirect reference to Russia. This is hardly a coincidence. Hollywood must be vigilant and transparent of Russian money being used to further pro-Kremlin censorship," he said.
While New Republic Pictures has invested in a number of Paramount's cinematic offerings since 2020, it has no creative input in the content of the pictures, according to Deadline. This hands-off funding would also apply to Top Gun: Maverick.
The Los Angeles Times reported earlier this year that former New Republic President Bradley Fisher alleged that Monaco-based Rybolovlev played a major role in the company funding Top Gun: Maverick and the Mission Impossible sequels. The claims were made in a breach of contract lawsuit brought by Fisher.
In the letter, Grod described Rybolovlev "as one of Russia's richest oligarchs," additionally referring to the businessman as "a known close friend and business partner" of the country's deputy prime minister, Yury Trutnev.
Grod also described the oligarch as Belarussian President Alexander Lukashenko's biggest business partner in potash exports for more than a decade. This, Grod said, has aided him in sustaining an authoritarian regime through the flow of cash.
Newsweek reached out to representatives of Paramount via email for comment.
Known as the "fertilizer king," Rybolovlev has been based in Monaco since 2010 and is the owner of the local soccer club AS Monaco. As a result, he has been photographed watching games alongside Prince Albert II of Monaco over the years.
Rybolovlev, an art collector who is worth an estimated $6.6 billion, gained notoriety in the U.S. when it was revealed that he had purchased former President Donald Trump's Maison de L'Amitié property in Palm Beach, Florida, in 2008.
The purchase was made during a U.S. housing market crisis in which other Palm Beach County properties fall by an annual rate of 19.2 percent. Trump purchased the property for $53 million in 2005.
Rybolovlev never moved into the house, instead tearing it down in 2016 and selling parts of the property to 515 North County Road Trust for millions of dollars less than he had paid for it.
It was also reported that Rybolovlev's business jet arrived within hours of Trump at American airports in Concord, North Carolina, and Las Vegas during the 2016 presidential election. Rybolovlev was apparently aboard his jet during the North Carolina trip. It was not confirmed who was on his plane for the Las Vegas flight.
While Rybolovlev is among a group of Russian businessmen who have been sanctioned by Zelensky since the start of the Ukraine invasion, he has so far avoided having such restrictions placed on him in the U.S. and Europe.