Top Republicans Double Down in Their Refusal to Accept Trump's Loss: 'We're Not Stopping'
As of Monday evening, more than two days after the presidential race was called by the Associated Press and major TV networks, just four Republican senators had acknowledged President Donald Trump's loss and congratulated Joe Biden.
Aside from the quartet, every GOP member of the upper chamber that was approached by Newsweek and other reporters on Capitol Hill declined to acknowledge Biden as the winner and did not advise for Trump to concede.
Republicans' refusal to accept the Democrat's win comes amid a flurry of lawsuits launched by the Trump campaign and persistent, baseless claims of widespread voter fraud against Democrats, who Republicans allege somehow "rigged" the outcome of the election.
"We're going to scrutinize the system. We're going to accept the results of court decisions and vote totals, but we're not stopping," said Senator Lindsey Graham (R-S.C.), who has vowed to use his powerful position as Judiciary Committee chairman to probe mail-in voting. "Voting by mail is a disaster for this country, the way it's being done today."
There is no evidence of widespread vote-by-mail fraud, despite claims otherwise by Trump and Republicans. Trump is losing by margins in several battleground states that are far greater than his victories over Hillary Clinton, who conceded the day after the 2016 election.
"Six people voted that were dead," Graham continued. "That's not going to change the outcome of the election, but if you had six people registered after they died and voted, yeah, that's fraud. Now, on what scale, I don't know... You'd have to disqualify a lot of votes."
Other top Republicans were also quick to defend Trump's refused concession and his campaign's court battles.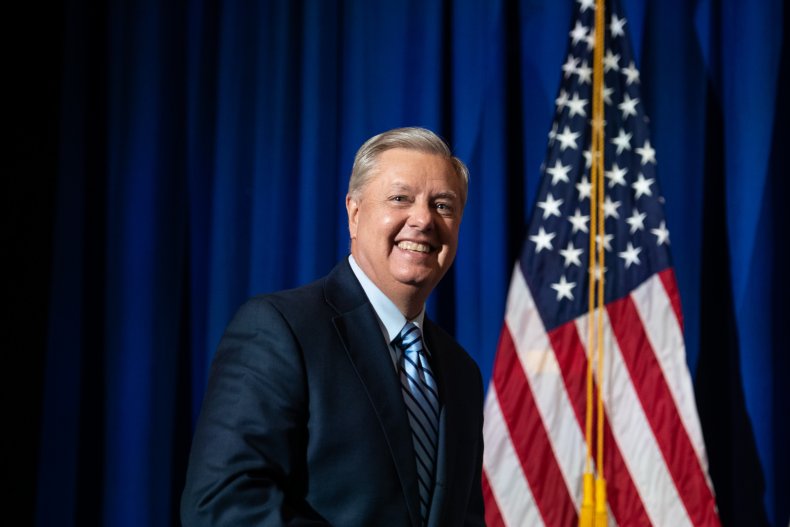 "[Trump] has got a constitutional right, if there are legal challenges they want to make," Senate Majority Whip John Thune (R-S.D.) said. "I think everybody will let those play out. Obviously, we're going to have results before too long."
Senate Majority Leader Mitch McConnell (R-Ky.) declined to acknowledge Biden's win during a floor speech and instead said that "President Trump is 100 percent within his rights" to take the matter to court.
Even as Republicans spoke out against countless false claims by Trump last week, before Biden was projected as the winner, their rhetoric since Biden's victory over the weekend has made clear that it could be weeks until they recognize the election outcome and push for Trump's concession. Some, like Senators Marco Rubio (R-Fla.) and Graham, noted that states have deadlines later this month to certify their results. Electors from the electoral college won't meet and cast their official ballots until December 14.
"December the 14th is going to come. I'm not going to acknowledge anything until [the Trump campaign has] a chance to look at it," Graham said.
Rubio also defended Trump's lack of a concession, citing the ongoing litigation, despite himself conceding that he'd not seen any evidence of voter fraud. Rubio is acting head of the powerful Intelligence Committee.
The four GOP senators who have acknowledged Biden's win are those who have been most willing to publicly criticize Trump: Susan Collins of Maine, Lisa Murkowski of Alaska, Ben Sasse of Nebraska and Mitt Romney of Utah.
"At this stage, I think the transition should be underway, even though it's not finalized," Romney said. A Trump appointee is refusing to formally recognize Biden as the president-elect so that the transition of power can begin. "We want to make sure that the interests of national security and smooth transition is carried out," Romney added.
The allegations of widespread voter irregularity in the presidential contest from Trump and his conservative allies is despite the same politicians touting the results of races at the congressional level, where Republicans outperformed their expectations by likely holding onto the Senate and minimizing Democrats' majority in the House.
"According to preliminary results, voters across the nation elected and re-elected Republican senators to a degree that actually stunned prognosticators," McConnell said. "Likewise, the American people seem to have reacted to House Democrats' radicalism and obstruction by shrinking the speaker's majority and electing more Republicans."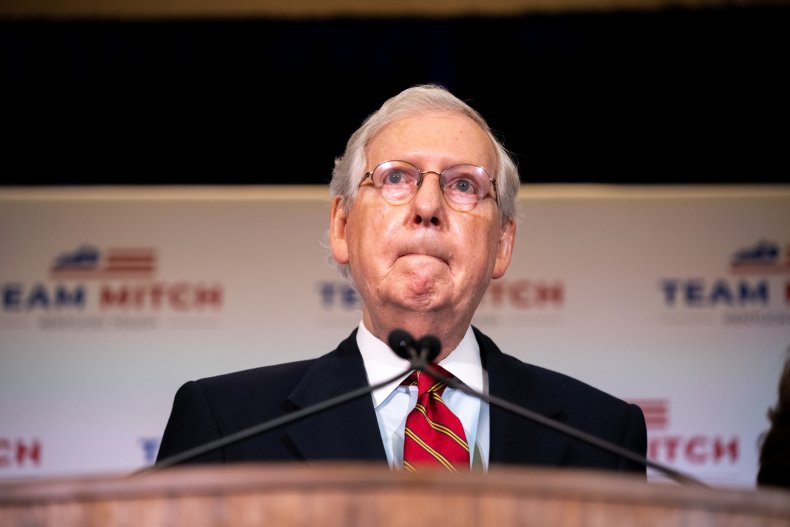 In Georgia, for example, GOP Senators Kelly Loeffler and David Perdue, both of whom will face runoff elections on January 5 that could determine the control of the Senate, have called for the resignation of Georgia Secretary of State Brad Raffensperger—a Republican—for "mismanagement" and a "lack of transparency" overseeing the state's election. The Republican senators did not offer evidence to back their assertions, and Raffensperger responded by saying his resignation "is not going to happen."
However, Perdue has made no such fraud claims about his own race, which was just 0.3 percent shy of receiving the necessary vote-share to avoid a runoff.
When Newsweek highlighted the inconsistency of voter fraud allegations at the presidential vs. congressional levels to Graham, the Trump confidant pointed to Republican John James, who lost to incumbent Senator Gary Peters (D-Mich.) but has also refused to concede amid allegations of voter fraud. With more than 98 percent of the vote, James trails Peters by 1.6 percent, or roughly 87,000 votes.
"If there's no contest [of the outcome], I'm not complaining," Graham replied. "But when somebody—Republican or Democrat—contests the election... If you're okay with this system, I'm not. I am not remotely okay with the way we're voting in these big cities. Not at all. And we're going to put it under the microscope, and I hope some people go to jail."
Attorney General William Barr, in an unprecedented move that reportedly caused the Justice Department official in charge of voting-fraud-related investigations to resign, on Monday evening authorized probes into any "substantial allegations" of voting irregularities that should arise.
The position of Republican lawmakers and Trump to not accept the results breaks with precedent and past failed presidential bids by GOP candidates, including the late John McCain and Mitt Romney. Trump has prompted 31 former Republican lawmakers to publicly urge him to concede.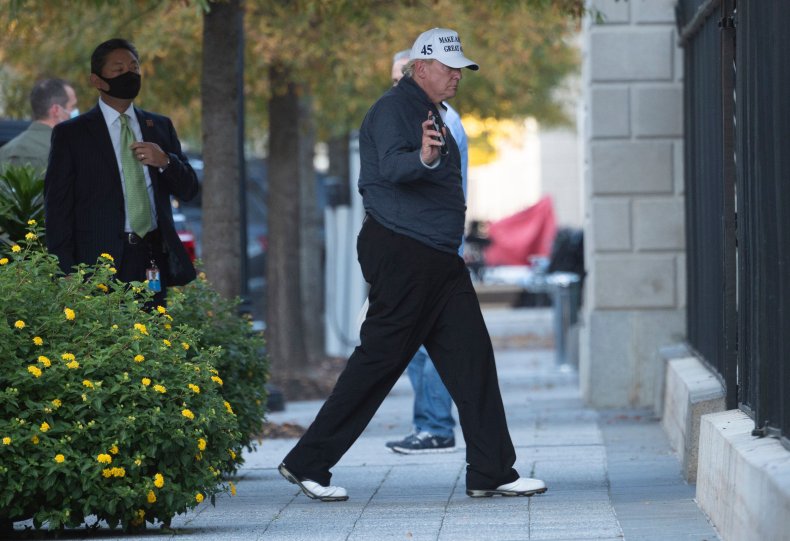 Several Republicans on Monday skirted questions about why they accepted 2016's results but not this year's by saying the press does not determine the outcome.
The baseless allegations of fraud from Trump and those around him have already had a direct impact on Republican voters' faith in the American electoral system. A Monmouth University poll released Monday showed that Republicans' trust in the system plummeted from nearly 70 percent before the election to 34 percent afterward. Trust among Democratic voters increased slightly from 66 percent to nearly 80 percent.
Biden gave his blunt assessment of the election outcome on Monday, offering more pointed rhetoric.
"This election is over," he stated. "It's time to put aside the partisanship and the rhetoric that is designed to demonize one another."
Some Republicans, such as Senator John Cornyn (R-Texas), have acknowledged what slim chance the Trump's campaign legal battles have for success. Still, he and others back the lawsuits and have urged the campaign to bring forward more concrete evidence.
"It looks like an uphill climb for him, to be sure," said Cornyn, a leadership member. "The numbers are pretty compelling, but I don't think we're there yet."