Top Trump Admin Official Believes 85% COVID Masks Use Would Bear Same Outcome as 'Complete Shutdown'
A top public health official in President Donald Trump's administration believes that if about 85 percent or more of Americans were to comply with mask-wearing guidance to curb the spread of the novel coronavirus pandemic, it could have the same outcome as a "complete lockdown."
"Wearing a mask is incredibly important but we have to have like 85 or 90 percent of individuals wearing a mask and avoiding crowds. That is essentially – gives you the same outcome as a complete shutdown," Assistant Secretary for Health at the Department of Health and Human Services Admiral Brett Giroir, a medical doctor, told NBC News' Meet the Press on Sunday.
"And why do I say that?" Giroir continued. "Well, theoretically we can go through the models, but look at Arizona, look at Florida, Texas, Louisiana. These measures are being implemented and that changes it," he said.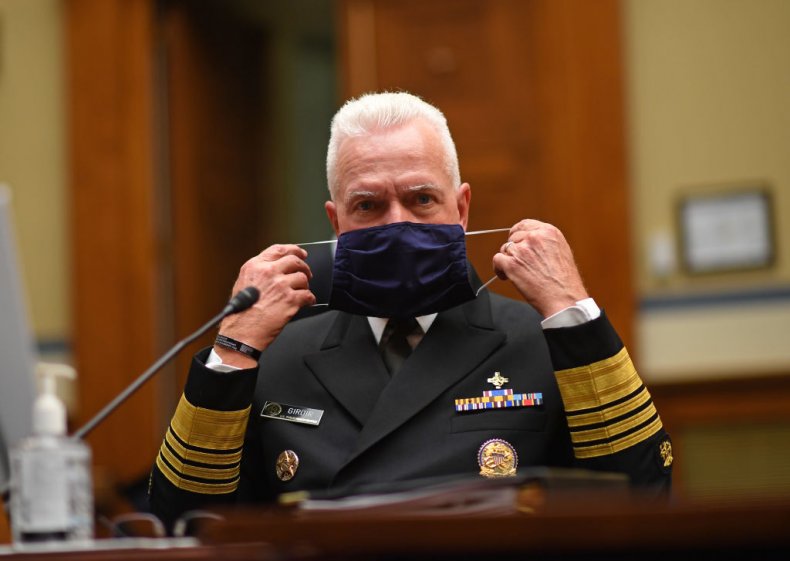 Newsweek reached out to the Department of Health and Human Services for further comment, but they did not respond by the time of publication.
Dr. Deborah Birx, the White House coronavirus task force coordinator, stressed the importance of masks in an interview with CNN's State of the Union on Sunday as well. The public health official suggested that some Americans should even consider wearing masks within their homes under specific circumstances.
"If you have an outbreak in your rural area or in your city, you need to really consider wearing a mask at home, assuming that you're positive if you have individuals in your household with co-morbidities," Birx said.
The Centers for Disease Control and Prevention (CDC) updated its guidance back in April, suggesting that all Americans wear face coverings in public to curb new infections of COVID-19, the disease caused by the novel virus. But many conservatives were critical of the guidance, while Trump stated that he was choosing not to wear a mask. The president faced significant criticism for months over his personal dismissal of face coverings, even as many other prominent Republicans urged the public to comply and wear masks.
In July, the president's tone began to change as new infections surged across the country. The president posted a tweet on July 20 of himself wearing a mask, suggesting it was "patriotic" to do so. "There is nobody more Patriotic than me, your favorite President!" he wrote.
Polling conducted by Morning Consult from July 23 to 26 showed that 94 percent of Americans either planned to wear a mask always or sometimes over the next two weeks. But some conservatives still push back against face coverings, suggesting the guidance and mandates in some states or municipalities violate their personal freedom. Public health experts and lawmakers push back against these claims, sometimes comparing mask requirements to bans on smoking in public or laws requiring seat belts in cars.
The U.S. continues to be the country with the highest number of novel coronavirus infections and deaths, with more than 4.6 million confirmed cases and over 155,000 deaths reported as of Monday morning, according to The New York Times' tracker. The seven-day average of new infections remains at about 60,000 per day, while the average of new daily deaths has risen above 1,200.