Video: Toronto Van Attack Officer Hailed as 'Hero' for Refusing to Shoot Suspect
Updated | Were it not for one Toronto police officer, the final moments of the Monday van attack that has sent shockwaves across Canada and around the world might have played out very differently.
While that officer has yet to be named, he is already being hailed as a hero for refusing to fire his weapon at the man suspected of killing 10 people and leaving 15 others seriously injured after plowing a van into a crowd of pedestrians at a busy intersection.
Dramatic video of the standoff between the officer and the suspect, whom police have identified as Alek Minassian, 25, shows the man, clad in black, repeatedly drawing and aiming an object at the officer and calling on the policeman to kill him.
It's a call the officer chooses to ignore, advancing toward the man slowly, with his firearm drawn, instead.
"Get down!" the officer can be heard shouting over a blaring siren.
"Kill me!" the suspect responds, keeping what appears to be his weapon pointed at the policeman.
Still, the officer refuses, shouting, "No, get down." When the suspect fails to cooperate, the policeman reaches into his unmarked vehicle to turn off the siren.
"I have a gun in my pocket," the suspect says.
"I don't care," the officer responds. "Get down. Get down or you're going to get shot," he warns.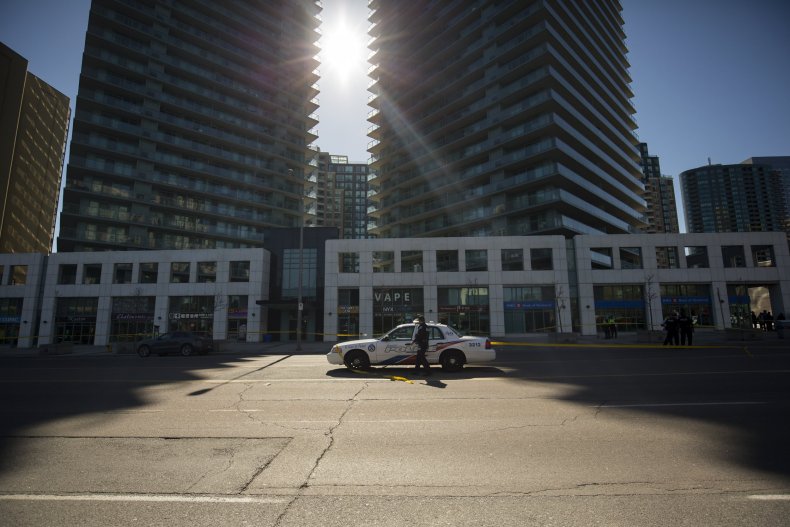 "Shoot me in the head," the suspect calls. Instead, the officer moves toward the man, closing the distance between them until they are just inches apart, as he repeats his calls for the man to get down.
That's when the suspect finally yields to the officer's request, lying facedown on the floor, allowing the policeman to handcuff him.
'This Guy Is a Hero'
The standoff, which unfolded over several minutes, could have increased the attack's death toll, but Toronto's police chief credited the unnamed officer for putting his own life on the line to bring the bloodshed to an end.
Toronto Police Chief Mark Saunders said at a news conference Monday night that the officer's ability to de-escalate the situation on Monday demonstrated the "high-caliber training that takes place" within the Toronto police department. "Officers are taught to use as little force as possible in any situation," he added.
"The officer did a fantastic job with respect to utilizing his ability of understanding the circumstance and environment and having a peaceful resolution at the end of the day," Saunders said.
Related: Who is Alek Minassian? Suspect arrested after pedestrians struck by van in Toronto
The police chief said there was nothing to indicate the suspect had been armed with a firearm, despite the man appearing to have drawn and pointed an object at the police officer as if it were a gun. Police have not revealed what the object in the man's hand was.
Still, Mike McCormack, president of the Toronto Police Association, told The Globe and Mail people were right to hail the officer as a "hero." He noted that while the officer would have been justified in discharging his firearm, he "looked at what was going on and determined he could handle it the way he did."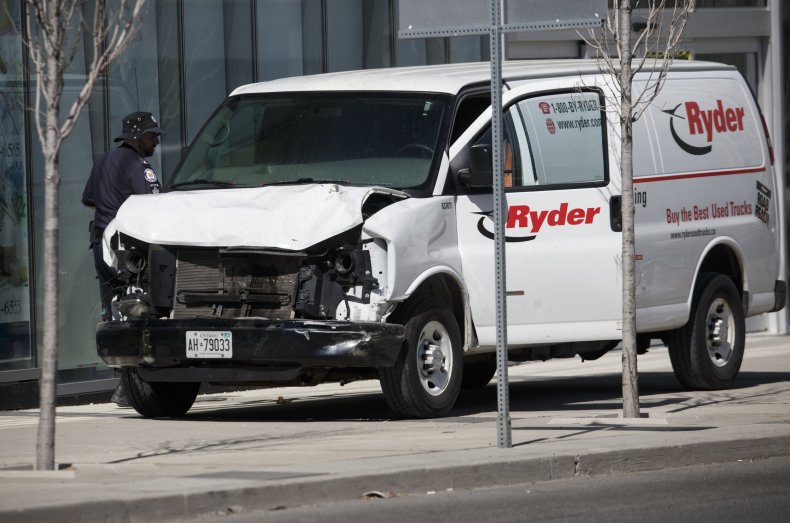 "The officer would have been doing a continual threat assessment," McCormack said, adding, "People are right. This guy is a hero."
McCormack said he had spoken with the officer, who he believes is in his 30s and has worked on the force for more than seven years. He said the officer, whom he described as a humble person, had been left "shaken" by the attack itself but does not believe his actions to bring the violence to an end were a "big deal."
"He said, ''Mike, I just did my job. What I did was no big deal. But look at these poor people,'" McCormack said. "That's what everyone's thinking: Great, he did his job and arrested this guy and may have prevented further deaths. But he's more concerned with 10 people being dead, 15 people being injured, why now and what's happening in this city."
'Imagine If They Were in America'
Many in Canada and the U.S. have taken to social media to applaud the officer for refusing to use his right to shoot, with some drawing comparisons to recent police shootings in the U.S.
"[The officer's] restraint is nothing short of amazing.... Now imagine if they were in America," lawyer Amee Vanderpool wrote on Twitter.
"Extraordinary restraint by the Toronto police officer who didn't fire his gun at suspect pointing something at him—couldn't see that scenario happening here in the US," CTV News broadcaster Richard Madan said.
At least one person compared the officer's actions to those of the Sacramento, California, police officers who shot Stephon Clark, an unarmed 22-year-old black man, in his grandmother's backyard after responding to a call reporting a man breaking into parked vehicles in the neighborhood.
Two officers fired eight shots at Clark and later said they believed he was armed. But no weapon was ever recovered, with only Clark's cellphone found beside his body.
"Police officer apprehends man who killed and injured dozens in Toronto without firing a shot even when the suspect repeatedly pretended to reach for a gun. Note to U.S. police next time a young black man is carrying a cellphone," U.S. entrepreneur and TV personality Bobby Panahi wrote on Twitter.
Black Lives Matter Greater New York President Hawk Newsome told Newsweek he felt "disturbed" by the fact that police were able arrest Minassian peacefully, while black people, such as Clark, have been killed by police officers despite being unarmed.
"It amazes me how they find time to talk to white terrorists, but...when it's a black person there's never time to have a conversation. it's always shoot first," Newsome said. "Police around the world seem to have time to talk to armed white people but they never have that time to talk to black people."
"Here, you have a person who drove a van into a crowd of people, knocked them down like bowling pins and the police had time to sit there and talk to him," Newsome added. "A ot of these times black people are unarmed and they're still murdered."
Others also pointed out that while Monday's arrest marked a significant achievement for Toronto police, the shooting deaths of people like Sammy Yatim, the 18-year-old who was fatally shot by city Constable James Forcillo in July 2013 after brandishing a switchblade on a streetcar, and Andrew Loku, a black man who was fatally shot by city police in July 2015 after refusing to drop a hammer while appearing distressed, could not be forgotten.
"Canadian cops may not be perfect, but most of the time they do understand the ethics and benefits of restraint," Twitter user Richard Gold wrote.
"Most of the time... In Toronto, we still haven't forgotten Sammy Yatim," another user, Dale Thompson, replied.
"I think this officer did a fantastic job, but let's cool it on the 'Toronto cops are so much better than American cops,'" another person wrote. "Sammy Yatim was not so long ago."
This article has been updated with comments from Black Lives Matter Greater New York.