Tourist Issues Warning as CCTV Reveals How Thieves Snatch A Bag in Seconds
From ATM "skimmers" to cheese heists, stealing has become more sophisticated in the digital age. Still, it's easy to become a victim of more traditional forms of theft, as one alarming TikTok video showed.
American travel influencers Mel and Erik shared their story of being pickpocketed while at a restaurant in Barcelona.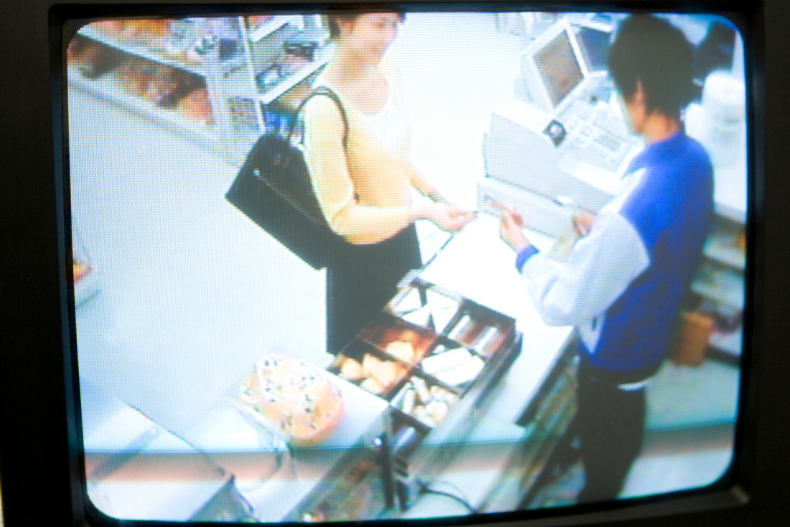 The theft was caught on the venue's security camera, where a man can be seen sneaking Mel's friend's purse off a nearby chair. Despite calling Spain home, Mel and Erik showed they are as susceptible to theft on vacation as anyone else.
Mel shared the footage to the platform on Thursday to raise awareness of how easy it is to let your guard down and fall victim to stunts like these.
Narrating the scene, she said: "He slides in, takes off his backpack to conceal the purse, hand reaches over to grab the purse off the back of the chair."
After grabbing the purse, the thief then strikes up a conversation with the man at the table behind them.
She continued: "We don't know if [the patron] is on it, or if it's just a distraction, but he's really taking his time—he doesn't grab the purse and run."
Despite seeming as cool as a cucumber, a waiter notices the man in blue hanging around and goes over to find out what is going on. During this time, the purse is concealed by the man's bike helmet. After the waiter is done talking to him, the man leaves the restaurant with the purse still in hand.
Alongside the video, Mel wrote: "They say to 'beware of pick pocketers,' but what does that really mean?
"One example: Don't leave your purse on the back of a chair. We live in Spain and never do this, but the one time it happened, it was a perfect storm of bad luck.
"Be safe this summer!"
Barcelona has long been known as an alleged hub for pickpockets. The city gained this reputation after a 2009 report by Trip Adviser declared the Catalonian capital one of the worst cities in the world for low-level theft.
In the first half of 2019 alone, there were 83,472 robberies in Barcelona, with 5,310 of those classed as "violent."
However, street crime drastically reduced during lockdown in 2020. Between 14 March and 20 June, petty thefts decreased by 56 percent.
Traditionally, the majority of pickpocketing victims have been tourists, but with the pandemic leading to fewer vacationers, thieves began stealing from locals instead. Women and older people have been particularly targeted, with phones, jewelry and wallets commonly stolen.
With tourist season fast approaching, the city council has created a new initiative known as "Operation Summer" to tackle street crime. The plan includes 12 percent more police officers checking Barcelona's busiest streets, as well as harsher sentences for repeat offenders.
TikTok users were grateful to Mel and Erik for sharing their story, with the post receiving almost 15,000 likes and more than 450 comments.
Several users suspected that the thief was a "professional."
"Barcelona is famous for these prof thieves," said complexis. Zowee agreed, writing: "Very well executed. Talking to [an] uninvolved [person] to conceal the original intent, concealing the purse with a backpack. He's a pro."
Others blamed Mel's friend for leaving her purse on the back of the chair to begin with.
"Not to victim shame but who leaves their purse on their chair?" commented Don't@Me.
"You're making it SO easy for thieves!!" wrote CRyner.
Others were more sympathetic, and shared tips on how to avoid pickpockets in the future. Nenapleasenails said: "The purse stays in my lap. I tell everyone this who comes to visit."
Travel Tips + Ideas wrote: "My husband thinks I overdo it [because] I clip my bags onto chairs or attach them to the leg of my chair. BRB showing him this."
In the comments, Mel said that she "messed up" by not reminding her friend to keep her bag on her person. However, she reminded people that nothing is "100% safe."
"People get their bags cut off them too," she added.
"We knew to be aware in the streets...but it was our last day of a long trip, and we didn't think to keep our guard up even in a restaurant.
"These [things] happen all the time in a variety of ways: people know to be aware, but that's not [very] specific. I hope our experience is helpful to others!"
Newsweek has reached out to @melandeodyssey for comment.
Update 06/15/22, 5:49 a.m. ET: This article was updated to include a new picture.