Transgender Teen Blasts Missouri State Senator for Asking About Genitalia
A Missouri state Senate hearing regarding proposed transgender-based legislation in multiple levels of athletics recently led to a heated back-and-forth between a senator and a trans rights advocate.
Missouri Senate Bill No. 781, also known as the Save Women's Sports Act, is the latest proposed national transgender-based legislation that would affect athletics at the middle school, high school and collegiate levels.
A video posted as part of a tweet from the Human Rights Campaign (HRC) showed a detailed exchange between trans rights advocate Avery Jackson, 14, and Republican state Senator Elaine Gannon. The conversation included questions about genitalia.
"You're in the ladies' room and then you realize somebody else in there doesn't have a female's...has a male body instead of a female's body," Gannon said in the video, directing her remarks toward Avery. "I mean, it just causes some issues there."
The senator also mentioned long hair, alluding to females potentially not knowing who is or is not transgendered. Gannon also asked Jackson if she would undergo "the procedure," in reference to gender affirmation surgery.
"You think we're going around forcing our genitalia in people's face?" Jackson responded. "We're trying to go to the bathroom. And what you want to do is not let people do that? Your whole argument here is the fact that you don't want people to use the bathroom."
Avery's mother, Debi Jackson, chimed in during the back-and-forth.
"You're asking a 14-year-old on public record about genitals and if people could see that?" Jackson said. "My child is so much more than genitals. And that's what I need you to see."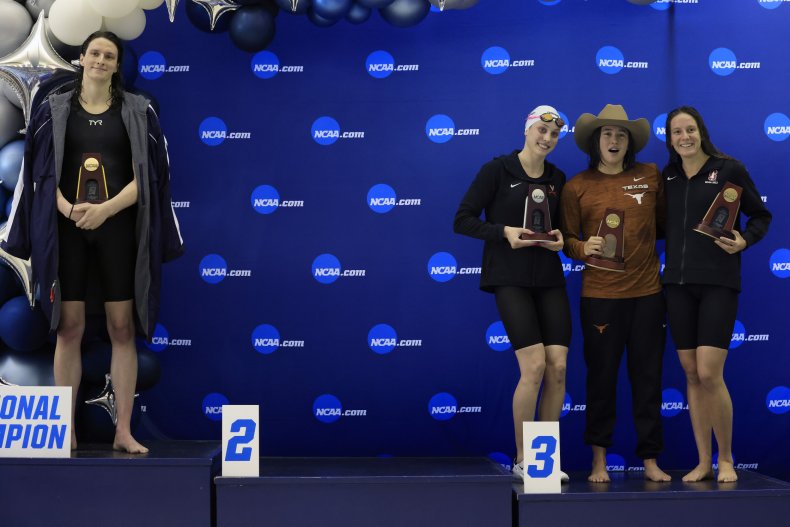 Senate Bill No. 781 was introduced by Republican state Senator Mike Moon on March 1 and stated that "an interscholastic or intramural athletic team or sport that is sponsored...shall be expressly designated as one of the following based on the biological sex assigned at birth," mentioning males, females, or co-ed athletics.
"No athletic team or sport designated for females, women, or girls shall be open to students of the male sex as assigned at birth," the legislation read said during a hear. It also maintains that any governmental entity, licensed or accredited organization or athletic association or organization shall entertain complaints, open investigations "or take any other adverse action" against entities that separate individuals based on biological sex.
Students "deprived" of athletic opportunities, however, or suffer "direct or indirect harm as a result," can seek injunctive relief or damages.
"The legislation is intended to protect biological girls and women from biological males competing against them in sporting events," Moon told Newsweek via email. "It was not modeled after any other bill(s)."
He added that he has not seen or heard comments made by the HRC.
Debi Jackson told Newsweek that the exchange between Gannon and Avery occurred after she first testified.
"My testimony was a request that people actually see Avery as more than a trans person, to see their humor, intelligence, creativity, empathy, and so on," Debi said. "So it was particularly upsetting that after asking senators to see my child as a whole person, Gannon didn't just focus on their being trans but further reduced them to nothing more than their genitals."
Debi said they are from Kansas City, Missouri, and live on the state border with Kansas. Since Avery was born in Kansas, the pair have taken turns going to both state capitols for the last seven years "because of bathroom bills, birth certificate issues in Kansas, religious 'freedom' bills."
For the last three years, that has included testifying in regard to legislation about sports and restricting healthcare for trans youth and/or making seeking that care felony child abuse.
Debi said that whether it's the "Don't Say Gay" bill in Florida or legislation in Texas, there are "attempts at using transgender children as scapegoats for all the ills of the world and as a divisive issue to get votes."
"The feigned concern there is that kids Avery's age—adolescents and teens—shouldn't receive affirming medical care because they are too young to know who they are or to make decisions," Debi said. "I think Avery proved the level of maturity that trans youth have, especially when adults challenge who they are."
The Human Rights Campaign, characterized as the nation's largest lesbian, gay, bisexual, transgender and queer (LGBTQ+) civil rights organization, has been vocal against such legislation across the United States. One such bill in Arizona is awaiting a hearing date.
The HRC, on behalf of itself and over 2,500 parents from all 50 U.S. states, published an open letter decrying legislation nationwide, saying that "The state of the union for transgender youth is very dangerous" and that "anti-equality politicians across the country have targeted transgender kids to win political points with their extreme conservative base."
Newsweek reached out to Gannon and the HRC for comment.
Update 3/21/22, 9:30 a.m.: This story was updated with comment from state Senator Mike Moon.